Michigan Slams San Diego State: Wolverines Defense Looks, Dare I Say, Improved
September 24, 2011
Leon Halip/Getty Images
Michigan's defense, led by new coordinator Greg Mattison, struggled early in 2011, allowing 10 points in a bit over two-and-a-half quarters to Western Michigan and 31 to a poor Notre Dame offense in Week 2.
But since that riveting, last-second victory over the Irish, the Wolverines defense has stepped up and stood stout.
Last week against Eastern Michigan, they allowed just three points and 29 passing yards in their big win at the Big House.
This week against a legitimate quarterback, San Diego State's Ryan Lindley, and some solid weapons including sophomore tailback Ronnie Hillman, the Wolverines defense allowed just a single touchdown in the team's solid 28-7 victory.
It's been a mantra they've been preaching for several years: bend but don't break.
But last season, under head coach Rich Rodriguez and defensive coordinator Greg Robinson, they broke plenty, allowing 447.9 yards per game, good for 13th worst in the Bowl Subdivision, and 33.8 points per game, 19th worst in the nation.
This season, under Mattison, they've been bending plenty—the Wolverines allowed 376 total yards to the Aztecs on Saturday—but they haven't broken much. In fact, San Diego State had possession of the ball 11 times in Michigan territory on Saturday. Amazingly, they managed only the single touchdown.
But what does the bend-but-don't-break approach mean?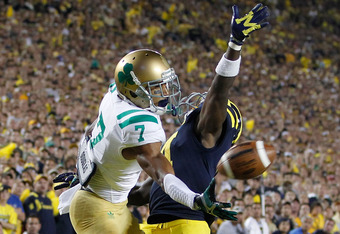 Gregory Shamus/Getty Images
Michigan's much (and rightly) maligned secondary allowed Lindley to complete a bevy of passes on Saturday. He completed 23 of his 48 attempts for 253 yards and no interceptions.
But none were huge big-hitters. The Wolverines' defensive backs kept the Aztec receivers in front of them, seemed to know where the first-down markers were and made most of the pass defenses and tackles they needed to make. Sure, there were times at which the secondary still struggled a bit, but they generally stayed with their receivers.
To be fair, they weren't facing anyone at the level of Notre Dame's Michael Floyd, who gave the Wolverines fits two weeks back. But there were times when Michigan's corners and safeties actually looked capable and competent out there, something we haven't seen from them in what seems like several seasons.
Similarly, the Wolverines' run defense was far from phenomenal, allowing 123 yards on the ground, including 109 to Hillman. But the unit, led by Ryan Van Bergen, Mike Martin and Craig Roh, did a great job of containing Hillman, especially considering that he had averaged 166 yards and 2.7 touchdowns per game coming into Saturday's tilt. Michigan also forced three fumbles, including two from Hillman, and that ended up making a huge difference in the game.
Is Mattison's defense a great one? No, not yet. Nowhere near it.
But on Saturday, the D showed that it's capable of cramping down in a serious way on a solid offense.
It could be a different story once Big Ten plays kicks off next weekend against Minnesota, but it's impossible not to be encouraged—heck, maybe even slightly impressed—with the steps Michigan has taken on the defensive side of the ball.