Arkansas vs. Alabama: Live Score, Highlights and Analysis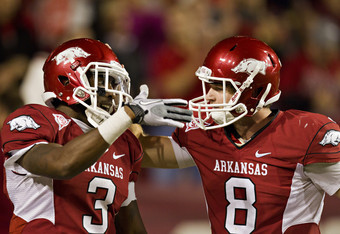 Wesley Hitt/Getty Images
Final Update -- Arkansas 14-38 Alabama
Alabama's first real test of the season should tell us a lot about this Crimson Tide team, particularly the defense. After cruising past Kent State, Penn State and North Texas, Alabama has looked the part.
The defense and running game are proving to be deadly forces on both sides of the field, but quarterback play has remained an issue.
That's something that Arkansas doesn't have to worry about with Heisman hopeful Tyler Wilson under center. Can Alabama contain Wilson the way they have lesser opponents? Will Trent Richardson get his own Heisman campaign off the ground?
If there's an SEC upset brewing this weekend, Arkansas is looking like the team to do it.
Bleacher Report is your home for college football for the 2011 season. From scores, news, analysis, live blogs and updates on your favorite teams and the big national games every week, keep it on Bleacher Report for the very latest in college football news.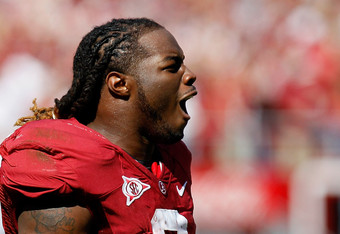 And that'll do it! Alabama impresses throughout and pulls away in the second half. Arkansas shows grit but can't compete for 60 minutes. Saban has himself another national championship contender.
It's been fun folks, but it's time for me to go. Have a great Saturday of college football!
Anybody else think all this talk of a potential 3-way tie for first in the SEC West is crazy? Arkansas doesn't look like a team that's going to go 7-1 in the SEC, at least not today. Even if they do (which would require winning vs. South Carolina and at LSU), the Razorbacks would be dependent on Bama losing to LSU, which isn't more than a 50-50 shot.
The SEC has a ton of good teams, and two great teams this year. Today proved where each of these schools stand.
We're in garbage time now. The starters are out, the outcome is decided, now it's just time to run down the clock and hope nobody gets injured. There's not even the usual excitement of whether or not the winning team will cover, because Bama's lead is so big.
This has been an absolute statement game for Saban and company, but there's still plenty to improve on for the Crimson Tide. Alabama was often sloppy on offense, and relied on big plays to pull away.
Arkansas, meanwhile, just didn't have what it takes to compete today. This team may be good, but they aren't elite yet. Alabama is.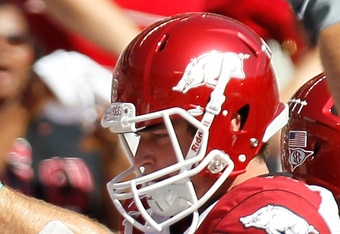 Quinton Dial roughs the passer. Hard. Tyler Wilson looks fantastic, given the circumstances. He's been leveled early and often by the Bama defense, and finally somebody crossed the line. How long before Petrino takes his QB out? An injury is looking much more likely than a comeback at this point, and you have to figure Wilson has earned a break.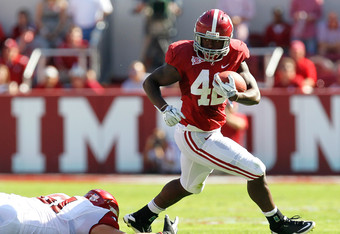 TOUCHDOWN, ALABAMA! The Tide stop Arkansas' drive and promptly march down field and Lacy punches it in. That looked too easy. So much for the comeback.
Questionable call against Dont'a Hightower, as he's flagged for a late hit. And by questionable, I mean ridiculous. That wasn't even close. Now the Hogs are at midfield, with a chance to spark the comeback in earnest. Huge possession here for both teams.
Near miss for Alabama, as D.D. Jones can't catch a potential pick-six on an ill-advised screen pass. That could have made this a new ballgame in a hurry, but even still Bama is forced to punt.
A touchdown here from Arkansas and the fans in Tuscaloosa would be getting very nervous.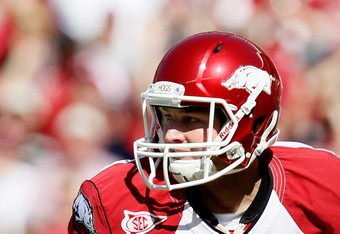 TOUCHDOWN, ARKANSAS! Fantastic throw under serious pressure from Wilson, who took a real shot, and then an amazing catch from Cobi Hamilton to cut the lead to 17.
Did I speak too soon about the Razorbacks being done? That was an impressively easy looking drive to bounce back, but 17 is still a huge deficit.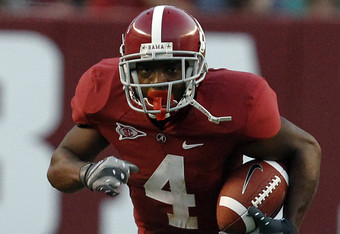 Some fun facts:
Arkansas has 5 rushing yards. Alabama is averaging 5 yards per carry.
The Tide have run two plays in the second half. They have 21 points in that span.
I guess those aren't so fun for Razorbacks fans.
TOUCHDOWN, ALABAMA! Screen pass to Trent Richardson for 61 yards, on a play that was nearly blown up in the backfield. Put a fork in the Razorbacks, they're done.
That was one of the best plays of the year. Marquis Maze flashed speed, strength, vision and moves in an unbelievable return. It was going to be an important possession for Alabama, but those 7 points are a huge blow to Arkansas' comeback hopes.
Also, Bama's three touchdowns have come on a trick play, an interception, and a punt return.
Arkansas looks in disarray. That was an awful ensuing possession. This game could get out of hand in a HURRY.
TOUCHDOWN ALABAMA! Maze goes 83 yards in an amazing punt return touchdown. It's 24-7, and all the momentum is with the home side. Welcome to the second half!
TOUCHDOWN, ALABAMA! Another third-and-long comes back to bite the Razorbacks, as the Tide intercept it and return it for a touchdown. A few notes:
A) Great play from DeQuan Menzie to both tip the ball into the air and then catch it on the fly.
B) Wilson took a big hit as he tried to chase down Menzie on the play. He should probably adapt the Peyton Manning 'let him go' approach on interceptions in the future. That could have been a major injury.
C) So much for Arkansas' momentum, huh?
What a goal-line stand from Arkansas! First and goal from the one, and the Hogs stop Bama's running backs on three consecutive plays to force a field goal. Massive momentum change in this one.
More bad news for the Tide, too, as Eddie Lacy heads off the field with an apparent injury. If he's out, Bama's two-headed backfield beast disappears. Given, Richardson is fine all by himself, but this would be a game-changer if Lacy can't return.
Amazing conversion on third and long from Trent Richardson, which keeps the drive alive and gives the Tide first and goal at the one.
The rushing numbers are incredible right now. As of this instant, Alabama has 100 rushing yards to Arkansas' -4. Wow.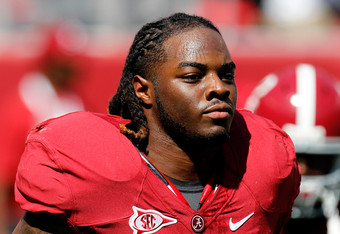 Richardson and Lacy combine on consecutive plays to smash the Arkansas defense. Saban should just keep running the ball, as it really looks like Arkansas has no ability to stop it.
Petrino and the Razorbacks look very happy to keep throwing short, underneath passes. Wilson hasn't attempted many plays over the top of the defense yet, and the majority of Arkansas' yards have come on short or mid-range passes.
It still doesn't look like the Razorbacks can run the ball though. That'll be important, because it's unlikely they can keep converting these long third downs. In fact, they just came up short on a 13-yard attempt. Those are tough to get right against anybody, especially a defense this good.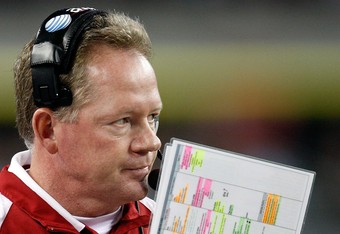 End of the first quarter, and the score is 7-7. For a while there it looked like Arkansas might be in store for a long afternoon, but that 13-play touchdown drive proved the Razorbacks are in it for the long haul.
Injury updates: CJ Mosley is out for the game, which is a tough break for Alabama. Combined with Tenarius Wright's injury for the Razorbacks, it was a very physical first quarter.
TOUCHDOWN, ARKANSAS! Dennis Johnson wide open in the flat, Wilson finds him for an easy touchdown.
That was an absolutely fantastic drive from Arkansas. 13 plays, several big third down conversions, and a huge message sent to this Tuscaloosa crowd.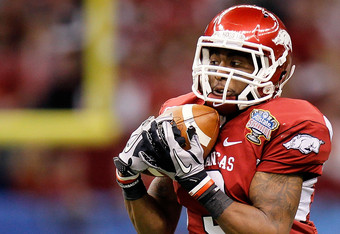 Joe Adams is very lucky to gain some yards on a busted bubble screen, but these announcers are acting like it was a brilliant play. He very nearly lost huge yardage reversing field, which would have forced a tough third down. Dumb decision against a defense this good.
Easy touchdown from Ronnie Wingo called back for an obvious hold, but the Hogs are still driving. Excellent possession from Arkansas -- they need to punch it in here.
Good luck running against this Tide defense. Holy cow they tackle well! The Razorbacks seem unwilling to take many risks on offense, but eventually Tyler Wilson's going to have to throw the ball downfield.
That said, this is a pretty good drive from the Hogs right now. Wilson converts a third down on a mid-range pass, and now this offense is pretty much in field goal range.
Arkansas forces another fourth down, and this time there's no tricks from the Tide. Alabama punts, although there's a little confusion after the ball hits the Tide's DeQuan Menzie on the head.
At first the crowd thought it was off Arkansas, and that Bama had recovered. In reality, the ref called kick-catch interference and it's a big break for Arkansas. Probably the right call, but it's definitely a lucky swing for the Hogs' offense, which was unimpressive on its first drive.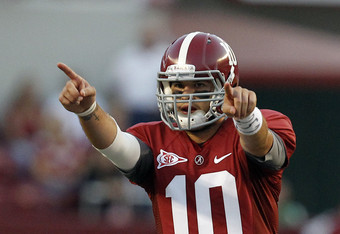 Tyler Wilson opens the drive with a completed four-yard pass, and then the Tide defense gets it back with a four-yard tackle for a loss on the next play. It's not going to be easy for the Hogs on offense, that's for sure.
TOUCHDOWN, ALABAMA! Trick play from the Tide, who line up for a 54 yard field goal and then break into an offensive formation. McCarron finds an uncovered tight end and launches a perfect spiral for an easy touchdown. How's that for some Saban-style trickeration?!
Time for the Razorbacks to bounce back.
This article is
What is the duplicate article?
Why is this article offensive?
Where is this article plagiarized from?
Why is this article poorly edited?