College Football Rankings: Which Teams Are Rising and Falling in Week 4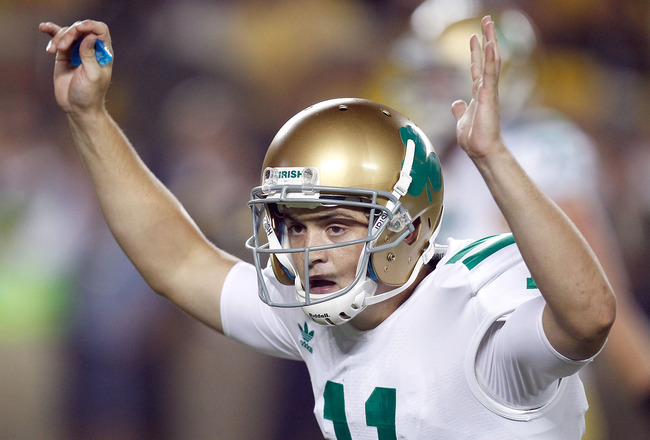 Gregory Shamus/Getty Images
Week 4 is under way and already we are seeing big things from some surprising teams in college football.
Georgia Tech and North Carolina are locked in a back-and-forth battle in Chapel Hill over on ESPN. Offense has been the story of the game on both sides of the ball, with both teams combining for almost 500 yards of offense with a quarter and a half to go.
Notre Dame's turnover issues have continued against Pittsburgh today. Will Brian Kelly yank quarterback Tommy Rees from the game in favor of Dayne Crist?
Lots of games to go today but for now I'll analyze who is rising and falling in the world of college football.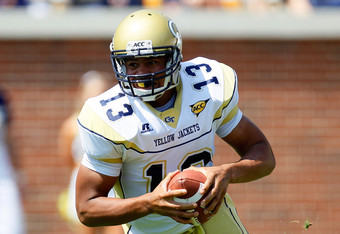 If you learned one thing about Georgia Tech today its that their offense is for real.
I'm not talking about the 66 points they hung up on Kansas last weekend. North Carolina's defense is good and the Yellow Jackets had their way with them all day for a total of 495 yards.
Georgia Tech quarterback Tevin Washington was very smart with the football, outside of one interception, and tossed 10 of 14 passes for 184 yards and a touchdown strike.
Three players rushed for 70 yards today for Georgia Tech. Senior running back Roddy Jones sealed the deal with a 48 yard run at the end of the fourth quarter to put his team inside the five-yard line.
Georgia Tech needed a statement win following their blowout victories of poor teams. They got won today on the road against North Carolina.
At 4-0, the Yellow Jackets are sitting pretty with an offense that no one has been able to stop yet.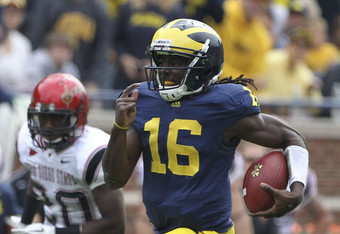 Well, so much for Denard Robinson learning how to pass. No matter for Michigan fans, he's only got 167 rushing yards and three touchdowns through three quarters against San Diego State.
Michigan looks like a dangerous team this season. Are they flawless? Certainly not. But there aren't too many teams in college football that have a Denard Robinson leading their squad.
It might be the Robinson show on offense, but defensively this Wolverine team is worlds better than they were a year ago. They've given Aztec quarterback Ryan Lindley fits today as he's passed for a mere 96 yards and hit only 10 of 23 passes.
Lindley is considered an NFL talent at quarterback, so this is a good sign for a team that's been porous on defense the past few seasons.
Michigan looks like they'll be 4-0 after this game is over. They host Minnesota next week, a game I expect them to win. If Denard can translate his September play into the full length of the season, this is a team that could surprise some people in the Big Ten.
There's no question that Michigan's stock is rising faster than it has since the Lloyd Carr days.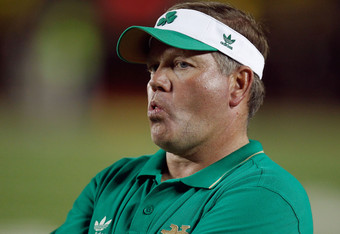 The second half of Notre Dame's game against Pittsburgh has just started, but it looks like more of the same for the Fighting Irish on offense.
This is a team with a lot of talent on both sides of the ball. Linebacker Manti Te'o and company are doing their part on the defensive side of the ball. The secondary is lackluster, but the front seven is still applying pressure.
That being said, Pitt quarterback Tino Sunseri is having his way with short accurate passes and effective scrambles. He will continue to nickel and dime the Fighting Irish all day at this rate.
The main problems with Notre Dame still lie on offense. Tommy Rees appears to have no idea what Pittsburgh is doing on defensive and is now overcompensating by forcing terrible passes. Sound familiar Irish fans?
You have to wonder if head coach Brian Kelly has a double standard for Rees. Dayne Crist didn't last the first half against South Florida and looked just as lackluster as Rees does now. All of the good will that Notre Dame built up last week against Michigan State was erased in one half of football.
If Notre Dame loses this game and falls to 1-3, you can stick a fork in them for making a run at a major bowl game.