Arkansas Razorbacks vs. Alabama Crimson Tide: Tradition vs. Trend
September 24, 2011
Butch Dill/Getty Images
Alabama versus Arkansas.  Tradition versus trend. 
Been there, done that, versus want there, need that.  The élan of Saban versus the ego of Petrino.
This game is shaping up to be one heck of a battle, isn't it?  And that's without delving into the obvious issue of offense versus defense.
Arkansas has a chance to extract their revenge, make their mark, and climb closer to the top of the roughest and toughest of bare-knuckle slugfests, formally called the SEC West.
That is Arkansas' dream—their wish upon a star.
Alabama has the chance to turn that dream into a nightmare, and to show Arkansas that they can wish in one hand and… well, you get the picture.  If I said more, B/R wouldn't print it.
Arkansas WANTS THIS GAME—REALLY WANTS THIS GAME—BECAUSE IT'S ALABAMA. 
Alabama really wants this game because it's the next one.
Many are predicting that this game today could be a classic that goes down to the wire, where the last team with the ball will be the one that emerges victorious.  It could also be a three-touchdown blowout, in which case only one team could emerge victorious and that is the Crimson Tide because—if I can borrow from Coach Gene Stallings' logic—Bama is just the better team.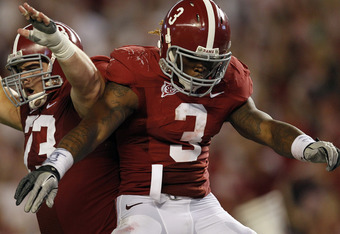 Butch Dill/Getty Images
It has a deeper roster and a better coaching staff.  Arkansans would argue those points, but no one else would.  However, Bama must be able to keep the Hogs away from A.J. McCarron.  A.J. is getting better, becoming more confident and more poised—but he will not ever be confused with somebody with muscles.
He would need to gain 15 pounds to cast a decent shadow.  He'd likely break before he bends, and Arkansas will try to be on him like ugly on a hairless cat.
But it's Arkansas that will have the QB problems today. Mr. Wilson has never ever seen anything like he'll see today.
Bama will blitz him from so many different directions that he'll need a Ph.D. in spatial dynamics just to try and make some sense of it all.
It will be a good game for the first three quarters. 
Arkansas does have a great offense—and they might even jump into the lead—but they won't win.  They won't fold like Auburn did last week against Clemson. 
The Hogs do know how to tackle.  But by the fourth quarter, Trent Richardson and Eddie Lacy will have pounded them so much that one of the two, or perhaps even Jalston Folwer, will take one to the house from beyond 50 yards to put the game out of reach.
Alabama 31, Arkansas 17.