Could Mark Brunell Keep the Jets Going Strong?
September 23, 2011
Jeff Zelevansky/Getty Images
The Jets are yet again a favorite to go to the Super Bowl, for a couple of reasons:
1. The defense is stacked with strong veteran defensive backs and has the potential to be the No. 1 defense in the league once the year comes to an end
2. The explosive offensive weapons Mark Sanchez has at his disposal.
With the good, however, comes the bad and sometimes, in my sick, torturous mind, I like to play the "What if?" game. We all play it when we're bored. "What if I won the lottery?" Or my favorite, "What if I were President?"  These little fantasies are simply fun and games and, for the most part, very unlikely to happen (although I must admit I'm crossing my fingers). Today's "What if..", however, isn't so far fetched.
This year New York's offensive line is almost completely different from last year's line, and I mean that in the most negative way possible. Mark Sanchez was hit about 10 times alone in Week 1, and in Week 2 Jet's fans watched in horror when Sanchez's arm was clipped. So Jets' nation I ask you, could Mark Brunell weather the storm if the roof caved in?
The once starting quarterback turned 41 last Saturday and was listed as day-to-day before Week 1 with a calf injury. He has career stats that show 175 games played, 32,045 yards passing and 184 TDs with a career passer rating of 84.0. The stat that does look a little fishy is his 108 career interceptions. To be completely honest, I believe a guy like Brunell, at this stage in his career, can't be judged on paper.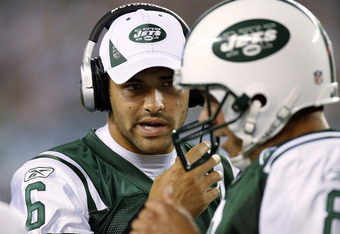 Jeff Zelevansky/Getty Images
With Mark Brunell, it isn't the zip on his passes or his voice in the huddle that coaches admire. It's his ability to lead from the sideline, it's the intangibles that catch your attention. His ability to take a back seat to a younger guy and his ability to lead and guide the young Sanchez from the sideline has been a big positive for the Jets.
I personally feel that if there's a backup in the league that can pick up the slack and shine, it's definitely Brunell.  Sanchez has been quoted numerous times stating how well the two get along, and that both men not only have a working relationship, but a great friendship created due to their love of the game.
I don't believe that if Sanchez got hurt any type of animosity would exist between him and Mark Brunell. It's no secret that Sanchez is the franchise star and both players understand this. That is why their working relationship is so great. These two guys aren't competing for a job; they are putting their heads together each week to ensure the Jets come out on top.
At the end of the day, should the offensive line collapse and allow for the loss of a flourishing young quarterback, I think the Jets would be alright for a season. I definitely believe Sanchez gives them the best chance to beat the Patriots and win the AFC East, because of his competitive nature and his positive leadership skills, but Mark Brunell can't be counted out, and Jets' nation should feel blessed to have a legitimate backup, should a time ever arrive where his number is called.