College Football Rankings: If Oklahoma State Runs the table, are they BCS No. 2?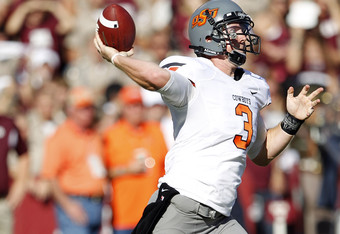 On Saturday afternoon the Oklahoma State football team showed something that has lacked in recent hopeful seasons-guts.
Against the No. 8 Texas A&M Aggies on the road mind you, Barry Sanders' alma mater found themselves down 20-3 at halftime.
It was gut-check time for the Cowboys, because as we all know, they're an offense that usually has put up over 30 by halftime.
Well, the Aggies had a brilliant gameplan but it didn't last.
In the second half, Oklahoma State scored 27 unanswered points to go up 30-20 and eventually won 30-29.
And although it wasn't against the Oklahoma Sooners, the Cowboys legitimate chances at a Big 12 championship are still alive, as well as a national title.
Sure the Texas Longhorns are sill remaining prior to the Sooners, but if Texas A&M couldn't stop the Cowboys for a full 60 minutes, the Longhorns have no shot.
Adding to that, if Oklahoma State runs the table, can they slip into the No. 2 BCS spot, or do the 2004 Auburn Tigers haunt their chances?
Well, the Cowboys also have No. 17 Baylor on the schedule, so along with Texas and Oklahoma, if they run the table, landing at No. 2 seems very possible as both LSU and Alabama play one another, hence, one will lose thus giving Oklahoma State a chance to move up.
By season's end it will be interesting to see how the Cowboys finish, but before anything special happens, the college football world knows that the Big 12 is run through Norman, OK. against the No.1 Sooners.
Bleacher Report is your home for college football for the 2011 season. From scores, news, analysis, live blogs and updates on your favorite teams and the big national games every week, keep it on Bleacher Report for the very latest in college football news.
Also, be sure to check out John on Bleacher Report.
And you can follow him on Twitter @ Sportswriter27.
Most recent updates:
This article is
What is the duplicate article?
Why is this article offensive?
Where is this article plagiarized from?
Why is this article poorly edited?