Cleveland Browns vs Miami Dolphins: Browns Keys to the Game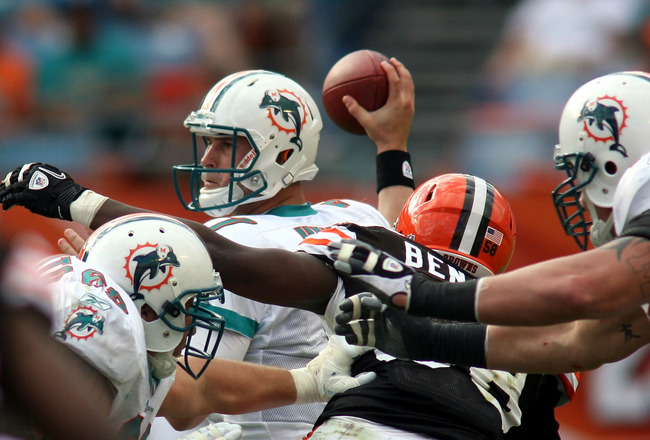 Marc Serota/Getty Images
Coming off a win in Indianapolis last Sunday, the Browns are looking to get to 2-1 against a struggling Miami Dolphins team that is still winless entering Week 3 of 2011.
The Browns got lucky on their schedule in the early weeks of the season, drawing three weak opponents in a row at the outset. They squandered their first opportunity to take advantage of this in Week 1 against Cincinnati, took advantage of their second by beating Indianapolis in Week 2, and now face a Miami team that just can't seem to get it right so far in 2011.
The Browns have a chance to take advantage of Miami's slumping play, but they'll still have to be careful not to take the Dolphins too lightly. While Miami's struggles date all the way back to last season, beating them won't be a cakewalk.
The Browns won the last meeting in December of 2010 and should win this one as well provided they play smart, mistake free football. Following are the Browns Keys to the Game for taking down the Dolphins in Week 3.
1. Controlling Brandon Marshall

Mike Ehrmann/Getty Images
Brace yourselves for a shocking stat, Cleveland fans: The Browns now have the No. 2 pass defense in the league.
Yes, you read that right.
Obviously, it isn't wise to put too much stock into any statistical ranking after just two weeks of play, but hey, it sure is fun to say. It also does give a good indication that not only is the Browns defense progressing faster than expected in its switch to the 4-3, but that it's actually getting the job done in a big way. Weak opponents and a small sample size of data certainly skew the numbers, but there is certainly potential.
This week in Miami, the Browns will have their work cut out for them in controlling Brandon Marshall, who has thrived in Miami thus far, connecting with QB Chad Henne for 13 receptions, 218 yards, and a touchdown.
While Henne has looked like a far better passer than he really is in the first two weeks of 2011, Marshall isn't playing above his talent. In other words, his numbers are legitimate.
So it's up to the Browns second ranked pass defense to keep Marshall in check and prove their ranking isn't too big a fluke. While the rest of the Dolphins WRs don't pose the same threat, they do have one big thing the Browns need to be mindful of, which is speed.
The Browns secondary had some trouble keeping pace with Cincinnati's speedy receivers in Week 1. In Indy in Week 2, speed wasn't much of a factor. I wouldn't call the Browns secondary slow, but with Miami's speedy deep threats, they'll need to be careful that they don't get beat downfield.
2. Improve Run Defense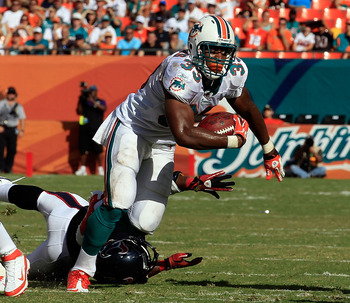 Sam Greenwood/Getty Images
The hype about Miami's ground game going into this season was all about the ever-overrated Reggie Bush (evidently still plagued by the Heisman Curse even though he had to give his back), but the guy who should scare the Browns is Daniel Thomas.
What should scare the Browns even more is that their defense has struggled against the run so far this season. Thus far in 2011, they've ceded a 24th-ranked 248 yards to opposing rushers. Not great, particularly since they've faced two teams who aren't known for having especially exceptional ground games.
The Browns had trouble controlling Cedric Benson in Week 1 and allowed Joseph Addai to quietly rack up a decent 64 yards against them in Week 2. While the scary statistic the Browns have posted of an average of 124 yards allowed doesn't mean the Dolphins will be able to exploit them for that many this week, it does mean Miami will be going to the run a lot against them.
While the Dolphins don't appear to pose much of a threat on the ground on paper (QB Henne is currently their leading rusher with 85 yards), Thomas isn't a guy who the Browns should take lightly.
Cleveland will need to be careful not to let Thomas subtly exploit their weakness against the run while they're busy paying attention to Brandon Marshall. As much as Bush doesn't appear to be much of a true threat, the Browns can't afford to completely ignore him either.
3. A Big Test for the O-Line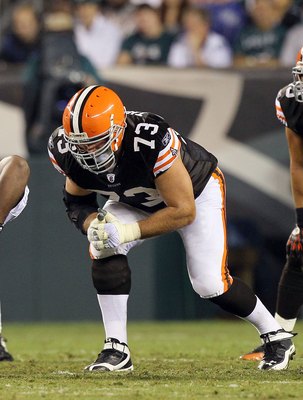 Jim McIsaac/Getty Images
The Miami pass rush has the potential to bully the Browns shaky O-line, so they'll need to step up their game to protect Colt McCoy and allow him time to throw and to give Peyton Hillis the blocking he needs coming out of the backfield.
The Miami defense looks terrible on paper, but their passing yards yielded totals are skewed by their game against New England in Week 1, and they're much better than their stats make them look to this point.
While the Browns offensive line improved notably from Week 1 to Week 2, correcting silly mistakes and penalties and solidifying their protection of Colt McCoy, they're a good target for the Dolphins to use one of the best assets of their team (their pass rush) to exploit one of the Browns' position groups that has struggled the most so far.
Miami's defense has ceded an uncharacteristically high number of passing yards so far this season, but they also have shown they're pretty good at punishing opposing quarterbacks. Though the Texans won against the Dolphins last week, Miami sacked Matt Schaub three times and forced him to throw on the run on a notable number of occasions.
Additionally, the offensive line (as well as the TEs and FB Owen Marecic) have to step up their blocking efforts. While they looked much improved in this area in the second week of the season (especially Marecic), the blocking still isn't where it needs to be, particularly from the line. This will be a good week for the Browns linemen to show they can protect their quarterback and improve their blocking on running plays against a tough Dolphins front seven.
4. Exploiting the Miami Defense's Weaknesses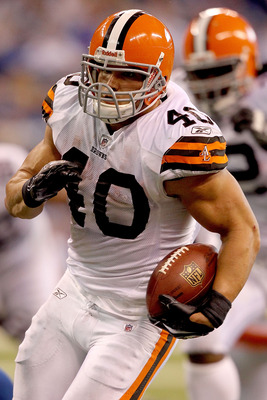 Matthew Stockman/Getty Images
While their pass rush has shown it can be menacing, the rest of the Dolphins defense has a lot of problems which the Browns can take advantage of if they're smart about it.
The Dolphins defense is slow against the run, so expect to see Peyton Hillis get a possible 25 plus carries. It could also be a good potential breakout game for Montario Hardesty if he's up to it.
Against an aerial assault, the Dolphins defense isn't as bad as it looks when you go by the numbers. The 517 yard, 4 TD drubbing that Miami suffered at the hands of Tom Brady and the Patriots in Week 1 makes their pass defense look much worse than it actually is, but that doesn't mean it doesn't still have enough weaknesses that the Browns can't take advantage of it.
With Cleveland WRs turning in acceptable but mediocre performances thus far, the Cleveland passing game is still looking to breakout. Though the Browns West Coast Offense wasn't designed around racking up bloated passing stats, it would still be good to see them exploit a struggling defense for some big totals.
The Miami pass rush, as mentioned, could be a problem for the Browns, but if the line can hold up for Colt McCoy, he and his receivers will have the opportunity to beat up on a secondary that has had a rough start to the season.
Ultimately the Browns should rely mostly on their ground game in this matchup, but they would do well to test the pass early on in the contest to see if the Dolphins passing defense really might be as bad as it looks on paper.
5. Keep the Momentum Going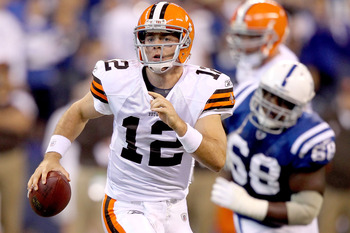 Matthew Stockman/Getty Images
Regardless of which stats are skewed which way for which team, the most lopsided matchup in this game isn't about numbers, it's about momentum.
The Browns have momentum on their side. They won on the road in Indianapolis last week, they're part of an encouraging (if likely short-lived) four-way tie at 1-1 in the AFC North, and they're looking to put themselves in really good shape by starting off the season with an above .500 record at 2-1.
The Dolphins, on the other hand, are downtrodden and disheartened at a frustrating 0-2 thus far on the season. Not only are they still looking for their first win, they spent the first two weeks of the season playing the punching bag for teams far stronger than their own.
Cleveland has a huge opportunity to take advantage of a Dolphins team that is having a very rough start to 2011. The Browns will have to be sure to keep up that good momentum they built up after winning in Indianapolis last week throughout the entire game this Sunday. That means no slow starts in the first quarter and no running out of gas in the fourth quarter as we've seen all too often from the Browns in the recent past.
The Browns have a huge weapon against Miami with the momentum they have going, and they're probably even the better team on the field. As long as they play smart this week, the Browns should emerge a winner.
Keep Reading

Cleveland Browns: Like this team?