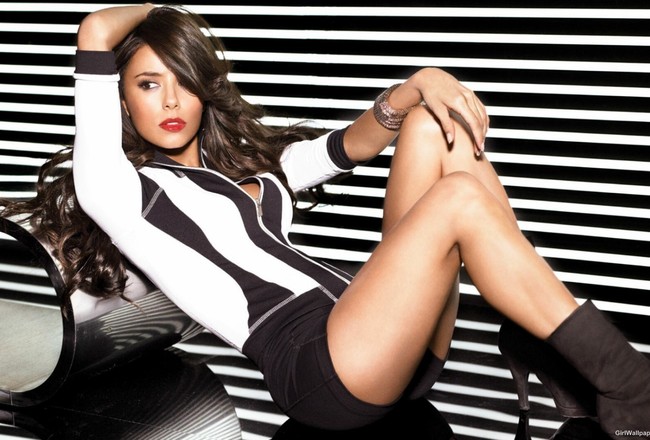 We all know that women's sports don't captivate our attention like men's sports. The level of skill is lacking and the speed of the game isn't what we are used to. But women's sports aren't all bad.
Riddle me this: would you rather see Albert Haynesworth getting a quad massage on the sideline or Anna Kournikova getting that same massage?
To those of you who said Albert Haynesworth, this slideshow isn't for you. For the rest of you, here are the sexiest sports outfits.
Jennie Finch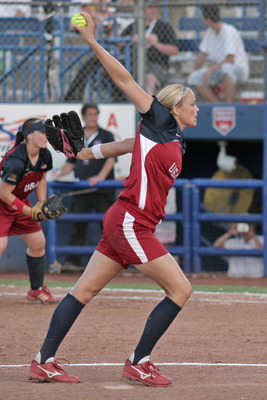 Most softball chicks don't look great in their uniforms (see behind Jennie), but Finch pulls off the combo nicely.
Long legs, pulled back hair, and the American colors-- how can you beat that?
Heather Mitts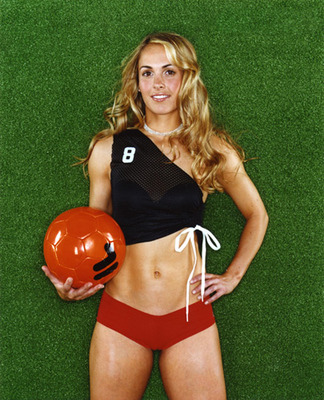 Ok, ok, so soccer ladies don't wear this combination on the field. Sue me.
Like you wouldn't want to get your mitts all over Heather. She's also a two-time Olympic gold medalist. I bet she would look good in just those...
The LBL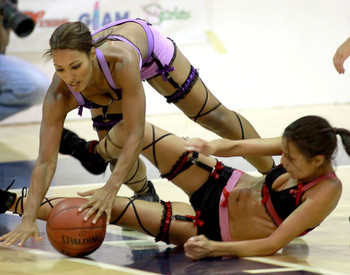 Going after loose balls seems to be second nature for these two.
As if playing football in lingerie seemed unpractical, how about subjected nearly nude women to basketball?
No objections? Me either.
Limber Up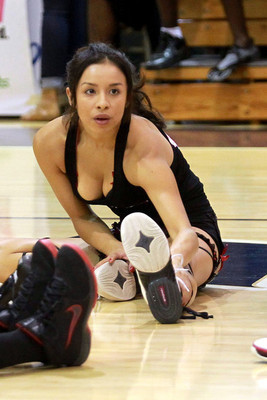 Woody Harrelson's character in Zombieland might not believe in it since you never see a lion limber up before a kill, but I'm sure glad a photographer capture a shot of this stretch.
One More from the LBL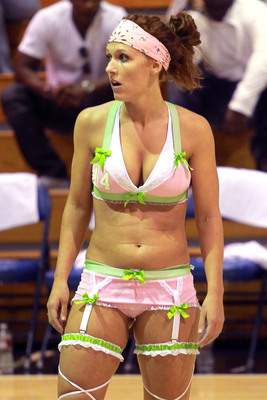 I sure hope she's getting enough support upstairs.
I wonder if anyone goes to LBL games to heckle.
Beach Volleyball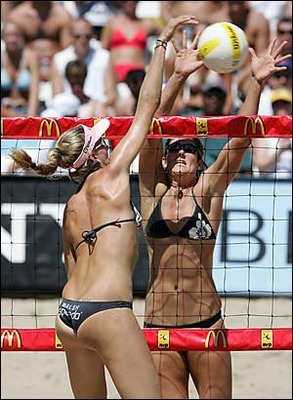 As seen here, beach volleyball babes look good from either angle.
They are typically on the tall side, but that makes for endless legs and sexy torsos.
Kerri Walsh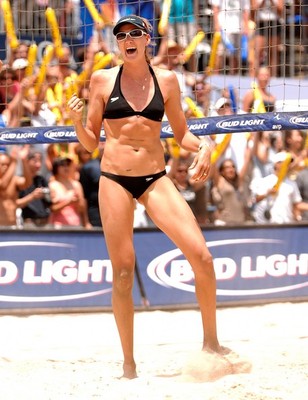 It's hot on the beach. That's why Kerri's ensemble is so skimpy.
Alongside her hot partner, Mist May, Walsh has taken home Olympic gold twice.
This tall drink of water is 6'3", in case you were wondering.
Misty May-Treanor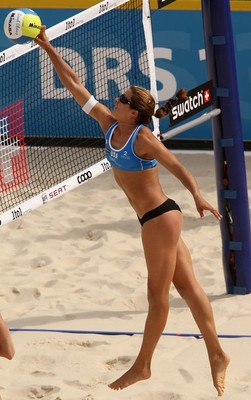 Here's the other half to the United State's best women's beach volleyball duo.
Misty's volleyball resume' is seemingly endless and her bikini leaves nothing to the imagination.
I love beach volleyball!
Indoor Volleyball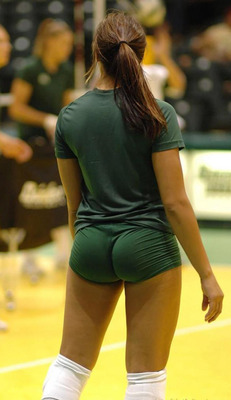 Does it really matter if it's played indoors or on the beach? Some of the best bodies fill out these uniforms.
Spandex is a killer, and the knee pads? Where are our thoughts supposed to go?
Michelle Wie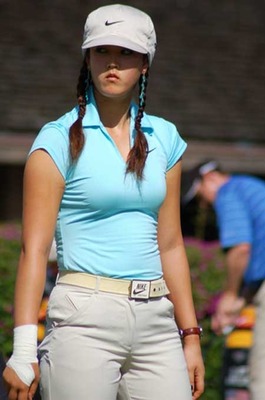 It's cool, guys. She's legal. She has been for three years (where have I been?).
The form-fitting shirt, tight pants and braids are all nice visuals on the golf course.
Wie hasn't won much since joining the LPGA in 2009, but she's a winner in our hearts.
Natalie Gulbis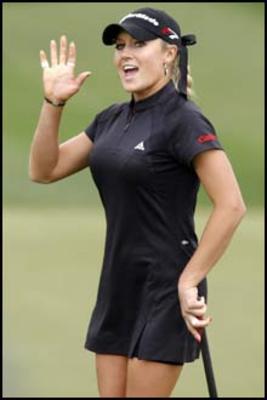 Natalie had a handicap of 2 when she was 14. She graduated high school at 16 and went on to win a national championship with the University of Arizona.
She also looks unbelievable in this tennis dress. Why aren't these more commonplace on tour?
Paula Creamer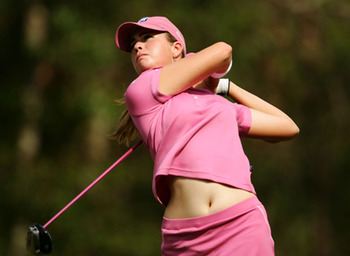 If it isn't the Pink Panther, Paula Creamer.
It seems unfair to look like this and be great at your sport.
Somebody has been doing some sit ups in between rounds!
The Zebra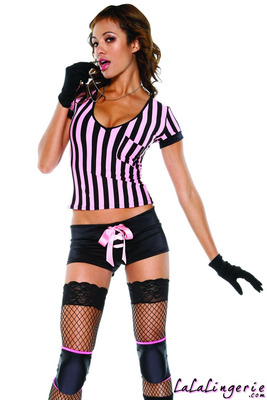 Thanks LaLaLingerie for this stunning number.
It's probably best to abide by the rules, guys. She's got a whistle and she knows hot to use it.
More Stripes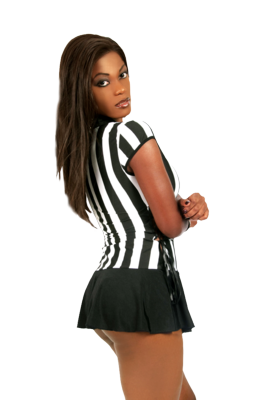 Though she looks a little passive, she still enforces the rules.
Too bad this picture isn't taken from a slightly lower angle.
One More Time, Fellas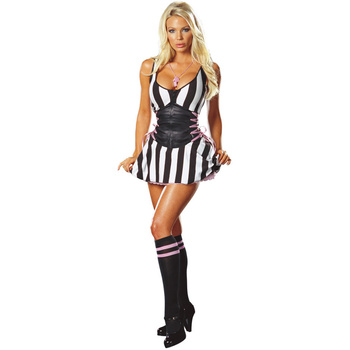 With Oktoberfest just around the corner, why not toss in a shot of a referee babe in a corset?
If she had a couple of pints in each hand, most of us would be in heaven.
The LFL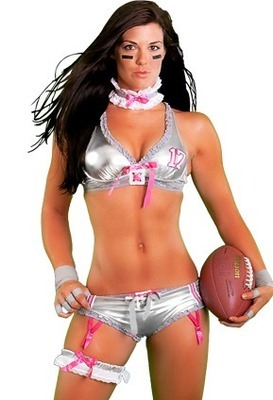 Let's dig into some LFL outfits. They all might be the same, but for some reason I can look at these ensembles all day.
And look, it's our very own Carie Small of the Tampa Breeze. Silver seems to be her color.
Minnesota Valkyrie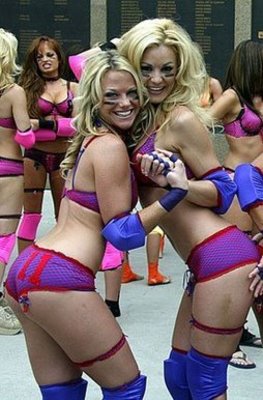 Well, doesn't this look like a lot of fun?
Note the hand on the right, making sure the uniform bottoms are made of a natural fiber.
Tampa Breeze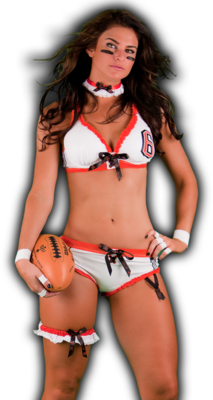 Chantal Letts is letting us have it with this look.
I need to start watching this league.
Baltimore Charm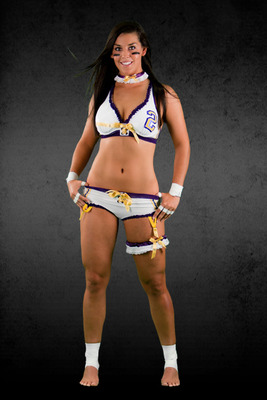 Better tape those ankles; turf is unforgiving.
Brittany Tegeler might be representing B-More, but she sure doesn't look like any of the characters on The Wire.
Philadelphia Passion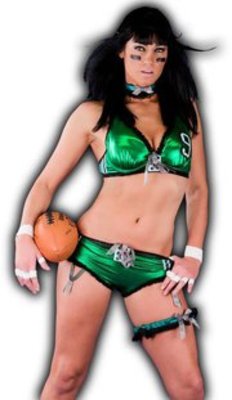 Ah, the city of brotherly love. The same pack of hooligans who booed Santa Clause can cheer (or boo) for Angela Perfetto.
Maybe she should change her last name to "Perfecto."
Chicago Bliss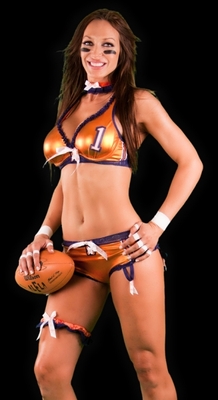 The LFL got a lot of things right when it comes to the uniform. My favorite?
The garter on Angela Yangas' leg. It's the little things, fellas.
Las Vegas Sin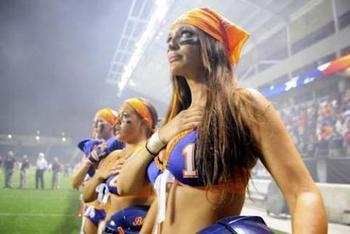 The national anthem makes me cry, too.
I wonder if I'm sensitive enough to land this bombshell...
Orlando Fantasy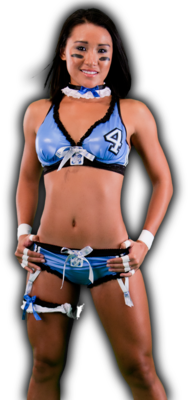 Jennifer Chu looks pretty perfect in the Orlando Magic/ Fantasy's colors.
It does, however, seem a little silly to wear eye black indoors.
Green Bay Chill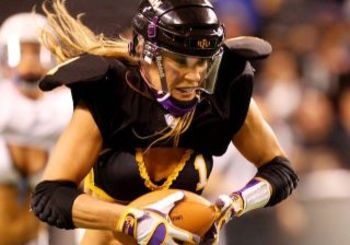 I wouldn't mind seeing these girls on the frozen tundra if you know what I mean (raises eyebrows furiously).
Seattle Mist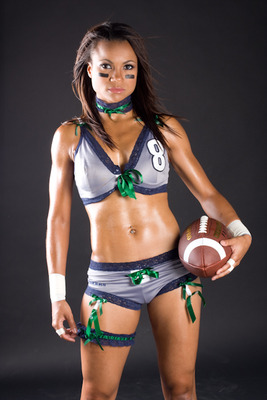 If Katie Ryckman came charging at me in this number, I might just stand there and take the lick.
Seattle might have lost the Sonics, but I bet the Mist can chase their blues away.
Los Angeles Temptation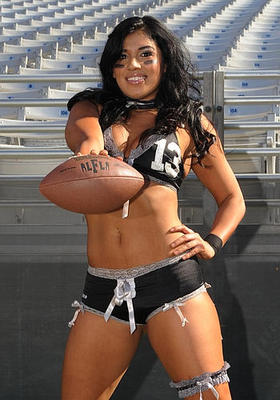 You got that right. Great team name, LA.
Monique Gaxiola led her team to a perfect 4-0 record last season and a Lingerie Bowl VIII championship.
Toronto Triumph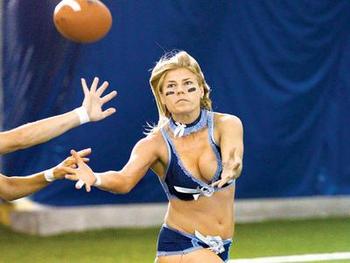 While you're keeping your eyes on the ball, we are keeping our eyes elsewhere.
I really gotta know--where do they find these women?
I sure as hell don't see them at the supermarket or the dog park.
Miami Caliente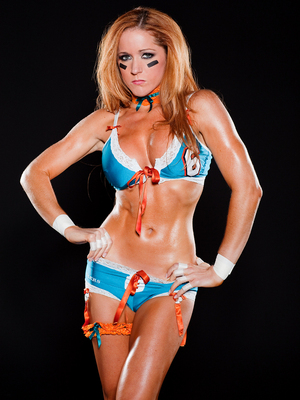 RIP Caliente. This squad went belly up before the start of the season.
I guess that's why Meg Liz Miller is making the sad face. I'm sure we could find someone to cheer her up.
Ana Ivanovic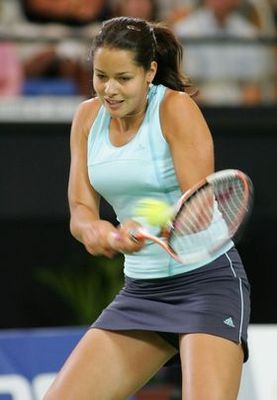 Ana Ivanovic may have never won a WTA title, but who cares? The Serbia and Montenegro native looks incredible in one of our favorites: the tennis skirt.
Nicole Vaidisova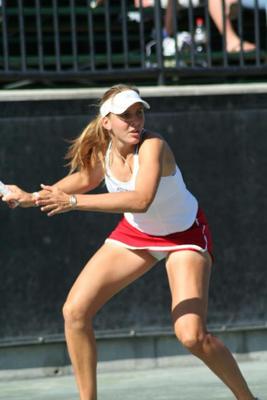 Nicole may be retired, but Czech this photo out.
Peek-a-boo! Tennis skirts should be mandatory during certain months of the year. Can I get a witness?
Maria Sharapova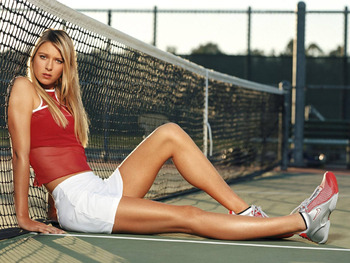 Like you didn't want to see Maria Sharapova in a tennis skirt.
The 24 year old Russian has racked up more than $16 million in prize money.
Maybe she could be my sugar mama.
Anna Kournikova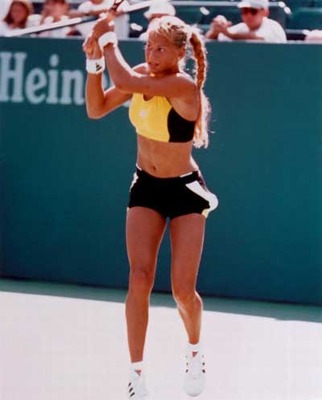 With Anna, it's the whole package. From the long braids to the tan skin to the late 90's attire, it all comes together.
If we're talking women's sports, Anna always makes a strong showing.
I wonder what Moscow is like this time of year.
Keep Reading