Patriots vs. Bills: Where Each Team Holds The Edge In Week 3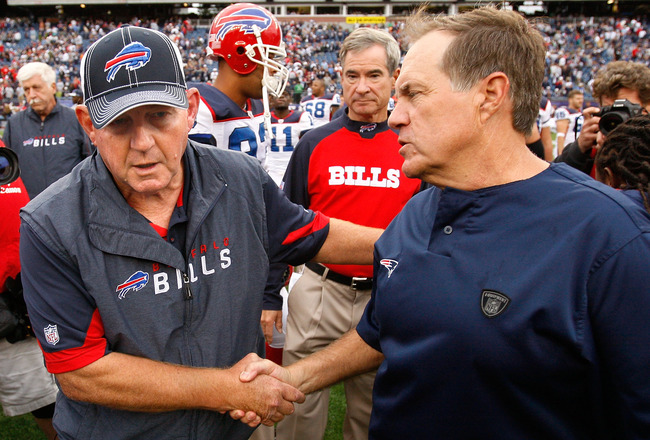 Jim Rogash/Getty Images
Over the past eight years, it's been easy to bet on any contest between the New England Patriots and Buffalo Bills.
This year, though, all bets are off. In fact, this looks like it could be Buffalo's best chance yet to finally exact revenge over the Patriots for 15 games worth of stealing their lunch money.
The only question is, can they? Will they?
Patriots Pass Attack vs. Bills Pass Defense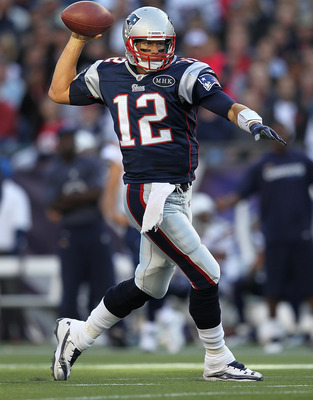 Jim Rogash/Getty Images
It's clear to me that sometime in 2008, after Tom Brady underwent reconstructive knee surgery, he was replaced by a robot. He has been the very definition of what you look for in a quarterback: efficient, smart, accurate and deadly.
Forget Jets fullback John Conner, we may soon have to call Brady "The Terminator."
10.7 yards per attempt. A 128.0 passer rating. 71.9 percent completions.
Wow, wow and wow.
It would be hard to argue that the Patriots pass attack wouldn't have the advantage against any pass defense right now. However, the Bills defense isn't the cupcake it once was. These guys are improving on the strength of the 10th-best defensive passer rating in the league (85.54).
That doesn't mean I like their chances of putting the breaks on Brady. He has been full throttle all season long, but his dominance stretches back to the middle of last season.
That stretch spans across a win over the Bills, where Brady threw for three touchdowns and had a 107.0 passer rating.
Advantage: Patriots
Patriots Running Attack vs. Bills Run Defense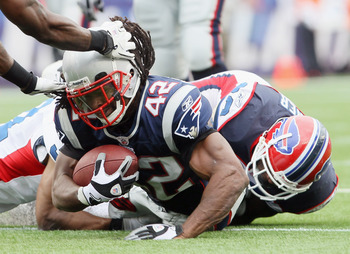 Elsa/Getty Images
New England isn't a team that wants to drop the hammer in the running game and make you respect the run to set up the pass. One thing it does well, however, is exploit matchups that are advantageous in the running game. That's why you see the Patriots line up in a lot of two tight-end sets—it gives them the option of going either pass or run.
They are also one of the most effective teams at running the ball out of the spread set, meaning that they can give the look of a pass and still run the ball effectively.
The Bills also haven't been too great up front to this point, giving up an average of 4.98 yards per carry, a stat that ranks them 28th in the league. They have two great defensive linemen in Kyle Williams and Marcell Dareus, but teams have had some success running against them through the first two games of the season.
Something tells me the Bills will be focused on stopping the pass, and more than willing to give the Patriots all the opportunities they want in the running game. The way Brady's playing right now, any play where he doesn't throw the ball has to be considered a win for the Bills.
Advantage: Bills
Bills Pass Attack vs. Patriots Pass Defense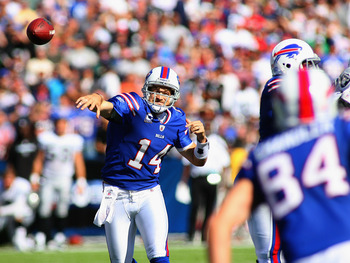 Rick Stewart/Getty Images
These are not your father's Bills, but they're not your older brother's Bills either.
They rank 13th in the league in passing, but Ryan Fitzpatrick is lighting up the scoreboards with seven touchdowns and just one interception—a stat line eerily reminiscent of Tom Brady's to this point in the season.
The Patriots pass defense hasn't improved much since last year, or the year before that for that matter. They ranked 18th in Defensive Passer Rating with 81.23, and rank 22nd this year with 95.4.
Wow. The everlasting episode of ineptitude continues.
What's more, this Bills offense is scary efficient, scoring at a rate of 10.7 yards per point scored. Essentially, what that means is the Bills only have to drive 74.9 yards to score the equivalent of a touchdown and an extra point. Considering almost every drive is starting from the 20-yard line now with the new kickoff rules, the Bills are scoring points with the efficiency of a microwave: you don't even see it on the electric bill, but it heats your dinner up in seconds.
Of course, the Patriots feature a bend-don't-break defense which would seem to counter an offense like the Bills. The Patriots are fledgling in many defensive categories, but this isn't one of them. Largely thanks to three interceptions, two fumble recoveries and a turnover differential of +4, the Patriots are one of the best bend-don't-break defenses in the league and make an opponent drive 149 yards to score a touchdown. That's almost twice what the Bills are currently driving for that much.
So, with that, something's gotta give. The way these two teams are playing, it would be foolish to think that this game won't be a shootout, so we'll give the advantage to the Bills.
Advantage: Bills
Bills Running Attack vs. Patriots Run Defense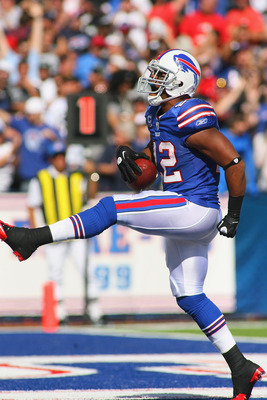 Rick Stewart/Getty Images
Fred Jackson is the league's leading rusher with 229 yards in the first two games. He's not just piling up the yards, though, he's picking them up at an average of 6.5 yards per carry and over 5.6 YPC in each of the first two games. That's a good start to the season.
As bad as the Patriots defense has been against the pass, it has been kind to opposing running backs as well. Its 11th ranking against the run is somewhat misleading. It actually ranks 20th in yards per carry allowed with 4.5.
The Patriots will likely try to neutralize Fred Jackson, as he is the offense's biggest threat. The Patriots took a similar approach in Week 2 against the Chargers, isolating Antonio Gates and taking Philip Rivers' best weapon away from him. It may not have been pretty, but it worked.
Daring the Bills to pass right now may seem like a bad idea, due not just to how well the Bills are playing, but how poor the Patriots secondary has looked. The Bills, however, only average 6.6 yards per attempt, whereas Fred Jackson alone averages 6.5 yards per carry.
The Patriots look like a defense that can put the breaks on a running back if they put their mind to it—specifically, the mastermind of Belichick. They have to prove it first.
Advantage: Bills
Special Teams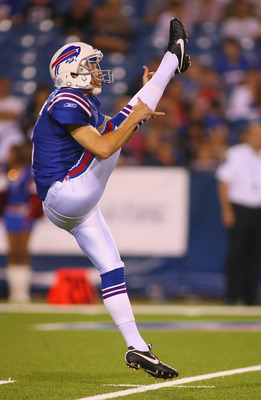 Rick Stewart/Getty Images
The Bills were once renowned for their special teams units, and though I'm sure they're happy to finally get some recognition on offense, this facet of their team isn't as dominant as it once was.
The Patriots haven't been dominant, either, but Julian Edelman has shown the ability to get into the open field on punt returns as well. He averages 11.8 yards per return.
C.J. Spiller is also an x-factor in the return game for the Bills, as he returned a kick for a touchdown last year against these very same Patriots.
That being said, with three players who have the ability to set up the offense with good field position or even to score points, the pressure will be on the coverage units to bring them down before they build a head of steam.
Brian Moorman has been a statistical phenom for the first two weeks of the season, averaging a gaudy 50.9 yards per punt. Even if Zoltan Mesko plays, that has to be seen as an advantage for the Bills.
Advantage: Bills
Coaching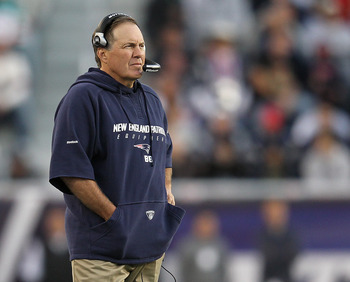 Jim Rogash/Getty Images
It almost feels cheap to constantly give the Patriots the advantage in this category, but I'm constantly reminded that Belichick is one of the best, if not the best head coach in the league.
From top to bottom, though, the Patriots have a respected coaching staff. And ultimately, it could come down to the coaching in this game. Specifically, whether the Patriots staff can have their guys ready to shut down Jackson as they were able to shut down Gates just last week.
With New England's track record of executing a game plan, this looks to be a matchup the Patriots could win in a landslide.
Advantage: Patriots
Conclusion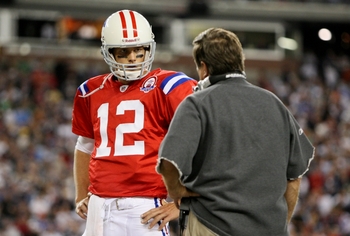 Jim Rogash/Getty Images
Looks like one way or another, this thing will be a shootout that comes down to not just which quarterback plays best, but which team executes its game plan the best as well.
Essentially, this comes down to the team with the best quarterback and head coach.
I think you know where I'm going with this.
Prediction: New England 35, Buffalo 31
Erik Frenz is the co-host of the PatsPropaganda and Frenz podcast. Follow Erik on Twitter @erikfrenz.

Keep Reading

New England Patriots: Like this team?