Kyle Orton vs. Cortland Finnegan: The Rematch
September 23, 2011
The Denver Broncos visit the Tennessee Titans in Week 3, just as they did last season in Denver's only road victory. 
One of the biggest stories after Denver's win at LP Field in 2010 was the back-and-forth between the Broncos' Kyle Orton and the Titans' Cortland Finnegan.
Orton riled up the Titan's cornerback and the rest of the team during his post-game press conference:
You always hear about how tough they are and all that stuff. I don't think they are tough. I think they are cheap, and it was one of the cheapest games that I've ever seen out of some of those players.
Orton followed this by specifically calling out Finnegan as the cheapest one on the field after what Orton perceived as a punch to his helmet-less offensive lineman. "If that's the type of player Cortland Finnegan wants to be, well then he's a cheap player, not a good player," he said.
Finnegan later responded to Orton's comments with an invitation back to Nashville. We can only speculate at what Finnegan had planned for Orton if he had returned. I can only imagine it would not have been pleasant for the Broncos' quarterback.
This week Orton finds himself on the way back into town only a year later. He would do best not to assume that his comments have been forgotten.
Finnegan is surely asking his head coach to put him in a position to put Orton in the dirt this Sunday.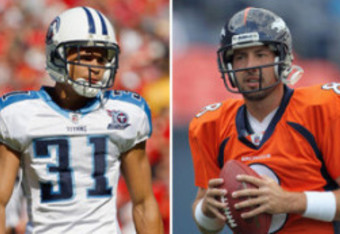 The Titans' star cornerback will most likely do his best to fire up his locker room before the game, which may end up working in Orton's favor.
The Titans lay claim to one of the toughest defenses in the league. They've been known for years as being hard-hitting, hard-nosed players. With years of uncertainty on the offensive side of the ball, Tennessee has relied on its defense to win games.
This week should be no different, as the Titans will need to play their best game to keep Orton's high-flying offense from racking up the points early.
If Tennessee's defense gets into a slug-fest with Denver and the flags start flying, Orton might be leaving with more than a win. He could leave with the satisfaction of being right.
Sloppy play, bad penalties and short tempers are things that the Titans cannot afford in this game—not just because of Orton's comments, but because it will leave the momentum in favor of the Broncos.
Let's be real, nobody really cares if Orton was right about Finnegan being cheap. It's as simple as this: If there's a lot of teams in the league that think you're a dirty player, you probably are—enter Ndamukong Suh.
However, what people will be concerned about is if Finnegan lets his plot at revenge—which we could all be making up—affect his play on the field, and the play of his teammates.
Expect both players to look for a fast start and do their very best to earn the momentum for their squad.
The player or team that allows their emotions, their pride and their image to get in the way of their intentions for the game will be the team that leaves the field with a loss.
After it's all over, the win and loss columns will matter a lot more than the victor of Orton and Finnegan's second bout.