Georgia Bulldogs' Richt vs. Ole Miss' Nutt: Scoring 2 Hot Coaches
September 23, 2011
Kevin C. Cox/Getty Images
Call it a predicament of unheralded southern gridiron proportions.
The Hot Seat Bowl in Oxford, Mississippi—otherwise known as Ole Miss versus Georgia—is leading the subject of media tackles this week. 
Fans of both teams are in a quandary.
Both of their coaches are walking the thin line of unemployment sitting on a 1-2 suitcase that is half-packed.  In the end, one will be checking out.  The other will be summoning the valet.
Will fans be singing "Hotty Toddy" in The Grove long after midnight or will it be Georgia's Dawgs who leave paw-prints of victory in the Oxford dirt?
Let's start up the road in Athens, Georgia.  
Bulldog fans have quieted their rants about Coach Mark Richt.
Their team shut out Coastal Carolina (59-0) last Saturday between the sacred hedges. The fans in red and black are bracing for a weekend storm out of their comfort zone and deep in the humidity of the Old South.  Awaiting them will be a slew of rowdy Rebel fans clamoring for an SEC win and a coach who is hanging on by a thread. 
The Bulldogs' win over Coastal Carolina (59-0), was convincing on paper.  But behind closed doors this week, Isaiah Crowell nursed sore ribs. The Georgia O-line lost two of its key players: Kolton Houston, who is ineligible and beefy right guard Chris Burnette, out with a recurrence of a knee injury. 
Kenarious Gates, who has been out at left guard this season, could return this week, replacing sophomore Dallas Lee who may, or may not start.  Will a feeble Georgia O-line be up to the challenge of the Ole Miss defense, which was nearly non-existent in last week's play against Vanderbilt?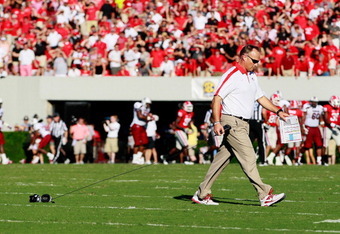 Kevin C. Cox/Getty Images
On the other side, could the Vanderbilt win last weekend over Ole Miss be a mere streak of luck on a Rebel off day? Statistics show there was more to it than luck.  Vandy's win was about skill.  The Commodore defense picked off five of all of junior quarterback Zack Stoudt's passes and scored three times in the second quarter alone.  At halftime, their 21-point lead was the largest lead over an SEC opponent in more than 30 years. 
The Ole Miss defensive line has the talent, experience and weight, but do they have the skill to keep Aaron Murray and Georgia's powerful run at a pace slow enough to keep points off the board? Even with an O-line that is altered, that's doubtful.
Houston Nutt has taken his share of the blame this week unlike Richt, who joked when told the upcoming game was being called The Hot Seat Bowl. And this week, while columnists and fans softened in their criticism about Richt's coaching, Nutt faced the scrutiny of alums that placed full-page ads in many of the state's newspapers calling for change.  From the Clarion Ledger to the Tupelo Dailey Journal and the Hattiesburg American, advertisements proclaimed, "A cloud hangs over us," adding, "We're tired of losing.  It's time for a change."
There are two things certain in this Bowl of the Survivor Coaches.  Only one team can win.
If you're Houston Nutt, a record of 23-18 won't cut it in the SEC and the raucous crowd this Saturday can't help you against the fire of the Bulldogs who are getting better each week.
For the Bulldogs, someone needs to tell the coach that the game in Oxford this weekend is no laughing matter.  And neither are the two losses you bring into Rebel town.
Click your heels Mark Richt, you're not in Kansas anymore. This is serious SEC play and you're on the road.  And that's a predicament that only gets worse as the season progresses.