The National Football League Weak Two Post-Dictions
September 22, 2011
Doug Pensinger/Getty Images
Week two of the NFL season is now history.  All of the games played were between teams in the same conference except for two: Kansas City traveled to Detroit to play the Lions, and the Seattle Seahawks flew to Pittsburgh to do their business with the Steelers.
Before I make my post-dictions about week two, I'd like to make one more about week one since they both share a common theme.  Thanks to Arian Foster and his hamstring, or more specifically his hamstring injury, my fantasy team has for the first two weeks anyway, inhaled canal water.
It wouldn't bother me so much except that I'm commissioner of this league.  It's a 10 team head-to-head league which I started mainly to keep in touch with family members.  Week one I lost to my soon to be son-in-law, and week two I lost to my nephew.  Family reunions will bite for me for some time to come, I'm afraid. Now on to some thoughts about week two games.
Detroit 48, Kansas City 3: What has happened to the Kansas City Chiefs?  Last season's AFC West Champion has started out 2011 with an 0-2 record having been outscored 89-10 by the Bills and Lions, respectively.  The Chiefs lost running back Jamaal Charles for the season to a knee injury.  Lions RB Jahvid Best led all running backs with 72 yards.  No matter how many yards he gains or doesn't gain, it will always be the "best" he can do.
Washington Redskins 22, Arizona Cardinals 21: Quarterback Rex Grossman threw for 291 yards and two touchdowns for the Redskins.  Washington's win over the Giants in week one was viewed by some NFL pundits as an upset.  Maybe, but I do know that for much of his career Grossman has been maligned for one reason or another.  If the Redskins keep winning Rex's play might be far from described as "gross man."  It's a reach, I know.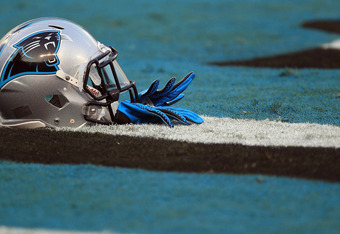 Streeter Lecka/Getty Images
Green Bay Packers 30, Carolina Panthers 23: Carolina's rookie quarterback Cam Newton has thrown for 854 yards in his first two professional games—more than any other rookie in league history.  However, that's not why I mention this game.  I mention it because the Carolina Panthers are my second favorite team.  Why?  Because if you rearrange the letters in Panthers it spells "her pants."  I know.  Sorry.
Tennessee Titans 26, Baltimore Ravens 13: This game was between two teams whose owners have similar histories.  The Ravens are a reincarnation of the old Cleveland Browns franchise, and the Titans were once the Houston Oilers before moving to Tennessee.  The Ravens are owned by Art Modell and the Titans owner is Bud Adams.  Both men have been vilified by their original fan bases.  I have a feeling that Modell and Adams were probably in the same luxury box at the stadium with drinks in hand and cigars smoldering each tapping their fingertips together and muttering in a manner like Montgomery Burns of the Simpsons, and repeating to themselves diabolically, "excellent."
Dallas Cowboys 27, San Francisco 49ers 24: Every time these two teams play ESPN's Chris Berman shows the video of himself covering the playoff game these teams played in, where Dwight Clark made "the catch" of Joe Montana's now famous desperation pass in the corner of the end zone in Candlestick Park.  I'm sure he has his loyal fans, but I find Berman to be an irritant of the worst kind.  The NFL pregame show he anchors is now three hours long.  I stopped watching it years ago because Berman has caused me to fully appreciate the mute button on my TV remote.  Can someone tell me why his "Two Minute Drill" on the occasional SportsCenter program lasts for eight minutes?
Houston Texans 23, Miami Dolphins 13: The leading ground gainer in this game was Miami's Daniel Thomas.  Remember when his daughter Marlo played "That Girl" on TV back in the sixties?  Oh wait, sorry, different guy.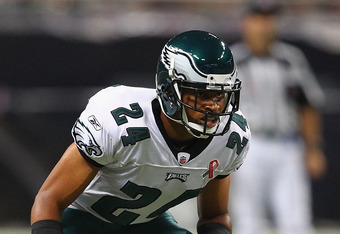 Dilip Vishwanat/Getty Images
Atlanta Falcons 35, Philadelphia Eagles 31: The Eagles may have lost this game, but one of the highlights was an interception by their recently acquired cornerback Nnamdi Asomugha. I only bring this up because the name Nnamdi Asomugha makes my spell-check go crazy. The guy is a great player and from what I've heard in interviews he's a decent guy, too. But his name reminds me of an eye chart in a doctor's office. I know—my name's nothing to boast about either.  I'm just making an observation.
Well, if you're still with me thanks for reading my little post.  I have to make these observations or my head will explode, and let's face it, nobody wants to clean that up.  Now I have to decide whether or not to make an Arian Foster voodoo doll.