WWE: Mark Henry and the 10 Most Shocking World Heavyweight Champions in History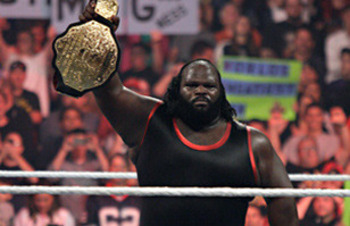 Mark Henry as the new World Heavyweight Champion
Two years ago, Mark Henry was fresh off a move to Monday Night Raw, having taken part in a blockbuster 15-man trade at the hands of the controversial Donald Trump the week prior. Upon his re-debut on the flagship show, Henry managed to pin then-WWE Champion Randy Orton as the third entrant in the main event's gauntlet match, turning face for the first time in years in the process.
With this victory, I fully expected for Henry to eventually contend for the WWE Championship against Orton at that year's SummerSlam event, but we were instead treated to yet another stale confrontation between the Viper and John Cena over the prestigious title.
As of this Sunday, Mark Henry is now reigning as the new World Heavyweight Champion for the first time in his career, after defeating Orton in a very similar fashion. Although many have speculated for him to contend for the world title at one point, whoever who ever would have thought the World's Strongest Man would ever fulfill his ultimate destiny?
Since the inception of the World Heavyweight Championship back in 2002, I can recall nine other incidents where the fans have been left shocked as the world's champion. Subsequently, these particular monumental moments will go down as some of the most surprising title changes in history.
Chris Benoit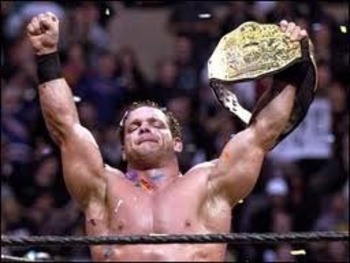 Chris Benoit as World Heavyweight Champion
Back in the good old days of a company known as WCW, highly skilled and agile cruiser-weights were known as "vanilla midgets," a term coined by the controversial Kevin Nash. Upon his move over to the WWE at the dawn of decade, it seemed to be that nothing had changed since he was once again paired with very good friend Eddie Guerrero.
However, after being able to win the annual Royal Rumble match in 2004, Benoit was guaranteed a spot in the World Heavyweight Championship match in the main event of WrestleMania 20. Despite involvement from Shawn Michaels, the Rabid Wolverine was able to force Triple H to tap out, winning his first ever World Championship apart of WWE in one of the most heartfelt WrestleMania moments of all time.
Thereafter, Benoit would go on to reign as champion before dropping the belt to Randy Orton at that year's SummerSlam event. Unfortunately for Benoit, was never again given the same type of push for the remainder of his career.
Rey Mysterio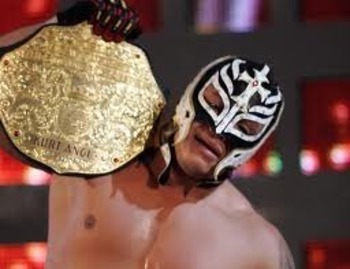 Rey Mysterio as World Heavyweight Champion
Much similar to Chris Benoit, Rey Mysterio had always been looked down upon as just another "vanilla midget" who can get a crowd on their feet, but never be able to shine outside of the cruiser-weight division. Due to the unfortunate and sudden passing of the legendary Eddie Guerrero in late 2005, Mysterio's character received a taste of new-found sympathy not only from the fans, but subsequently management.
Entering from the No. 2 spot, Mysterio outlasted 29 other Superstars to emerge victorious from the always shocking Royal Rumble match. At WrestleMania 22, Mysterio achieved what many thought he'd never able to succeed in doing: winning his first ever World Heavyweight Championship.
Since then, the Master of the 619 has gone on to enjoy an additional two, albeit brief, reigns as world champion, becoming one of the most decorated Superstars in the business.
King Booker (Booker T)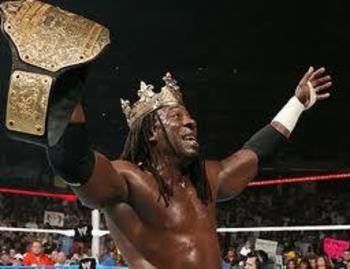 King Booker as World Heavyweight Champion
Since debuting in the WWE after the demise of WCW in 2001, Booker T was always known as one of the most electrifying, exciting Superstars to ever grace the business. His relationship with Goldust for a lengthy period of time provided for some hilarious segments, as did his as reigns as Intercontinental and United States Champion, respectively.
After being misused for quite some time, Booker T shockingly won the return of the King of the Ring tournament in 2006, effectively changing his name to King Booker in the process. Although many fans were down on the gimmick, Booker went on to win his first World Heavyweight Championship while apart of WWE by defeating Rey Mysterio at the Great American Bash.
Subsequently, his incredible reign lasted nearly four months, before he dropped the belt to the Animal, Batista. His momentum quickly died down after the title loss, but the rise of the King's Court in 2006 will always be known as Booker's last rejuvenation in the company before leaving for TNA Wrestling the following year.
The Great Khali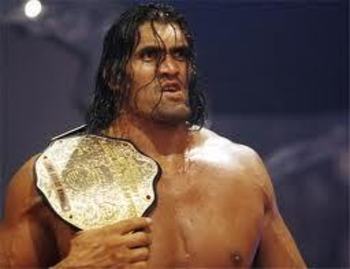 The Great Khali as World Heavyweight Champion
After three of the greatest competitors in WWE history, it pains me to reach this inevitable slide. Although he is one of the most unlikely World Heavyweight Champions of all-time, he certainly earns the award for the worst among everyone to be ranked in this slideshow.
Since arriving in the WWE in mid-2006, the Great Khali has always been one of Vince McMahon's favorite Superstars on the roster, merely due to his gigantic size at over seven feet tall. Due to an unfortunate injury, Edge was forced to relinquish his World Heavyweight Championship in July, meaning a 30-man battle royal was scheduled to determine a new champ later that evening.
Last eliminating Kane and Batista, the Punjabi Giant was successful in winning his first and, thankfully only, World Heavyweight Championship to absolutely no reaction whatsoever. After an immensely lackluster reign, Khali eventually dropped the belt to Batista a short two months later.
To this day, it still awes me as to why McMahon gave Creative the green light to give Khali the belt that fateful summer. Maybe it was because of his ethnic background, or maybe even his intimidating presence.
Whatever the case, fingers crossed history doesn't repeat itself in the very near future.
CM Punk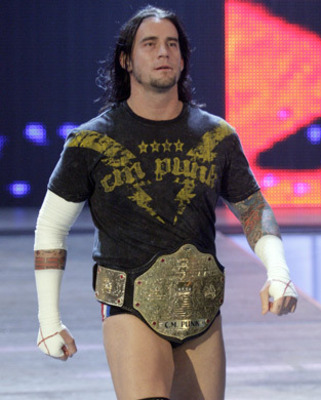 CM Punk as World Heavyweight Champion
Being the only former World Heavyweight Champion in WWE history to ever reign as ROH Champion prior to joining the company, CM Punk has always been amongst the IWC's top favorite wrestlers of all-time. Usually, Creative prematurely drops the ball on any wrestler coming through the WWE that has spent a significant amount of time on the independent scene, but Punk has been one of the very few exceptions.
As Punk has expressed in recent promos and interviews, management was never high on the Straightedge Superstar in the early years of his WWE run. Simply because of this fact, it was shocking to see Punk instead take Jeff Hardy's spot as the victor of WrestleMania 24's Money in the Bank Ladder Match.
Surprisingly enough, Punk successfully cashed in the opportunistic briefcase in June 2008 to win his first of many World Heavyweight Championships. Although the reign didn't last long, the Second City Savior's run as champ on Raw that summer came as a huge shock to many viewers seeing the show was also stacked with the likes of John Cena, Batista and Shawn Michaels.
Jack Swagger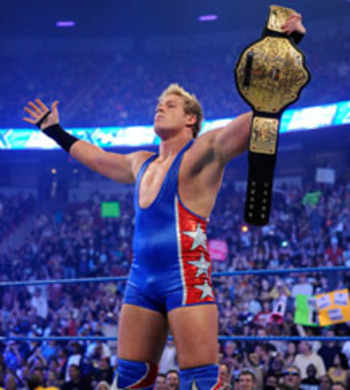 Jack Swagger as World Heavyweight Champion
After a very hot run in the Land of Extreme as ECW Champion in the first half of 2009, Jack Swagger's main event potential was subsequently wasted upon moving over to Raw that June. A weak program with MVP did him no favors, continuing to main event WWE Superstars for the remainder of the year.
However, Swagger would then pick up one of the most surprising Money in the Bank victories of all-time, at WrestleMania 26, cashing in the opportunistic briefcase a mere five days later on the egotistical Chris Jericho and being crowned the new World Heavyweight Champion.
Unlike past winners, Swagger really had no time to build as a solid heel upon his shocking title win in April. Sure, he has amazing in-ring ability, but his one-dimensional promos and lack of heat made his run as World Champion a forgettable one to say the least.
Not only that, but his win-loss streak as champion can prove my point as to why WWE dropped the ball on the All-American American so quickly. I'm not saying he won't become world champion again in his career, but his character needs some serious revamping before it's too late.
Kane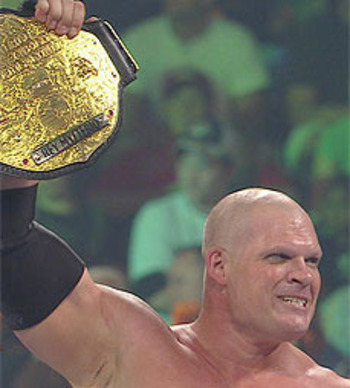 Kane as World Heavyweight Champion
For nearly a decade, Kane was subsequently left out of the World Championship title picture for the most part after removing his mask in 2003. His constant face-heel changes in recent years have yet to mean anything. Well, until last year that is.
In light of Undertaker's imminent return to the ring in the fall of 2010, WWE found the perfect opportunity to rekindle the rivalry between the Brothers of Destruction. In order to add some new spark to the ongoing feud, Kane was scheduled to win the SmackDown Money in the Bank briefcase at the last minute.
Successfully cashing in later that night against Rey Mysterio, Kane captured his first world championship for the first time in 10 years. This victory was much deserved by the Big Red Monster, who went went on to defeat Undertaker an unprecedented three consecutive times while maintaining a five-month reign by the end of the year.
Even though Kane was removed from the main event scene and reverted back to his direction-less ways shortly thereafter, he still remains as one of the respected veterans in the company today.
Dolph Ziggler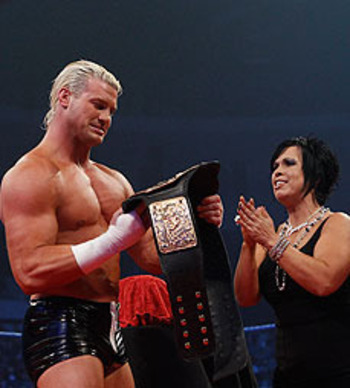 Dolph Ziggler as World Heavyweight Champion
If you're one of those viewers who questions as to why Michael Cole constantly refers to Dolph Ziggler as a former World Heavyweight Champion on commentary, I don't blame you whatsoever.
Following his loss of the Intercontinental Championship to Kofi Kingston on the premiere edition of SmackDown in 2011, Ziggler quickly inserted himself into the number one contender's Fatal Four Way match later in the evening to solidify his place in the World Heavyweight Championship Match against Edge at the Royal Rumble event.
After a number of failed attempts of capturing the gold while providing impressive showings, Vickie Guerrero subsequently stripped the Rated-R Superstar of his World Champion due to utilizing his banned Spear maneuver the week prior. On the 600th episode of SmackDown, Vickie crowned Ziggler as the new "rightful" World Heavyweight Champion, moments before a returning Teddy Long reinstated Edge, who defeated the bleach blond Superstar in a matter of minutes to reclaim the gold.
Originally, I thought the Ziggler's reign as World Champion was never made official, but it apparently was on WWE.com. It's a shame he won his first "big one" in the fashion that he did, but hey, he ended up becoming the latest prestigious Triple Crown Champion in the process.
Christian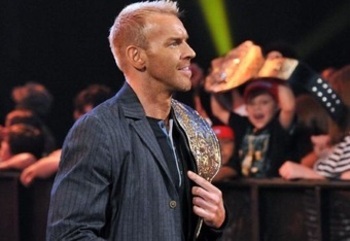 Christian as World Heavyweight Champion
When Christian returned to the WWE in early 2009 and was subsequently placed on the ECW brand, many members of the IWC believed it was due to his prior time in TNA and this was his way of being "punished". Aside from two extremely lengthy reigns as ECW Champion, Christian's chances of becoming World Heavyweight Champion seemed just about over upon moving over to the main roster.
Shockingly, Captain Charisma made his highly anticipated return to SmackDown this past February, involving himself in the rivalry of his best friend Edge against WrestleMania opponent Alberto Del Rio. After defeating Del Rio on two separate occasions, Christian's stock was risen to the point where he was finally being considered a main event competitor.
Due to the immediate retirement of the Rated-R Superstar in April, Christian earned his spot in the Ladder Match against Alberto Del Rio at Extreme Rules for the vacant World Heavyweight Championship. Despite interference from Ricardo Rodriguez and the massive Brodus Clay, Christian had finally captured the brass ring in capturing his first ever world championship, now being looked back as one of the most emotional moments of 2011 thus far.
Although Creative managed to drop the ball on Christian by having him drop the title to Randy Orton days later, as well as complete and absolute pointless heel turn, Christian's moment of grabbing the golden prize atop the ladder that night will never be forgotten.
Mark Henry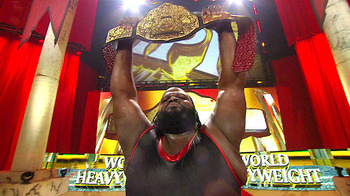 Mark Henry wins the World Heavyweight Championship
For years on end now, Mark Henry has always said to receive that certain push once every great while into the main event picture. He played a key role in Goldberg storyline in 2003, competed against the Undertaker in a Casket Match at WrestleMania 22, and recently turned heel to become one of the hottest things in pro wrestling today.
Unlike in past years, Henry has been booked to come off as an absolute monster with no apparent weakness, which is exactly the way it should be. After destroying the likes of Big Show, Kane, Vladimir Kozlov and Sheamus in recent months, it was only about time Henry would receive his inevitable World Championship match against Randy Orton at this year's Night of Champions pay-per-view.
While turning into the live show from Buffalo on Sunday night, I was astounded to see the World's Strongest Man to counter the RKO that Orton usually seems to pull right out of his ass every match right into a finisher of his, successfully pinning the Viper for a three-count to become the brand new World Heavyweight Champion.
Much like all the aforementioned Superstars on this list, Mark Henry of all people would have never been the guy to bet your money on six months ago to finally reach the brass ring. Of course Henry stated in a handful of interviews that he'd like to capture the golden prize before retiring in the next year, but surely no one took him seriously.
Ironically, Mark Henry is the first African-American to win a WWE World Championship since King Booker in 2006. I'm ecstatic that the grim streak has finally been broken, as well as Henry receiving the push and payoff he so rightfully deserves after fifteen years of dedication to the company.
Don't agree with some of my picks? Feel as if there is a certain Superstar I failed to mention?
No problem, just make sure to voice your opinions in the comments below. Thanks for reading as always, Bleachers, and your "likes", fan adds and overall feedback is greatly appreciated. GSM out.
Visit my website at Next Era Wrestling and my WrestleRant video blog for more of GSM's thoughts and writings, along with WWE/TNA news, recaps and more. Follow me on Twitter @SAVE_US_GSM.
Keep Reading