Redskins vs. Cowboys: TV Schedule, Live Streaming, Radio, Game Time and More
September 22, 2011
Jed Jacobsohn/Getty Images
The rivalry between the Washington Redskins and Dallas Cowboys isn't what it used to be, but it should provide some good fodder for Monday Night Football.
Besides, it's not like there's a shortage of drama surrounding this matchup. The Redskins are coming into the game atop the NFC East at 2-0, and the Cowboys will be playing their first home game of the 2011 season. They also have numerous injuries to overcome.
For a breakdown on these things and everything else you need to know, all you have to do is keep reading.
Where: Cowboys Stadium
When: Monday at 8:30 p.m. ET
Watch: ESPN (no DirecTV, which means no live video streaming)
Listen:  Live audio streaming on NFL.com (minimum $9.99 payment); ESPN 980 and Sirius 93 for Redskins, 105.3 The Fan and Sirius 92 for Cowboys.
Betting Line: TBD (check back soon)
What's at Stake?
It's early yet, but first place in the NFC East. The Redskins have it all to themselves at the moment, but the Cowboys can earn a share of it if they win and push their record to 2-1.
I'm personally not so sure that either of these teams will be in the mix at the very end, but being in the mix at the very beginning certainly can't hurt.
Redskins Injury Report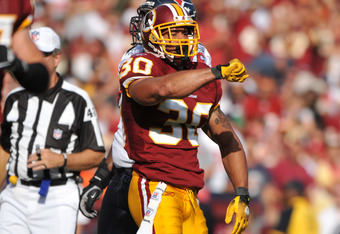 Larry French/Getty Images
The Redskins are going to enter Monday's game relatively healthy, and they may even get strong safety LaRon Landry back. He's missed Washington's first two games with a hamstring injury, but he told the Washington Post he's hoping to play on Monday night. 
Cowboys Injury Report
Goodness, where do we even begin?
Quarterback Tony Romo has a fractured rib and a punctured lung, but ESPN's Adam Schefter reported via Twitter on Wednesday that Romo is expecting to play.
Meanwhile, Cowboys head coach Jason Garrett said (per Redskins insider Chris Russell) that he is "hopeful" wide receiver Dez Bryant will be able to play, but he didn't sound as hopeful about wide receiver Miles Austin.
The good news is that the Cowboys could get cornerback Terence Newman back. He tweeted on Monday night that he's going to be back this week.
Fantasy Start 'Em: Rex Grossman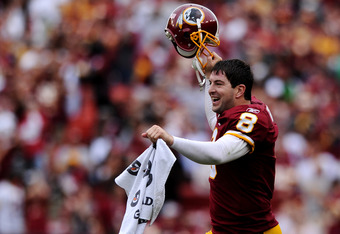 Patrick Smith/Getty Images
Alex Smith wasn't able to do much against Dallas' defense, but Mark Sanchez torched the Cowboys for 335 yards in Week one. That's a better reflection of how well the Cowboys hold up against the pass, and that's good news for Grossman.
Fantasy Sit 'Em: Tony Romo
It sounds like he could be without his top two wide receivers in Austin and Bryant. He will also be playing through a not insignificant amount of pain. Don't take your chances with him.
Fantasy Sleeper: Roy Helu
The Redskins rookie had a great game in Week two, carrying the ball 11 times for 76 yards while also catching three passes for 38 yards. Don't be surprised if Mike Shanahan gives him more work against the Cowboys.
What They're Saying
In Washington, Rick Maese of the Washington Post penned a story about how the Redskins aren't about to let their quick start go to their heads. However, Maese did include some interesting statistics that bode well for the Skins:
"While a 2-0 start certainly hasn't hurt the Redskins' confidence on either side of the ball, history suggests it doesn't reveal much about the future. Since the NFL expanded its schedule to 16 games in 1978, 249 teams have started the season with 2-0 records. Of those, 161 teams — 65 percent — went on to make the playoffs."
Hey, a 65 percent chance is better than, say, a 56 percent chance. You have to look on the bright side.
Via Jon Machota of The Dallas Morning News, we know that Tony Romo isn't too shaken by Warren Sapp's belief that the beleaguered quarterback is "not made for the big stage."
Said Romo:
"Criticism comes with playing this position. Warren has some, obviously, skins on the wall so he's able to say different things. And you have to accept that. As a quarterback, I did. I played poorly and I did two things that cost us a football game in the first week."
Romo neglected to mention that Sapp likes to run his mouth. Just because he does run his mouth does not mean anybody will take his words to heart.
Redskins Player to Watch: DeAngelo Hall
The Redskins cornerback is always a threat to make a big play, but he told the Washington Post that he plans to make a play on Romo's ribs.
"Absolutely. I want to get a chance to put my helmet on whatever's hurt," Hall said. "Romo's ribs — I'm going to be asking for some corner blitzes."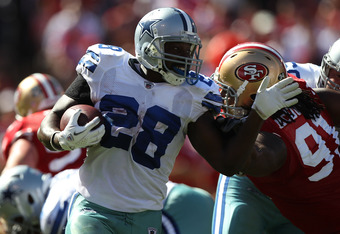 Jed Jacobsohn/Getty Images
We'll see if Hall is a man of his word.
Cowboys Player to Watch: Felix Jones
You'll definitely have to keep an eye on Romo, but don't overlook Jones. He's had a very tough time getting on track so far this year, and he's going to have to if he wants to take some pressure off of his wounded quarterback.
Of course, Jones is also coming off a game in which he dislocated his shoulder, and Hall said he'll target that too.
Key Matchup
Whoever's going to be guarding Jason Witten better come ready to play. With both Austin and Bryant likely to miss this game, Witten will be Romo's go-to guy by default. If the Redskins can neutralize him, the Cowboys are going to have a hard time moving the ball.
In the Hot Seat
It's always Romo.
He impressed people last week, but he's going to have to do so again on Monday. If he does, he'll be lauded again. If he doesn't, people will start complaining about how he shouldn't have been out there in the first place.
Prediction
I think the Cowboys are a decent team, but they're going to feel their injuries on Monday night. This one should go Washington's way.
Redskins 28, Cowboys 20