6 Things We Learned from FC Barcelona's 2-2 Tie at Valencia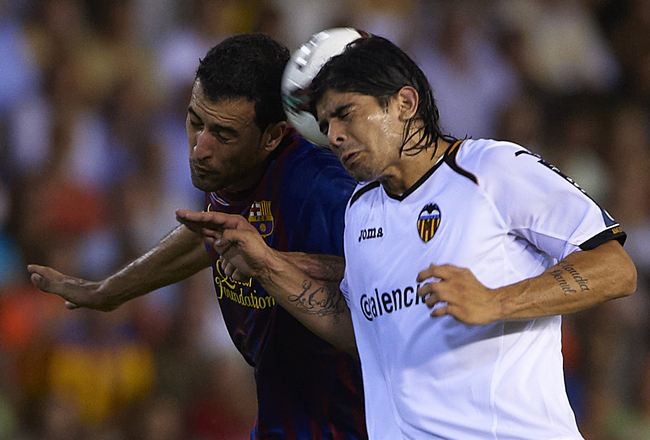 Manuel Queimadelos Alonso/Getty Images
FC Barcelona tied 2-2 against Valencia on Mestalla and remained a point above Madrid in La Liga in what was one of the best matches so far this season in European Football.
The first half, Barcelona's three man defense (Mascherano-Puyol-Abidal) crumbled and surrendered two goals, with Pedro pulling one back from the Blaugrana.
Pep returned to a 4-3-3 in the second half before turning back to a 3-4-3, with Cesc tying the game and Barca almost winning it in the final minutes.
Overall, it was a good result for Barcelona on what will prove to be one of the most difficult stadiums to play on La Liga this season. But even then, there where some points to learn from this tie for Pep and his men.
6. The Three Men Backline Had a Bad First Half...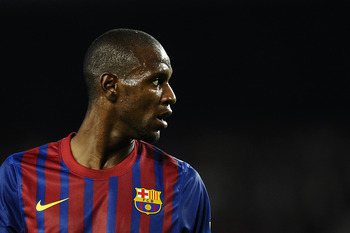 David Ramos/Getty Images
... but that doesn't mean it has to be abandoned, by any means.
I know it was frustrating to see Barcelona's back-line surrender clear chances, but that doesn't mean we should scrap the three-man back line.
In the second half, it was also used (and with Alves as a CB) and almost gave us a victory at Mestalla, so give Abidal, Mascherano and Puyol a break.
They had a bad first half; that's all that happened.
Even with four defenders, Valencia would have had scoring chances if the back-line's not playing up to their usual speed.
5. Keita's Not at His Best as a DMF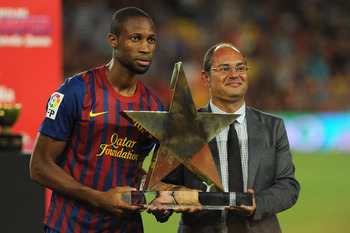 Valerio Pennicino/Getty Images
First thing's first: I was a big fan of Keita because he provided Barca with more muscle and a scoring threat from midfield that Xavi and Iniesta lacked. He was the box-to-box midfielder that completed the tiki-taka tactically.
I said was because now we have the best box-to-box goal-scoring midfielder in the world in Cesc Fábregas, a player that is 20 times the player Keita will ever be.
Pep Guardiola seems to know this too, and he's trying to make Keita play as a holding midfielder.
It's not working.
There's just too much talent at CM for Keita to play, and as much as I appreciate his past contributions, he just doesn't fit in this 2011 squad at all.
And he fits even less so when he's playing DMF.
4. Dani Alves Is Not a Winger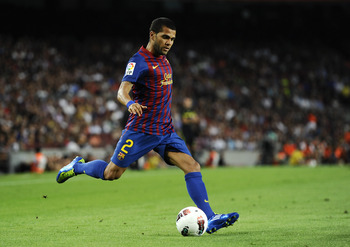 David Ramos/Getty Images
Here's another player I love playing out of position at Valencia.
Dani Alves loses his best asset when he's on the wing: He doesn't surprise anybody (he's already there).
Added to that, we also lose his magnificent playmaking from the back-up.
So please, Pep, let's not use him as a winger anymore, ok?
3. Messi Is Unstoppable Even When He's Having a Bad Day in the Office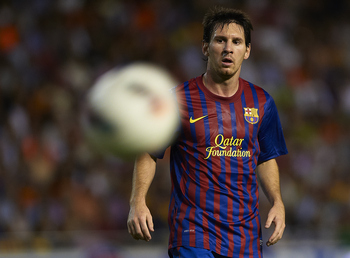 Manuel Queimadelos Alonso/Getty Images
Make no mistake about it: Messi had a TERRIBLE game today.
He seemed unfit, and he struggled to dribble with the agility and ease we usually see out of the Argentinian wunderkind.
He also missed a one-on-one against Guaita that nine times out of 10 ends up with the goalkeeper picking the ball up from the back of the net.
Yet, in a bad day, he contributed with two assists and created two penalties.
That's what you can do when you're the world's best.
2. When Messi Goes Missing, Cesc Will Appear and Fill in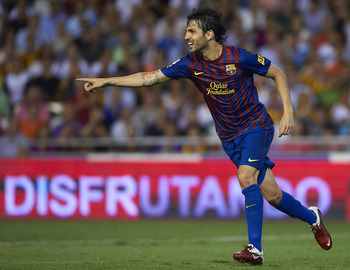 Manuel Queimadelos Alonso/Getty Images
Just when it seemed Barca was on its way to lose the match because Messi wasn't his usual self, Cesc Fábregas filled in for the Argentinian and scored to tie the game on a Lionel assist.
This might be a recurrent subject for me, but is there any way to stop them both?
The Messi-Cesc combo seems on a whole other level.
1. La Liga's Referees Are God-Awful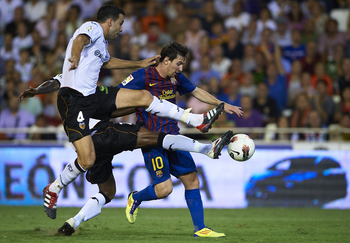 Manuel Queimadelos Alonso/Getty Images
The refereeing in this match was hideous.
Lio Messi was tackled twice inside the box with no penalty given, which was disgraceful on its own.
But the thing that really got on my nerves was the game's ending minutes.
2-2 tie on the scoreboard, and the ref gives four minutes on add-ons. Then, a Valencia player gets red carded for protesting, losing almost two minutes of the added-on time.
You would expect them to add more time, right?
Well, wrong. The match was whistled on the three minute, 22 second mark, thus giving almost no added time at all when Barcelona was pressing hard for a win.
Truth be told, I've NEVER seen that happen for Madrid. Or any other team for that matter.
And then they tell me Barcelona is favoured by the refs.
It's so bad, it's not even funny.
Follow FC Andrés Ehrli on Twitter! (@ehrli) or read his other Bleacher Report articles here!
Keep Reading

FC Barcelona: Like this team?