Arkansas vs. Alabama: TV Schedule, Live Streaming, Radio, Game Time and More
September 21, 2011
Joe Robbins/Getty Images
There isn't a single more exciting Week 4 college football game than the No. 14 Arkansas Razorbacks against the No. 3 Alabama Crimson Tide.
This will surely be one of the best extravaganzas of the college football season as the hatred and intensity between these two teams is obvious. The excitement will be off the charts and resemble a SEC Championship heavyweight bout.
Both teams are looking to jump ahead in the polls and claim No. 1 status across the country. More importantly, each team is looking to silence their critics. This matchup is one of the best of the season every time they meet and this year it will not disappoint.
We have budding superstars looking to make names for themselves on a national level, which will only increase the hard-hitting, bone-crushing and exhilarating action.
Do not miss this meeting because you will regret it instantly.
Where: Bryant-Denny Stadium, Tuscaloosa, Alabama
When: Saturday, September 24, 3:30 p.m. EST
Watch: CBS (check local listings), RazorVision ($12.95/Month)
Listen: ESPN 92.1 (KQSM-FM) Arkansas, WVUA-FM 90.7 Alabama
Betting Line: Alabama -12, according to Bodog.com.
Alabama may be one of the best teams in the nation, but the Razorbacks have been scorching hot in their first three games. Granted they were at home, but Arkansas has the skill players to keep this one closer than 12 points.
As much as I like Alabama—and I like them to win—I think this grand SEC bout will be much closer than Vegas thinks. Take the points. Even if Arkansas loses by 10 points, you still win.
Key Storyline
This is where we find out if Arkansas is the real deal. They aren't expected to win and are massive 12-point underdogs. This is their first road test of the season after winning three home games by a combined 141-38. They are set for battle with a completely different animal in Alabama.
They enjoyed a cupcake three-game start, but this will be their biggest test of the season. They're going to let us know if they have what it takes to compete at a high level this season with QB Ryan Mallett in the NFL and RB Knile Davis sidelined for the entire season.
Who Might Not Play for Arkansas
WR Greg Childs is probable to play after missing Week 3 due to the death of his grandmother.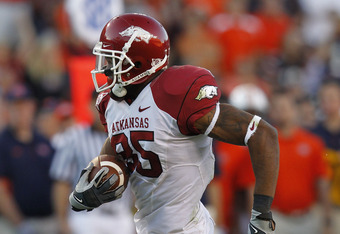 Mike Zarrilli/Getty Images
DE Jake Bequette is questionable with a hamstring injury.
WR Jarius Wright is questionable with a knee injury.
RB Broderick Green is out for the season with a knee injury.
RB Knile Davis is out for the season with an ankle injury.
Who Might Not Play for Alabama
LB Chris Jordan is questionable with an undisclosed injury.
WR Duron Carter is out indefinitely due to issues.
RB Dee Hart is out for the season with a knee injury.
BCS/Top 25 Implications
No. 2 LSU takes on No. 16 West Virginia and No. 7 Oklahoma State battles No. 8 Texas A&M this weekend, but Arkansas at Alabama is the biggest game on the slate.
These are two of the biggest powerhouse programs in the country and a win for Arkansas could catapult them inside the top five. A win over Arkansas, depending on its nature, could potentially push Alabama ahead of LSU and even Oklahoma in the rankings.
If Alabama were to lose this game, they won't fall out of the polls completely, but they would drop out of the top 10.
If Arkansas loses this game, they would most likely fall out of the top 20. They shouldn't fall out of the polls completely, at least.
What They're Saying
Wilson had success on the road last year against Auburn and will be looking back to that game to prepare for his trip to Alabama.
"Junior QB Tyler Wilson threw for 332 yards and four TDs at Auburn last season, his only other extensive road experience: 'That is going to be a positive takeaway from Auburn,' Wilson said. "The atmosphere and the noise didn't bother me. It was just going out and playing with your guys in the backyard,'" according to Razorbacks RapidReports' Jimmy Carter.
Richardson is preparing for a tough test against Arkansas' stout defense.
"'I know they're going to bring everything to me Saturday," he said. "I know I have to be prepare because they're going to be ready for me,'" Richardson said according to ESPN's Edward Aschoff.
Considering Richardson is finally out of Mark Ingram's shadows, I would expect him to record at least 100 yards and a score.
Who to Watch for Arkansas
QB Tyler Wilson is the key for the Razorbacks upsetting Alabama. He had big shoes to fill with Ryan Mallett jumping to the NFL, but he's been solid to start the season with 822 yards, five touchdowns and two picks.
Wilson has big-game experience, as he relieved Mallett last year against Auburn and tosses four touchdowns, 332 yards and two picks. Still, Nick Saban's Crimson Tide defense is a completely different beast. Wilson needs to show that he is truly ready to lead Arkansas as their featured signal-caller.
Who to Watch for Alabama
RB Trent Richardson is the key to success. He is the clear-cut best running back in the nation and will receive the most votes at his position for the Heisman award. We would have seen a phenomenal matchup between Richardson and Knile Davis, but Davis is out for the season, which puts the spotlight on Richardson.
Richardson isn't the biggest back, but he has remarkable power for his size. More importantly, he has the speed and agility to exploit offenses. He is a smaller, Chris Johnson-type back, which allows him to slide between tiny holes. Expect to see him explode.
Key Matchup
It's all about Richardson against Arkansas' stellar defense.
"The Razorbacks have yet to allow a rushing touchdown this season and are allowing 87.7 rushing yards a game and 3.3 yards per carry…

Richardson has averaged 75 yards in two games against Arkansas. Richardson knows this Arkansas team will be accounting for him on every play and come Saturday afternoon, he'll be ready for it," according to Aschoff.
Unfortunately, that won't cut it. Richardson is the key to success for the Crimson Tide, who is trying to jump ahead of No. 2 LSU and No. 1 Oklahoma to reign supreme in the BCS. Richardson is the glue holding this inexperienced offense together because everybody knows the aerial attack is not up to par here.
Arkansas' defense has been nearly unstoppable and the offense with Wilson and Childs is more explosive than Alabama's right now. In order to keep Wilson, Childs and the Razorbacks off the field, Richardson needs to churn out a big game and control the pace and the clock the entire afternoon.
On the Hot Seat
If there's anybody who would be on the hot seat, it would be Nick Saban. That isn't to say he would be fired, but a loss here would raise eyebrows. Saban won the BCS National Championship in 2009, but his Crimson Tide did not impress like many believed they would last season.
His team is in position to win the National Championship again, but a loss to No. 14 Arkansas would guarantee they are watching the game from home.
Prediction
This game is going to be off the charts, but not because the scoreboard will be lighting up. This will be a close, hard-hitting, chess match-esque affair.
You're going to see two of the best coaches in the nation (Alabama's Saban and Arkansas' Bobby Petrino) go back and forth, series for series, attempting to exploit the other's game plan. The Razorbacks have the superior offense, but the Crimson Tide has the best defense in the country.
This game will have a National Championship atmosphere and go down as one of the top games of the 2011 college football season.
Trent Richardson is the best RB in the nation and will help Alabama control the pace of the game. LB Dont'a Hightower and CB Dre' Kirkpatrick will be nightmares for Tyler Wilson, which will allow the Crimson Tide to seal the victory late.
Alabama, 20-13