Jets vs. Raiders: TV Schedule, Live Streaming, Radio, Game Time and More
September 21, 2011
Tom Szczerbowski/Getty Images
It is never easy for an east-coast team to travel 3,000 miles to play a game on the west coast, especially when the game is contested in the Black Hole of Oakland-Alameda County Coliseum.
That's exactly what the tough New York Jets will face when they square off with an Oakland Raiders team looking for redemption after losing a heart-breaker to the Buffalo Bills.
The Jets haven't looked great this season, and a tough Oakland team will give New York everything they can handle on Sunday.
Where: Oakland-Alameda County Coliseum, Oakland, California
When: Sunday, September 25, 4:05 PM EDT
TV: CBS
Live Streaming Audio: NFL.com Audio Pass ($29.99 for year, $27.99 team specific, $9.99 a month)
Radio: New York—1050 ESPN, Oakland— LIVE 105 FM and Sports 1140 AM (KHTK), Sirius Satellite Radio
Line: Over/Under—45, Spread—Oakland +3 (according to Covers)
What's at Stake?
The AFC is a hotbed of the stiffest competition in the NFL, and making a run into and through the playoffs is one of the toughest things to do. This game will be a great measuring stick for both teams, but the Raiders need this victory far more than the New York Jets.
If the Jets lose, they still have plenty of time to right the ship with all the talent they have, but the Oakland Raiders would go down 1-2 with a tough schedule ahead and lose their way.
Jets Injury Report
Logan Payne, WR, Out
Robert Turner, G, Out
David Harris, LB, Questionable
Santonio Holmes, WR, Questionable
Eric Smith, S, Questionable
Raiders Injury Report
Jacoby Ford, WR, Out
Michael Mitchell, S, Out
Louis Murphy, WR, Out
Darrius Heyward-Bey, WR, Questionable
Kevin Boss, TE, Questionable
Stephon Heyer, T, Questionable
Michael Huff, S, Questionable
Richard Seymour, DT, Questionable
Fantasy: Start 'Em, Sit 'Em and Sleeper
Start 'Em: Darren McFadden, Raiders
The Oakland Raiders have shown a true commitment to the running game this season under the new regime, and Darren McFadden is starting to pan out as the running back they thought he would be coming out of Arkansas.
Even against a stellar Jets defense, McFadden will be a big part of the running game and the passing game, making him a fantasy-point machine.
Sit 'Em: Mark Sanchez, Jets
Not only is mark Sanchez the most overrated quarterback in the NFL, the fact that he tries to be a gunslinger shows that he is also the Achilles heel of the tough Jets squad.
You need to sit him against the tough secondary of the Raiders and go with another option.
Sleeper: Denarius Moore, Raiders
It all depends on who gets covered by Darrelle Revis on Sunday, but if Antonio Cromartie gets assigned Denarius Moore, expect a huge day from the speedy wideout.
Moore amassed five catches for 146 yards and a touchdown against the Bills and looks to do the same on an even better defense.  
Jets Player to Watch: Mark Sanchez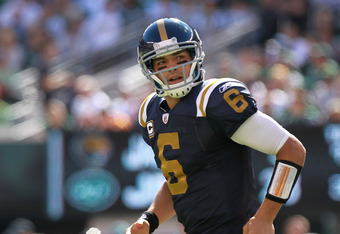 Nick Laham/Getty Images
The New York Jets are a defensive team that uses the running game to get them where they need to go.
But what happens when the running game stalls? The team puts the ball in the hands of the most incompetent quarterback in the league.
Most of the problem is that Rex Ryan has very little trust in his quarterback, but it's also because Sanchez has proven that he comes up small in the biggest situations. Let's see if Sunday is another situation to come up small in.
Raiders Player to Watch: Darren McFadden
The Oakland Raiders are finally seeing the star running back they knew they had coming out of college, and this will be his first real test against a Super Bowl-caliber defense.
If the Raiders' offensive line can continue to make the holes McFadden uses so well, the stingy Jets defense could get hit with a hefty dose of Run DMC.
Key Matchup: Jason Campbell vs. NY Jets Defense
The Oakland Raiders defense is good enough to stifle the Jets offense, but the question will be whether or not Jason Campbell can take advantage of a defense that feasts on the best quarterbacks in the league.
Campbell is a streaky quarterback, but the Raiders are hoping that Darren McFadden will dictate the game so that all Campbell will have to do is just manage the plays, and make plays when necessary.
Prediction: Oakland Raiders 20, New York Jets 17
Check back for more on the NFL world as it comes, and check out Bleacher Report's Football Page to get your fill of the NFL.