Fantasy Football Week 3 Wide Receivers: Who to Pick Up, Drop and Ignore
September 21, 2011
Tom Szczerbowski/Getty Images
We are preparing for Week 3 in the NFL and already the injury lists look like a phone book.  I know I had to watch in horror in one of my fantasy leagues over the weekend as key players left the field with injuries and even in a league where I had extreme depth I'm now looking at the harsh reality that by bench is banged up bad. One key injury in the wrong position and I have problems there, too.
I know you are surfing the waiver wire today, so here are my thoughts on some wide receivers on the radar. Tight ends, which are basically wide receivers in fantasy football anyway, are also included.
Pick-Ups (get 'em while they're hot)
Denarius Moore (Oakland Raiders) - I actually drafted this guy late in one league, as he lit up training camp, but figured he'd be a fantasy player of note later in the year. Due to injuries to the Raiders receiving corps he got his chance last Sunday and rocked it for 146 yards on five catches and a spectacular touchdown.
He's got natural skills and he's more talented than the originally listed starters. He'll force himself into the lineup even when the regulars are healthy and is worth having around.  He's still out there in a whopping 79 percent of Yahoo! leagues at press time.
David Nelson (Buffalo Bills) - In the first two weeks, Nelson has been targeted tons of times already. He has 14 catches for a total of 149 yards so far, ten of those catches this past week.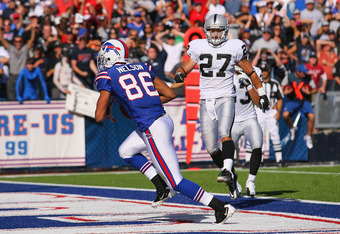 Rick Stewart/Getty Images
The Bills have been putting up points and figure to do so again this weekend when they play the New England Patriots, who have given up the 4th most fantasy points to wide receivers thus far this year.
With Roscoe Parrish out for the year now, Nelson will continue to see his chances.
He's still out there in 88 percent of Yahoo! leagues as of this writing.
Scott Chandler (Buffalo Bills) - It appears Chandler is for real, and he scored again this week. Any format has to love a guy who catches touchdowns.
Eric Decker (Denver Broncos) - Averaging over 20 yards a catch with eight grabs on the season so far, Decker is looking like a potential stud. With Eddie Royal and Brandon Lloyd banged up, he'll see his chances to continue.
Ignores (scout these guys, but wait to see more)
Kevin Ogletree and Jesse Holley (Dallas Cowboys) - Miles Austin's hamstring appears to be bad enough to keep him out at least a few weeks and Dez Bryant missed last week. Ogletree and Holley have talent and speed, but with a badly banged up Tony Romo or possibly Jon Kitna throwing the ball, odds of either having a good game are low. Put them on your watch lists, though.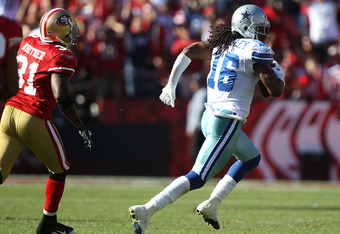 Jed Jacobsohn/Getty Images
Lance Moore (New Orleans Saints) - Wait until he's proven healthy. Better options out there until then.
Drop (cut these guys and upgrade)
Braylon Edwards (San Francisco 49ers) - He hasn't been healthy and even when he becomes so, it's been a long time since he's been a solid fantasy player and is not on a solid team.
Roscoe Parrish (Buffalo Bills) - Roscoe, you dipstick!  He couldn't catch the Dukes of Hazzard nor can he catch a break. He's out for the year with an ankle injury.
Chad Ochocinco (New England Patriots) - Tom Brady is having too much fun throwing to his tight ends and Deion Branch. Ocho isn't seeing the love he needs to spend any time in your lineup.