Joshua Cribbs May Be Key to Success of Cleveland Browns Offense
September 22, 2011
Matthew Stockman/Getty Images
We overreact. As fans, it's what we do.
So that's what I'm going to do.
The Cleveland Browns have only played two games but it already looks like Joshua Cribbs will be having a big impact on the success or failure of the offense.
In the opener against the Bengals it was a monster kick return that finally got the offense rolling in the second quarter and set up the Browns' first scoring drive.
Then this past Sunday it was another 50-plus yard kick return by Cribbs that once again set up Cleveland's first score.
If that wasn't enough, with the game still close at 17-12 in the fourth quarter Cribbs returned a punt 43 yards to the Indianapolis 28-yard line. Three plays later Peyton Hillis was walking into the end zone for his second score of the game.
That stuff isn't new to us. We all know that Cribbs is the best return man in the NFL. (It's pretty clear at this point that Cribbs was ailing quite a bit all last year. He looks must faster and quicker in these first two games.)
What is new is that the Browns have (finally) found a way for Cribbs to be productive on offense that doesn't involve him lining up in the shotgun.
The Wildcat days are over. It was a nice run and very fun at times, but all good things must come to an end.
Cribbs had three catches for 41 yards on Sunday. The Browns' only scoring drive that wasn't set up by a Cribbs return (only because of a touchback) was kept alive when he took a bubble screen on third-and-long for 25 yards. A very underrated play, but one that when you look back could be the difference between winning and losing.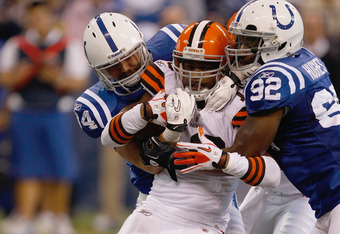 Scott Boehm/Getty Images
These are the kinds of things that Cribbs brings to the table.
I don't know that he'll ever be a No. 1 or even a No. 2 receiver. He isn't going to suddenly become the focal point of the offense. But the plays that he makes in the return game and on those swing passes and bubble screens are like a jolt of electricity for a young and inconsistent offense.
The Browns offense is going to center on Colt McCoy throwing to the tight ends and occasionally to Mohamed Massaquoi and Greg Little, with a steady does of Hillis's running.
But it might just be Cribbs who is the most important player to the offense.
And finally we have a coach who knows how to use him!
Added after the origonal publishing of the article:
On Wednesday night Mary Kay Cabot wrote that Cribbs may also be used as a running back as well as a receiver.
"All off-season, I've been working on my receiving capabilities and helping my team on the offensive side," Cribbs said. "It's all aspects on offense, helping my team win: receiving, running back, quarterback, whatever."
Pat Shurmur may be looking for even more ways to get the ball to one of the most dynamic players in the league.
Should be fun to watch going forward!
You can follow me on Twitter @ClevelandFlack.