Marcus Allen: Heisman House Football Legends, Nissan Fan Heisman Trophy Ballot
September 21, 2011
Football fans will get to see what happens when you gather 11 Heisman Trophy winners under one roof in Nissan's 45-second "Heisman House" episodes which will air immediately before ESPN's Saturday Night Football on ABC each week of the season.  
Here is the first episode, and there are three others.
USC Trojan 1981 Heisman Trophy winner Marcus Allen is one of these football legends, and he talked to me about it and his thoughts about college football today.
Nissan is also giving fans the chance to make their voices heard by turning its one official Heisman ballot over to the public. Fans may vote on ESPN.com or via the Heisman app on Nissan's Facebook page.
In addition to helping determine this year's Heisman Trophy winner, fans who vote will also be entered to win a grand prize trip to attend the trophy presentation and activities live in New York on December 10. Nissan is the presenting sponsor for the Heisman Trophy.
Marcus told me that he enjoyed spending time with his Heisman friends and especially getting to know Mark Ingram (Alabama RB 2009) who is new to the Heisman club. Marcus said, "He is a great addition to the Heisman fraternity."
Here is the episode that he is featured.
Other Heisman legends include Tim Brown (Notre Dame WR 1987), Doug Flutie (Boston College QB 1984), Eddie George (Ohio State RB 1995), Desmond Howard (Michigan WR 1991), Barry Sanders (Oklahoma State RB 1988), Troy Smith (Ohio State QB 2006), Vinny Testaverde (Miami QB 1986), Charlie Ward (Florida State QB 1993) and one mystery name.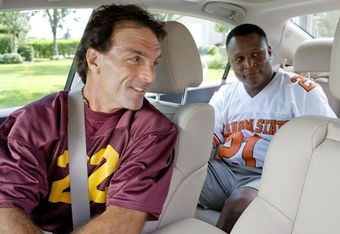 Nissan selected recognizable names and faces and players from a wide geographic spread from across a few different eras.
The Sports Illustrated Heisman Tour Presented by Nissan kicked off its fifth year on September 3 at Cowboys Stadium, before LSU bested Oregon in ESPN's Game of the Week.
At each of the remaining nine tour stops, fans will have the opportunity to meet college football legends and former Heisman Trophy winners, get their picture taken on the cover of Sports Illustrated with the Heisman Trophy, pick up a free copy of Sports Illustrated's special edition College Football's Unforgettable Games and take a closer look at the 2012 Nissan Maxima and Nissan Frontier.
Here is the schedule for the remaining tour stops:
Sept. 17 Oklahoma @ Florida State
Oct. 1 Nebraska @ Wisconsin
Oct. 8 Iowa @ Penn State
Oct. 15 Florida @ Auburn
Nov. 5 Texas A&M @ Oklahoma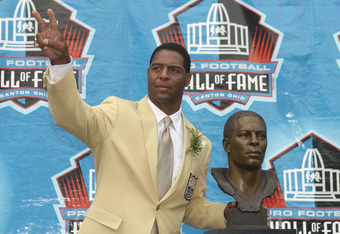 David Maxwell/Getty Images
Nov. 12 Florida @ South Carolina
Nov. 19 USC @ Oregon
Dec. 3 Big Ten Championship
Marcus very much wanted to participate in the tour stops but told me:
"I do studio work for Fox college football so my Saturdays are all booked. The tour is exciting, and if I weren't working, I would certainly be involved because I enjoy meeting the fans and being part of the festivities of college football and promoting the award."
Marcus Allen also shared his thoughts about college football in an exclusive interview. Here is his advice for running backs and feelings about the future of college football. Several other articles will complete his interesting perspective on USC and college football over the next few weeks.