Stevie Johnson Injury: Updates on Bills Star's Week 3 Status and Fantasy Value
September 20, 2011
Rick Stewart/Getty Images
Buffalo Bills star receiver Stevie Johnson is dealing with a groin injury that is worsening as the season goes on.
Johnson missed practice last week because of it and had complications that kept him benched during some of the final drive during the Bills' thrilling victory over the Oakland Raiders.
UPDATE: Friday, Sept. 23 at 4:45 p.m. EST
Johnson owners and Bills fans can all relax as it looks like he will be ready to go on Sunday against the Patriots. Here is what WGR Sports Radio beat reporter Joe Buscaglia tweeted on Johnson's status,
James Walker of ESPN also confirmed that he is probable.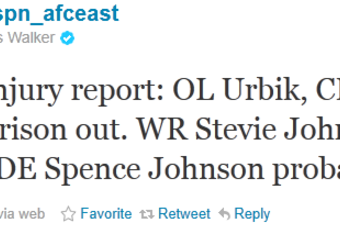 UPDATE: Thursday, Sept. 22 at 2:12 p.m. EST
Stevie Johnson is back on the practice field today, according to the Buffalo Bills.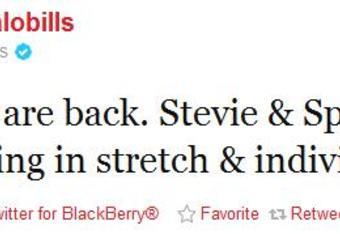 UPDATE: Thursday, Sept. 22 at 12:35 p.m. EST
According to ESPN's Adam Schefter on SportsCenter,
Johnson plans to practice today and that he will play Week 3 even if he's not 100 percent against the Patriots.
UPDATE: Thursday, Sept. 22 at 10:06 a.m. EST
Johnson has shed some light on his pain threshold, according to National Football Post's Terry McCormick.
"Stevie Johnson of the Buffalo Bills has been battling a groin injury since early in training camp.

Some days the pain is worse than others, but after Sunday's comeback win over the Oakland Raiders, the injury has apparently flared up again, according to the Sporting News.

Johnson rated the pain a 'seven' on a 1 to 10 scale."
UPDATE: Thursday, Sept. 22 at 9:59 a.m. EST
Stevie Johnson didn't practice Wednesday. NFL.com hasn't updated his Week 3 status, but it is difficult to see him practicing Thursday. Still, I'd be hard pressed to see him on the sidelines with a big division game against New England at home.
Tuesday, Sept. 20, 1:15 p.m. EST
Jay Skurski of The Buffalo News is reporting that Johnson is in pain even when walking around the locker room.
As of right now, Johnson doesn't expect to miss Sunday's game against the New England Patriots.
Johnson said, "Right now I feel like it's something I'm going to have to play through. When I'm out there, it'll hurt, but I'll still be giving it my all." 
Wednesday, Sept. 21, 7:15 a.m. EST
While Stevie and the team have not discussed his injury any further, it seems like they have been talking contract. Joe Buscaglia of WGR-AM broke the news last night.