Arian Foster Injury: Updates on Texans Star's Week 3 Status and Fantasy Value
September 20, 2011
Marc Serota/Getty Images
Houston Texans running back Arian Foster, who missed the first game of the season and played sparingly in Week 2, is still nursing the hamstring injury that has plagued him since the preseason. Fortunately, the team has not needed him to this point because Ben Tate has played terrific so far.
Sunday, Sept. 25 at 11:42 a.m. EST
Fantasy players can officially start to panic as Jason LaCanfora tweeted bad news for owners of Foster.  
Sunday, Sept. 25 at 11:35 a.m. EST
Just in case you were holding out hope, Adam Schefter has dashed those dreams.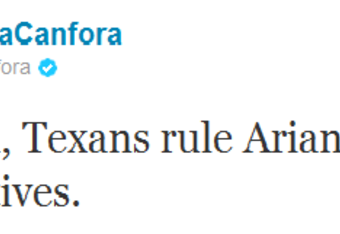 Sunday, Sept. 25 at 9:00 a.m. EST
According to Mike Florio of ProFootballTalk.com, Foster is not expected to play today after being limited in practice on Thursday and Friday.
Foster's fantasy value was going to be limited this week even if he did play, but with him not likely to go it would be a wise move if you went to your contingency plan. In fact, until he is back to 100 percent there is no reason to start him because the Texans do not need him to play right now.
Friday, Sept. 23 at 2:40 p.m. EST
According to the official Twitter account of the Houston Texans, Arian Foster will be a game-time decision for this weekend's game with the New Orleans Saints.
Thursday, Sept. 22 at 3:17 p.m. EST
Foster's practicing today is part of the process and is a day-to-day situation, according to the Houston Texans.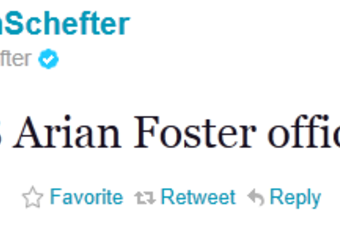 Thursday, Sept. 22 at 3:10 p.m. EST
Foster was limited in practice today, according to Houston Chronicle's Anna-Mega Raley.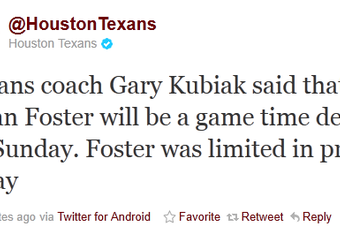 Thursday, Sept. 22 at 9:11 a.m. EST
It's not looking good for Foster's fantasy owners heading into Week 3. The superstar RB hinted that he will rest his bothersome hamstring against New Orleans.
According to Houston Chronicle's Jeffrey Martin:
"'I'll take it day by day, mainly keeping it more and more healthy until I feel it's 100 percent,' [Foster] said. 'I'm a competitor, and I want to play. I want to help this team win ballgames. This is one of those injuries … you can't push through it. The more you push, the worse it gets. It's just tough for a competitive person.'

Foster couldn't say when he'd be back on the field, but he knows he'll be back.

'It's going to get healed - it's only Game 2," Foster said. "I want to be out there with my team, but this team is looking to advance further than we have before. I want to make sure I'm healthy for the right stretch.'"
Foster's fantasy owners and Texans fans should tentatively expect to see Foster on the sidelines beyond Week 3. It seems the Texans and Foster finally realize that this injury needs time to heal and that he needs to be healthy for the stretch run of the season.
Wednesday, Sept. 21 at 2:30 p.m. EST
Fantasy players waiting on Foster to become the featured back in Houston will probably have to look for some alternative.
John McClain of the Houston Chronicle wrote that Ben Tate, who has rushed for over 100 yards in each of Houston's first two games, is going to get a majority of the carries until Foster is 100 percent.
Head coach Gary Kubiak is not going to rush things with his Pro Bowl running back.
Tuesday, Sept. 20 at 1:15 p.m. EST
According to the injury report on ESPN.com, Foster did not work out with the team on Monday after aggravating his hamstring on Sunday.
Head coach Gary Kubiak says that Wednesday will be the real test to see where his star running back is at right now and what his status will be for this week's game at New Orleans.
He (Foster) is a little sore today. ... I think it is a going to be a process with Arian working himself back to full speed and carrying the full load. I think (Sunday) was a step in the process and we'll see where we're at Wednesday.
The good news for the team is that Tate has been holding his own as the primary running back, and the defense has shown tremendous improvement, albeit against bad teams, in the first two games of the season.