Rams vs. Giants: 5 Rams Who Shined in Loss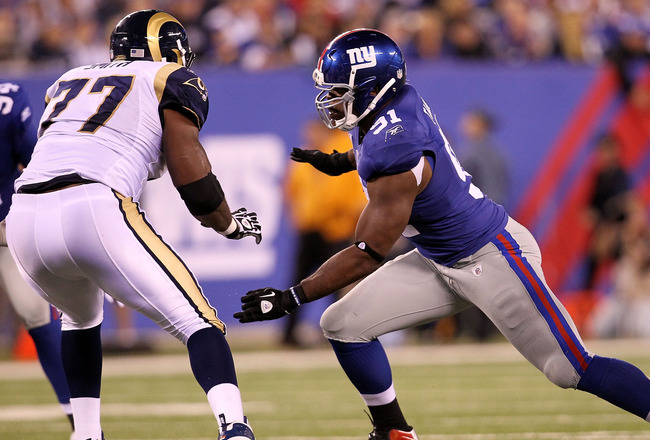 Al Bello/Getty Images
The St. Louis Rams loss to the New York Giants on Monday Night was a tough one for Rams fans to swallow.
Boneheaded plays plagued the Rams. They committed a couple of silly turnovers and had penalties called against them in critical situations.
There were some bright spots for the Rams, however. They finished with 67 more yards than the Giants. St. Louis also held Eli Manning to just 200 yards passing, which is very difficult to do in today's NFL.
I previously mentioned five players that failed to meet their expectations on Monday Night, and as promised, here are five players that stood out despite the loss.
Quintin Mikell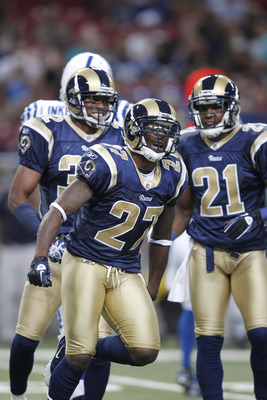 Joe Robbins/Getty Images
Quintin Mikell may be the Rams' best signing in the offseason in a long time. It's hard to envision where this St. Louis defense would be without Mikell right now.
Mikell has made some major plays for the Rams early in the season. In Week 1, he forced a critical turnover on a strip-sack of Michael Vick. That forced turnover kept the Eagles from scoring a touchdown.
Against the Giants, he made a great break on Eli Manning's pass to get the interception. The pick stopped a Giants offense that was marching down the field.
Aside from forcing turnovers, Quintin Mikell has been laying the lumber. I knew this guy was tough, but he looked like a mad man on Monday Night.
Mikell smashed Ahmad Bradshaw on numerous occasions. His biggest play was cutting down the mammoth of a running back, Brandon Jacobs. One-on-one in the hole the, the 204-pound Mikell took out the 264-pound Jacobs like it was nothing.
That's what I call taking one for the team.
Sam Bradford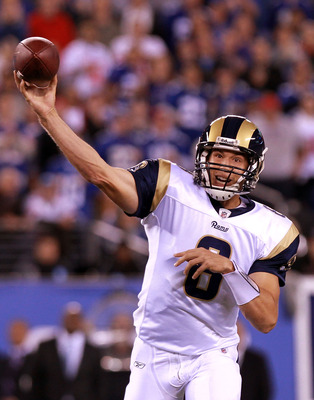 Nick Laham/Getty Images
Despite completing less than 50% of his passes, Sam Bradford had an excellent night for the St. Louis Rams.
Bradford was able to march the Rams offense up and down the field to the tune of 331 yards.
What's so impressive about Sam Bradford's numbers is that he is able to put them up without having a great receiver. He was masterful spreading the ball around. Just when you think he is going to keep hitting Mike Sims-Walker, he is able to connect with Danario Alexander on the deep ball.
An important thing that Bradford did that won't show up in the stat sheet was his ability to keep plays alive. Most of the time he ended up having to throw the ball away, but the Giants only came up with two sacks in this game in large part due to Bradford's pocket presence.
He continues to impress me with his elite potential.
Offensive Line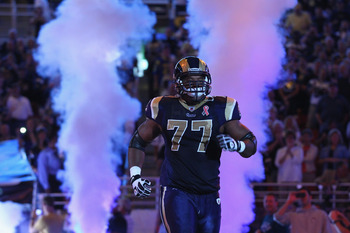 Dilip Vishwanat/Getty Images
The St. Louis Rams line held up way better than I thought they possibly could have. In fact, they did more than just hold up, they basically neutralized the New York Giant pass rush.
Even if the Giants were without Justin Tuck and Mathias Kiwanuka, this is still very impressive for the offensive line. Any time your quarterback only goes down twice in the game, you've done your job. There was no doubt in anybody's mind that St. Louis was going to have to air it out after halftime, but it didn't seem to matter.
Where the Rams struggled was in the running game. I don't blame the offensive line for the running troubles, however. To me, Cadillac Williams just doesn't have what it takes anymore to be the every-down back.
Had Steven Jackson been in the backfield, the run blocking would've looked a lot better. Aside from some false starts, it was a pretty solid night for the Rams O-line.
James Laurinaitis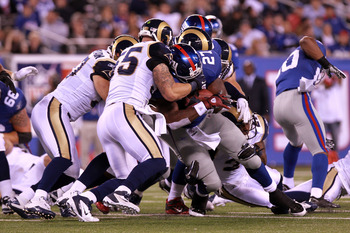 Nick Laham/Getty Images
During the game, ESPN commentator Jon Gruden took note of how much of a leader James Laurinaitis is and how he orchestrates the Rams defense to perfection. I have to agree with him 110 percent.
Laurinaitis was an animal against the New York Giants. Chris Long tends to get a lot of credit for his high motor on the defensive line, but James Laurinaitis was making plays everywhere.
He finished with a game high-14 total tackles on the night, and you better believe the Giant running backs took notice of him. Laurinaitis was meeting ball carriers at the line of scrimmage all game long.
What is such an important characteristic that James Laurinaitis displayed was his never quit attitude. Even with the Rams down 12 with no timeouts left, he was willing the defense to make a stop. When it seemed like nobody else could stop the Giants short of the first down, he did.
He deserves to be a Pro Bowler this season.
Mike Sims-Walker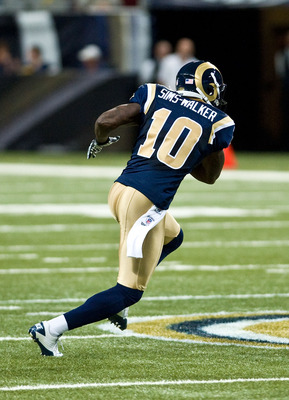 Ed Szczepanski/Getty Images
He's alive!
So this is why St. Louis payed him $3.7 million.
Finally, Mike Sims-Walker showed some life in a Rams uniform. He did absolutely nothing all preseason, and that carried over into week 1. He finally showed he knows how to play football.
Mike Sims-Walker had a great outing against the Giants. He caught 6 balls for 92 yards and proved that he can be Sam Bradford's go-to-guy. It seemed as if every time St. Louis ran play action, Sims-Walker was wide open down the field, and Bradford was able to find him.
The key for Sims-Walker is to gain some consistency. In his time with Jacksonville, he was unable to do so and that's why he was shown the door.
Rams fans everywhere are begging you Mike to please, just for us, keep up this play up for multiple weeks.
Keep Reading

St. Louis Rams: Like this team?