College Football Injury Report: 12 Injuries with Biggest Impact on Young Season
Christian Petersen/Getty Images

Injuries are a part of football, and it's unheard of to find a team not have a major one occur at some point in the season.
Lack of depth can ruin a great team's dream of a special season, but unfortunately that's just a part of the game we love.
The season is only three weeks in, but already teams are battling the injury bug and having find alternatives quickly.
Begin Slideshow

»
Jonathan Daniel/Getty Images

While the Sun Devils already have one of the best defenses in the Pac-12, the loss of cornerback Omar Bolden holds them back from being one of the top in the country.
Bolden was lost in the preseason, which makes him absence slightly less damaging.
In 2010, Bolden totaled 52 tackles, seven PBUs and three interceptions, making him one of ASU's top corners. Bolden is likely out for the entire season with a knee injury.
Streeter Lecka/Getty Images

Arkansas' main back, Knile Davis, was lost for the 2011 regular season with an ankle injury.
Davis was projected by many to be the third best running back in the SEC (behind Trent Richardson and Marcus Lattimore) who would help lead the Razorbacks into a potential BCS berth.
While the Razorbacks can still make their way into a major bowl, the loss of Davis takes away Arkansas' best player and greatly diminishes its offensive production.
The BYU Cougars offense already was projected to struggle in 2011, and the loss of their starting TE (Devin Mahina) brought the offensive production down even further.
The Cougars are 111th in the FBS in scoring, and redshirt freshman Ross Apo has been the most productive receiver for the Cougars.
Losing Mahina will hinder quarterback Jake Heap's growth and make a bad offense look horrid. Hopefully Mahina can recover from his neck injury and make it back onto the football field next season.
John Syty is not a household name, and I doubt you've ever heard of him, but losing this inside linebacker is absolutely crippling to this defense.
Coming into the 2011 season, the Bulls only returned three players on defense.
Buffalo's atrocious defense got even worse when news came in that Syty's concussion would keep him out of the remainder of the season.
Broderick Sargent was the Rams' best defensive lineman prior to his season ending injury.
Colorado State only returned six starters on defense from the 2010 squad, and the veteran leadership in the Rams' front seven has yet to be found.
When Sargent tore his ACL, the Rams' hope of making a bowl game died, and died quickly.
"Yourhighness" is probably my favorite name in college football. In fact, I had to double and triple check that was actually his name.
In all seriousness, though, the loss of FAU's starting linebacker has killed this team's defense.
In two games, FAU has had the difficult job of facing No. 22 Florida and No. 17 Michigan State. It gets slightly better this week, only having to face the defending national champs in the Auburn Tigers.
This FAU team may be one of the worst teams in the entire FBS, and I doubt it would be in that position if it didn't lose its best defensive player.
The Bulldogs have to be disappointed with how their 2011 season has gone so far.
In their opening game, the Bulldogs played a pitiful game against instate rival Cal. The following week, Cal went into Lincoln, Neb. to face then-No. 10 Nebraska. The Bulldogs nearly pulled the upset over the Cornhuskers, but fell just short.
The loss of starting defensive back Phillip Thomas has brought down the strength of the entire secondary. Against Nebraska, FSU allowed the Cornhuskers' quarterback (Taylor Martinez) to pass for 219 yards and run for another 166. The Bulldogs will likely get Thomas back sometime in October, and they will have to bite the bullet until he returns.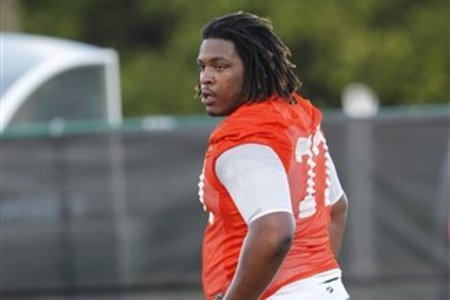 Seantrel Henderson was the No. 1 prospect by almost all major recruiting sites when he was being recruited. Henderson originally committed to USC, but left after the school was placed on probation.
Henderson was an instant starter for the Hurricanes, but a back injury in the offseason prevented the big offensive lineman from playing this season. Miami's offense has felt how big the loss of Henderson truly is.
Ethan Miller/Getty Images

There might not be a team in all of college football that lost more from last season than the Nevada Wolfpack.
The Wolfpack lost their starting running back (Vai Taua), two of their four best receivers and arguably their best player ever in quarterback Colin Kaepernick.
When Brandon Wimberly went down, Nevada's already crippled offense became even weaker.
Jamie Sabau/Getty Images

The loss of Rob Henry might be the biggest loss on this list for the respective team.
Henry and Robert Marve battled for the starting quarterback job, a very prestigious position at Purdue, and it seemed as if Henry would win the job.
All that went out the window when Henry injured his knee and was lost for the entire season.
Stephen Dunn/Getty Images

The Aztecs were loaded offensively in 2010, and their 9-4 season proves that. Unfortunately, most of that firepower was lost to graduation. The Aztecs had two 1,000-plus yard receivers both leave, but they did retain Dominique Sandifer—for a little bit at least.
Sandifer suffered a season-ending knee injury this offseason, greatly depleting an already watered down receiving corps.
Brett Deering/Getty Images

Like Purdue a few slides back, Tulsa also lost its starting quarterback this season.
Kinne is Tulsa's best player by a landslide.
Last season, Kinne lead the team in rushing and passing and was one of the most undervalued quarterbacks in the country.
Kinne has been battling a nagging knee injury, and he is considered doubtful against Boise State this week. Tulsa had a slim chance of beating Boise State in its biggest game of the season, but without its best player, this game should be absolutely ugly to watch.
Tulsa needs Kinne back for a successful season.
Streeter Lecka/Getty Images

Mychal Sisson, Colorado State
Robert Siavii, Idaho
Jared Bell, Colorado
Aaron Santiago, Navy
Joe Halahuni, Oregon State
Shayne Skov, Stanford
Chandler Jones, Syracuse
Mark Singer, Toledo
Jeff Tuel, Washington State
Patrick Mertens, Wyoming
Oliver Schober, Wyoming