Denver Broncos: Knowshon Moreno Injury Didn't Hurt the Broncos in Week 2
September 20, 2011
Doug Pensinger/Getty Images
The Denver Broncos can't seem to avoid injuries. It is now two consecutive years of disappointing seasons partly due to the long string of critical injuries and it is getting old for the Denver faithful.
Is there a strength and conditioning coach employed in Dove Valley?
Maybe the Broncos stars have been skipping their physicals, or their vitamins. 
One of the many injuries plaguing Denver this time around was that of starting running back Knowshon Moreno. As it turns out, this wouldn't matter much in Week 2 against the Cincinnati Bengals.
Moreno's injury did affect Denver in one significant way.
The coaching staff expected WR Brandon Lloyd to make the game on Sunday. After practicing briefly on Friday, hopes were high that the Broncos' No. 1 receiver would make his return to the field after a short stint on the injury list.
This was not the case.
Apparently even the most informed member of the Denver Broncos' staff (at least we thought he was,) Vice President of Football Operations John Elway, was surprised to learn that Lloyd would not suit up for Denver.
Due to the unfortunate lack of communication, Denver decided to activate preseason star, and current Denver practice squad player, running back Jeremiah Johnson.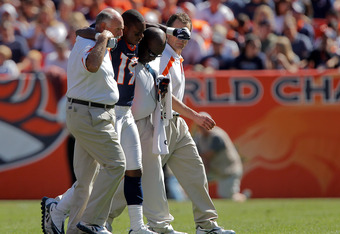 Justin Edmonds/Getty Images
Two quarters into the game on Sunday, and Denver found itself in need of another wide-out after rookie tight end Julius Thomas and fourth year wide receiver Eddie Royal each suffered injuries.
To answer the call, everyone's favorite player, Tim Tebow came into the game as an emergency wide receiver and did absolutely nothing.
Thomas is expected to miss two weeks with a high ankle sprain. Royal will miss 2-4 with an injured groin.
As for the expected impact of Moreno's injury, the suffering of the rushing attack for Denver, it never happened.
Off-season acquisition Willis McGahee took the weight of the load and rushed for 101 yards and a score on 28 attempts—proving that he can not only handle more of the work-load than Moreno, but he's also capable of running through the tackles and making a positive impact on the score.
So where does Moreno place after Week 2?
It's hard to write off Moreno already, but given his poor play (which could be blamed on John Fox's abandonment of the run) in Week 1, and McGahee's performance in Week 2, we could see the latter take the starting job next week against the Tennessee Titans.
Denver will need to run effectively to match what is expected from Chris Johnson after two weeks of disappointing play for Tennessee. Willis McGahee might be the guy to provide the clock management and ball possession Denver needs to bring home a victory on the road.