NHL Power Rankings: Each Team's Top Scorer Prior to the 2011-12 Season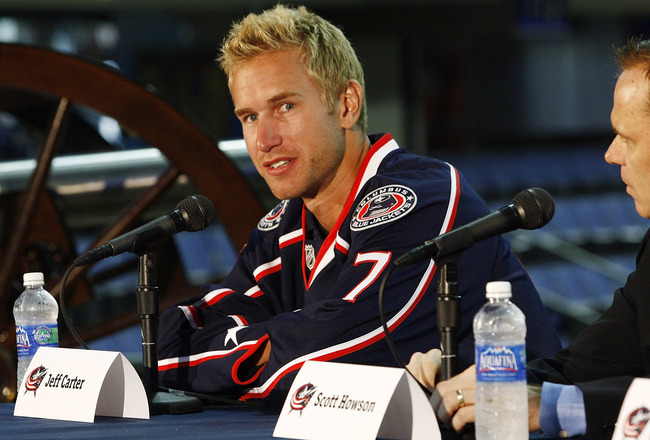 John Grieshop/Getty Images
This NHL offseason has brought about many changes to various teams, either through free agency or via trade.
These changes might impact many teams' scoring leaders for the 2011-12 season.
Teams like the Columbus Blue Jackets, where new addition via trade Jeff Carter may very well lead the team in scoring, rather than Rick Nash, this coming season.
On other teams, some players might get really hot and take over their respective team's scoring leader position this year.
Let's take a look at who will probably be each team's top scorer next season, as rosters stand right now.
Anaheim Ducks: Corey Perry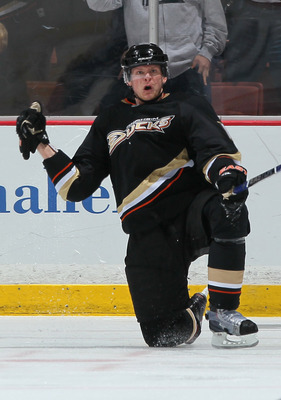 Jeff Gross/Getty Images
For the past two seasons, Corey Perry has been the Anaheim Ducks leading point scorer and was the team's leading goal scorer last season as well (clearly, since he was the league leader).
Last season, Perry scored 98 points and 50 goals; the season before, he scored 76 points and 27 goals.
While the Ducks have a few players that vie for the team's scoring lead each year, including Ryan Getzlaf, Teemu Selanne and Bobby Ryan, there's no reason not to assume that Perry will lead the team in scoring again this year.
We'll be watching him closely to see how he does and if he can repeat as the Rocket Richard winner.
Boston Bruins: David Krejci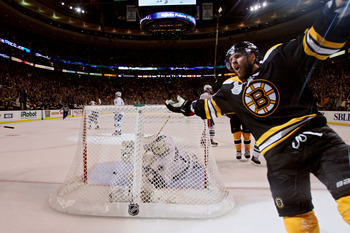 Bruce Bennett/Getty Images
For the past two seasons, David Krejci has been tied for the lead in the Boston Bruins scoring.
In 2009-10, he was tied with Patrice Bergeron, with 62 points. Last season, he was tied with Milan Lucic, also with 62 points.
There's a good chance that Krejci will again lead the Bruins in scoring, perhaps even on his own.
After all, he's only 25 and after the postseason, he may very well experience a burst of production and outscore his previous two seasons.
Buffalo Sabres: Derek Roy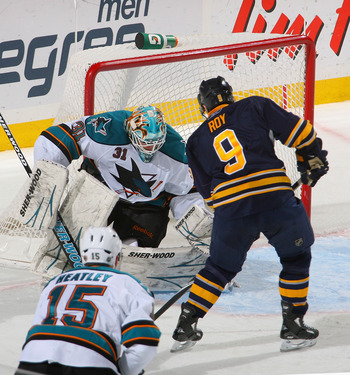 Rick Stewart/Getty Images
Before last season, Derek Roy had led the Buffalo Sabres in point scoring for three consecutive seasons.
He missed most of the year last season, which resulted in his decreased point scoring and Thomas Vanek leading the team in scoring.
However, going into the season, we can expect Roy to return and play most of the season, if not all of it in 2011-12.
This means that it is very likely that Roy will take back over as the team's leading scorer.
He'll still have competition in Vanek, but that will only mean good things for the team as a whole, to have multiple guys putting up a lot of points.
Calgary Flames: Jarome Iginla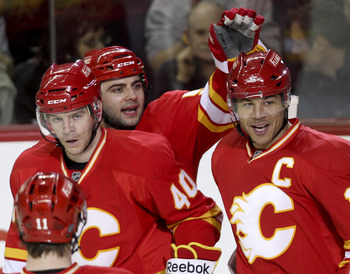 Mike Ridewood/Getty Images
Jarome Iginla has been the Calgary Flames point scoring leader for the past 10 seasons.
In fact, Iginla has led the team in scoring all throughout this past millennium; the last time he didn't lead their point scoring was the 1999-2000 season.
Last season was no different, with Iginla's 86 points leading the team and 17 more than the next highest point scorer, Alex Tanguay.
In all likelihood, Iginla will continue to be the team's top scorer, unless of course, the rumors come true and he's traded at some point.
Carolina Hurricanes: Eric Staal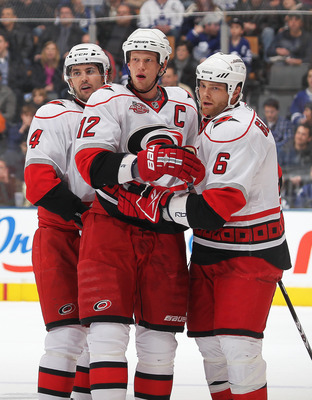 Claus Andersen/Getty Images
Eric Staal has been the Carolina Hurricanes leading point scorer for the past two seasons.
He scored 76 points last season, including 33 goals, good for the team's leading goal scorer as well. The season before that, he scored 70 points.
Last season, rookie Jeff Skinner was close behind Staal, scoring 63 points and 31 goals.
There's a good chance that Skinner will outscore Staal this season to lead the team in scoring. However, I think Staal will take the team's scoring lead for another year, at least.
Perhaps in a couple years, Skinner will surpass the captain.
Chicago Blackhawks: Jonathan Toews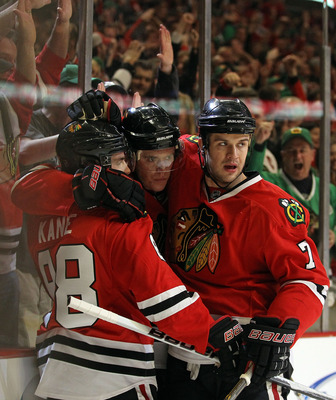 Jonathan Daniel/Getty Images
Last year, the Chicago Blackhawks had three players that scored more than 70 points and were all within five points of each other.
Jonathan Toews led the team with 76 points, closely followed by Patrick Kane (73) and Patrick Sharp (71).
This season, I predict that Kane will get off to a slow start, whether he plays from the beginning of the season or not.
That will give Toews the edge in the point scoring and he'll lead the team again, but Sharp and Kane will be close behind, once again.
Colorado Avalanche: Matt Duchene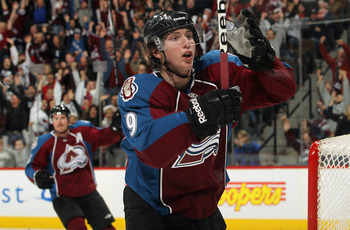 Doug Pensinger/Getty Images
Matt Duchene led the Colorado Avalanche in point scoring, with 67 points last season. He was tied for the leading goal scorer on the team as well, with 27 goals.
This season, as Duchene continues to get experience in the league, he'll probably begin to score even more.
Paul Stastny will be close behind again, but I give the edge to Duchene.
Columbus Blue Jackets: Jeff Carter
Chris Trotman/Getty Images
Rick Nash has easily been the biggest star on the Columbus Blue Jackets team since he first entered the league.
He's also been the Blue Jackets leading point scorer for the past four seasons.
He'll have some competition this year, with the addition of Jeff Carter.
Last season, Nash and Carter each scored 66 points for their respective teams. However, Carter scored 36 goals, while Nash scored 32.
This would give Carter the edge in the scoring department.
Even though some might believe that Carter's production will decline with his new team, I believe that he will perform well and take over the team scoring lead.
Dallas Stars: Loui Eriksson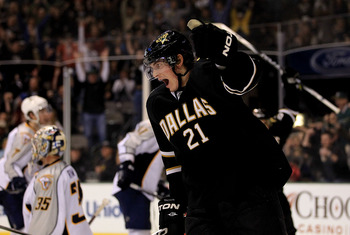 Ronald Martinez/Getty Images
The Dallas Stars leading scorer has been Brad Richards. Unfortunately for the Stars, Richards will be in a New York Rangers uniform this season.
The Stars will have a new highest point scorer and that will more than likely be Loui Eriksson.
Last season, Eriksson was close behind Richards for the team lead in scoring, with 73 points. Richards had 77 points.
Eriksson will take over that lead.
Detroit Red Wings: Pavel Datsyuk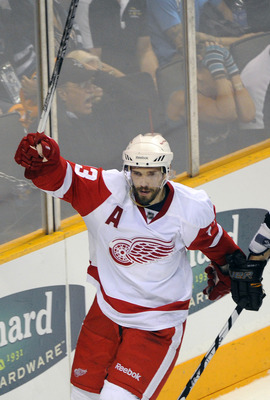 Thearon W. Henderson/Getty Images
For the past three seasons, Pavel Datsyuk and Henrik Zetterberg have taken turns leading the Detroit Red Wings in scoring.
Three years ago, it was Datsyuk leading the way; two years ago, the two tied for team lead and last season it was Zetterberg.
This coming season, it will be Datsyuk's turn again.
After all, Datsyuk missed more than 20 games last season with injury; scoring 59 points in 56 games. Zetterberg scored 80 points in 80 games.
Therefore, had Datsyuk played the entire season, he likely would have led last year as well.
Edmonton Oilers: Ales Hemsky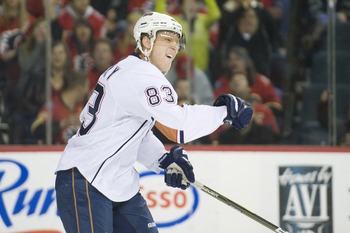 Dylan Lynch/Getty Images
Last year, Jordan Eberle led the Edmonton Oilers in points scored. He's unlikely to go two consecutive years though.
After all, the Oilers are hoping Taylor Hall will have a bigger and better year and Ryan Nugent-Hopkins could always surprise and have an insane rookie season.
However, the most likely candidate to lead the Oilers in scoring next season is Ales Hemsky.
After all, he scored 42 points in 47 games; whereas Eberle scored 43 points in 69 games.
Obviously, Hemsky could have scored a lot more if he had played an entire season or significantly more than he did last season.
Florida Panthers: Stephen Weiss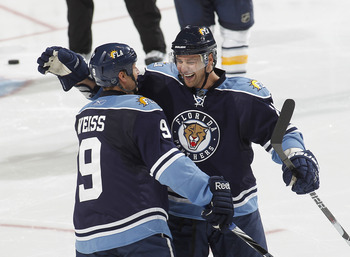 Joel Auerbach/Getty Images
The Florida Panthers added a lot of new faces to their roster for this coming season. It's difficult to say if any of their new additions will lead their point scoring.
They have a few new faces that have a good chance, but the most likely scenario will have Stephen Weiss leading the team in scoring, for at least one more season.
Weiss scored 49 points last year and could score even more with his potential new linemates this season.
Los Angeles Kings: Mike Richards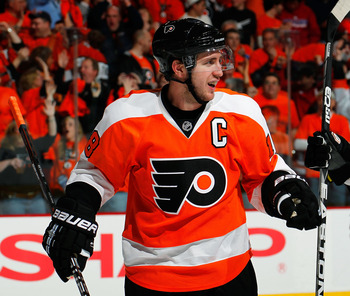 Paul Bereswill/Getty Images
The Los Angeles Kings acquired Mike Richards from the Philadelphia Flyers over the summer and there's a good chance that Richards will lead the team in scoring this season.
Last season, Richards scored 66 points, while nursing a lingering wrist injury.
Anze Kopitar led the Kings in points last season with 73.
However, Richards will very likely be able to just go out and play, now that he won't be fighting with the Philadelphia media or have the pressure of being a captain on his shoulders.
With those stresses alleviated, Richards will be able to flourish in Los Angeles and be the point scorer he was a couple seasons ago.
Minnesota Wild: Dany Heatley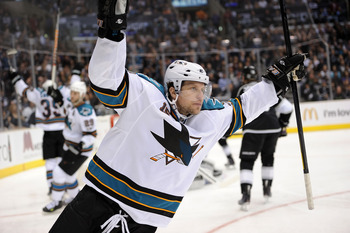 Harry How/Getty Images
If Dany Heatley had played for the Minnesota Wild last year, he would have led the team in scoring, with the 64 points he scored.
He'll become their highest point scorer this season though, especially with Martin Havlat in San Jose now.
Heatley's 64 points last season was actually an 18 point drop from his 82 the season before that.
With the change of scenery, there's a good chance that Heatley will get closer to the 82 points again this season.
Montreal Canadiens: Erik Cole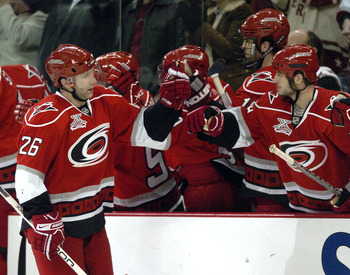 Grant Halverson/Getty Images
The Montreal Canadiens signed free agent Erik Cole this summer, prying him away from the Carolina Hurricanes.
Cole scored 52 points last season with the Hurricanes, but can do even better this coming season with Montreal.
Tomas Plekanec led the Canadiens in scoring last year, scoring 57 points, but Cole will take over this season.
Nashville Predators: Shea Weber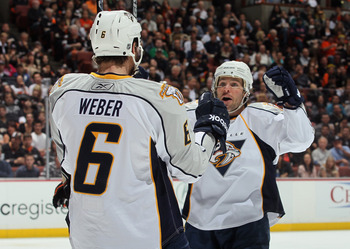 Jeff Gross/Getty Images
Last season, Martin Erat and Sergei Kostitsyn led the Nashville Predators in points, with 50 apiece. Captain Shea Weber wasn't far behind with 48 points.
This season, Weber is coming off being awarded the largest salary in arbitration history and will be playing for a long-term, hefty deal.
He'll be playing his absolute best because of this and thus will surpass his point total of last season and take over the team lead in points.
New Jersey Devils: Zach Parise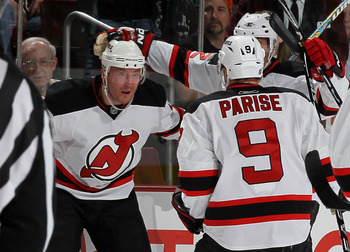 Jim McIsaac/Getty Images
With Zach Parise out last season, Patrik Elias led the New Jersey Devils in point scoring.
Parise will be back this season and will pick back up where he left off, scoring a lot and leading his team in points.
Before last season, Parise scored 82 points in 2009-10 and 94 points in 2008-09. Last season, the Devils highest scorer scored 62 points.
Parise will come back and continue to dominate, racking up lots of points and leading the Devils again.
New York Islanders: John Tavares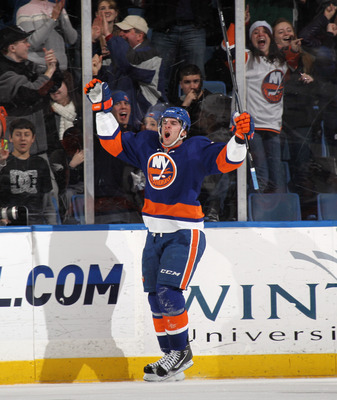 Bruce Bennett/Getty Images
For the two seasons he's played in the NHL, John Tavares has led the New York Islanders in scoring both seasons.
Next season should be no different.
After all, Tavares will have to prove he's worthy of the deal he just re-signed with the Islanders and he'll do that on the ice.
He scored 67 points last season and maybe he'll even be able to improve upon that.
New York Rangers: Brad Richards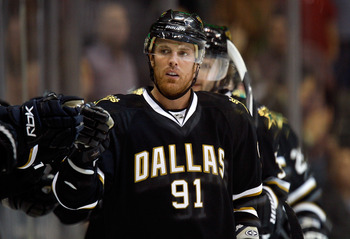 Ronald Martinez/Getty Images
The New York Rangers have been looking for a top forward to lead their team's offense; last year, their highest scorer was Brandon Dubinsky with 54 points.
They fixed that this summer, winning the free agency lottery by signing Brad Richards.
Richards scored 77 points in 72 games last year and could do even better with the Rangers if he stays healthy all season.
There's no doubt that Richards will lead the Rangers scoring in 2011-12.
Ottawa Senators: Jason Spezza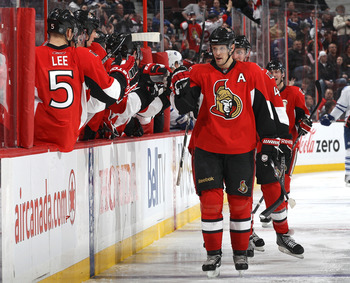 Jana Chytilova/Freestyle Photography/Getty Images
Jason Spezza led the Ottawa Senators in points last season, with 57 points in 62 games.
There's no reason why Spezza won't lead the team in points again next season, unless he's traded, which seems unlikely.
If Spezza can remain healthy and play most of the season, he could score significantly more than 57 points.
It seems unlikely that anyone else would do any better.
Philadelphia Flyers: Claude Giroux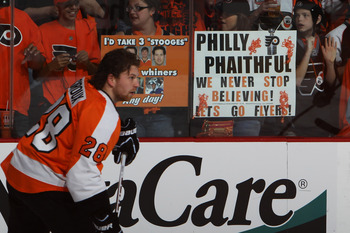 Bruce Bennett/Getty Images
The play of emerging star Claude Giroux last season allowed the Philadelphia Flyers to trade away other offensive stars Jeff Carter and Mike Richards.
Last season, Giroux led the team in scoring with 76 points.
He's still only 23 years old and will get even better with time.
Other possibilities to challenge Giroux for the team scoring leader include Danny Briere or even Jaromir Jagr potentially, if he can slide back into NHL hockey quickly and easily.
Phoenix Coyotes: Shane Doan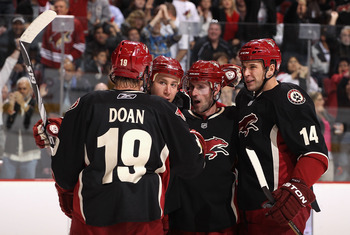 Christian Petersen/Getty Images
For the past seven seasons, captain Shane Doan has led the Phoenix Coyotes in point scoring each season.
There's no reason why Doan can't make it eight straight years.
Last season, he scored 60 points in 72 games and could score a few more if he remained healthy all season.
Pittsburgh Penguins: Sidney Crosby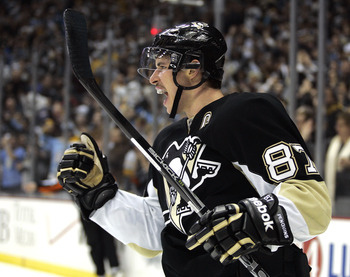 Justin K. Aller/Getty Images
Sidney Crosby only played 41 games last season, but still managed to outscore everyone on the Pittsburgh Penguins, with 66 points.
The closest anyone got to him was Kris Letang, with 50 points in all 82 games.
As long as Sidney Crosby plays this season, there's a good chance that he'll lead his team in scoring again.
Otherwise, it'll probably be Evgeni Malkin.
San Jose Sharks: Joe Thornton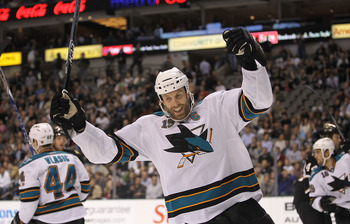 Ronald Martinez/Getty Images
Last season, Patrick Marleau led the San Jose Sharks in point scoring with 73 points. Joe Thornton followed close behind with 70.
Before last season, Thornton led the team in points for the four previous seasons.
Next season could be his time to lead the team in scoring again.
St. Louis Blues: David Backes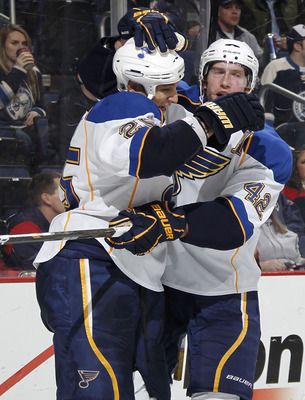 Gregory Shamus/Getty Images
David Backes led the St. Louis Blues in scoring last season, notching 62 points.
Backes was named captain this offseason and will want to celebrate his new role by leading the team in scoring again next year.
The team has a few new additions that could become Backes linemates and help him increase his production.
Tampa Bay Lightning: Steven Stamkos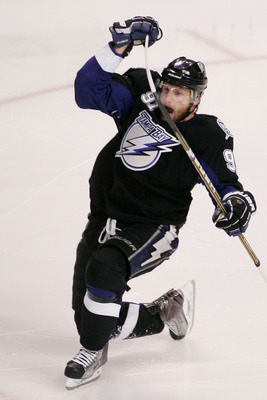 Justin K. Aller/Getty Images
Last season, Martin St. Louis led the Tampa Bay Lightning in scoring with 99 points. While there's a good chance St. Louis could repeat in 2011-12, my money is on Steven Stamkos.
Stamkos was close behind St. Louis with 91 points, with 45 goals.
He could get more than 50 goals again this season, which would help him lead the team in scoring.
Either way, the Lightning are going to have a few high-producing forwards next season.
Toronto Maple Leafs: Phil Kessel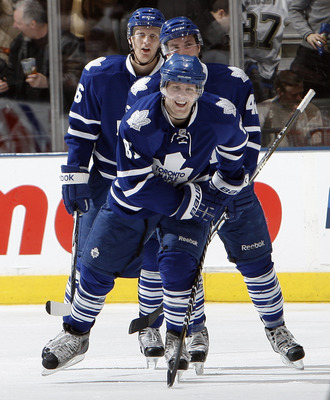 Abelimages/Getty Images
Phil Kessel has led the Toronto Maple Leafs in scoring for the past two seasons.
Last season, Kessel scored 64 points, including 31 goals.
It seems very likely that Kessel will again lead the Leafs in scoring during the 2011-12 season.
Vancouver Canucks: Henrik Sedin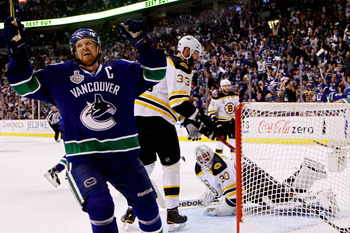 Bruce Bennett/Getty Images
For the past five seasons, the Sedin twins have taken turns leading the Vancouver Canucks in point scoring.
Since Daniel led the team last season, it will be Henrik's turn this year.
It can be expected that one of them will continue to lead the team and it will most likely be Henrik this year.
It'll be interesting to see if they continue to bring home the Art Ross Trophy as the league's leading point scorer as well.
Washington Capitals: Alex Ovechkin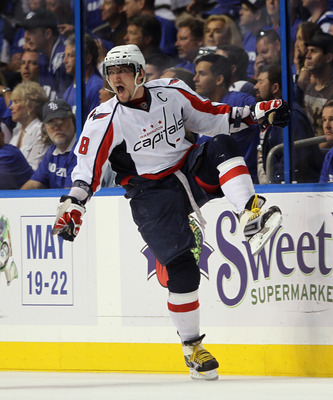 Bruce Bennett/Getty Images
Since entering the league, Alex Ovechkin has led the Washington Capitals in point scoring and in goal scoring.
It's safe to assume that Ovechkin will continue to lead the team in point scoring for the foreseeable future and probably his entire career.
Winnipeg Jets: Andrew Ladd
Al Bello/Getty Images
Last season, Andrew Ladd led the Atlanta Thrashers in point scoring, scoring 59 points.
He should lead the Winnipeg Jets in their inaugural season as well, unless the team can pick up another high-scoring forward.
Keep Reading