5 Things We Learned from Week 4 of La Liga
September 19, 2011
David Ramos/Getty Images
Surprise, surprise—Real Madrid did it again.
Los Merengues lost in their visit to Levante, which cost them the lead of La Liga standings and put them—albeit temporarily—out of the Champions League zone.
Last season these were the kinds of games that doomed Real Madrid's season in the Spanish League, with defeats against teams like Osasuna, Sporting Gijón and Zaragoza.
What else did we learn from La Liga Week 4?
1. Money Is Not Everything in Football
"Football is not all about money, we have two legs just like them."
Those were Arouna Koné's words after Levante's victory over Real Madrid this Sunday.
It was the upset of the season (so far) despite Levante was playing at home; the odds were 12-1 in favor of Real Madrid.
There has been a huge controversy in Spain due to the media broadcast money and how uneven the distribution is, with Real Madrid and Barcelona eating half of the cake.
But Levante's victory reminded everybody that nothing in football is written in stone.
2. Don't Ever Dare To Suggest Barcelona Is in Crisis
Two draws in a span of four days were enough for several media—led by Madridista Diario Marca, of course—to call it a crisis in Barcelona.
Not even a single defeat, just repeated 2-2 scores in their visit to Real Sociedad and their game against AC Milan in the Champions League.
How did Barcelona respond? A big 8-0 over an innocent Osasuna whose only fault was to be the next on Los Culés' schedule.
"They were angry because of their so-called 'mini-crisis' and we paid the price for that," admitted Osasuna's coach José Luis Mendilibar.
3. Betis Can Play with the Big Boys
Last season everybody praised Betis for their courageous effort against Barcelona in the Copa del Rey, playing at a great level despite losing the series.
The most impressive fact was that Betis was then a Second Division side.
But now the team from Sevilla is in the First Division and not only that—they are co-leaders alongside Valencia.
Beating Granada and Mallorca in the first two weeks was nothing to be extremely amazed about, but winning 2-3 at San Mamés is in a different level.
It's clear Betis won't have to worry about returning to the Liga Adelante this season; they already proved they can hang out with the big boys.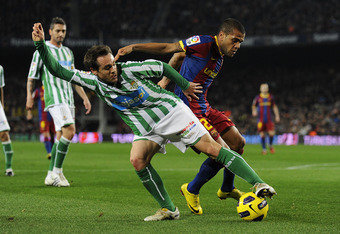 David Ramos/Getty Images
4. Juan Carlos Garrido Could Be the First Manager in the Hot Seat
So far Villarreal has been the biggest disappointment of the season.
They started getting embarrassed at Barcelona, then rescued a draw with 10 men at home against Sevilla and this weekend they lost against relegation candidate Granada.
And let's not forget they were also outmatched by Bayern Munich last week in their Champions League opener.
The next two weeks will be crucial for coach Juan Carlos Garrido: Villarreal will host Mallorca, then will travel to Bilbao to face Athletic, followed by a visit to Napoli and finally a game against Zaragoza, all in a 12-day span.
If the Yellow Submarine doesn't react by then, the board may decide it's time to start considering options for their bench.
5. Radamel Falcao Wakes Up Atlético
After going scoreless in their first two league matches, Atlético Madrid finally showed their attacking power against a defenseless Racing Santander.
Colombian newcomer Radamel Falcao started showing why Los Colchoneros brought him to cover the departures of Diego Forlán and Sergio Agüero, getting a hat trick for the 4-0 victory.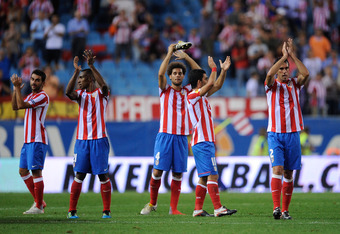 Denis Doyle/Getty Images
Three days before Falcao had already been a key member in the 2-0 victory over Celtic in the Europa League.
Also Read
5 Things We Learned from La Liga Week 3
5 Things We Learned from La Liga Week 2
Follow me on Twitter:  @luisrha