Syracuse, Pittsburgh's Move to the ACC Leaves Many Unanswered Questions
September 19, 2011
Andy Lyons/Getty Images
Author's Note: This article was written prior to the Texas Tech/Pac-12 rumored talk.)
By now we all know of Syracuse and Pittsburgh's acceptance into the Atlantic Coast Conference. What we don't know is how soon it's going to happen or what the final college football landscape is going to look like when the music stops and there are so many chairs (conferences) to go around.
ESPN's Andy Katz already noted that the Big East has a "27-month exit timetable," but Syracuse men's basketball coach Jim Boeheim speculated that the Orange and the Panthers could be let out a year early.
My mind did not immediately shift to what these latest moves could do for football, as both of these schools, while they are not powerhouses now, have won football championships in the past.
No, my mind immediately went to what this move would mean in college basketball—specifically in the new ACC that already includes Duke, North Carolina, Clemson, Maryland and Wake Forest, just to name a few tournament powers. Add these two and you've easily got the best conference in America, bar none.
While I'd like to see the Big East remain in basketball—one that includes Georgetown, St. John's, Marquette, and Villanova, none of whom have a football program—the fact remains that soon the Big East will at least not exist in football anymore. I know there are more minor schools in the Big East, but they are irrelevant to the big picture, which is trying to at least salvage the Big East name and conference for at basketball only.
Personally, I don't care because it's a weak conference that shouldn't have an AQ (automatic qualifier) anyway for BCS games, but I do care that college football is moving to the 16-team power conference BS, because where is that going to leave schools like South Florida, West Virginia, Louisville, Rutgers, UConn and Cincinnati, all of whom do have football programs and have all experienced recent success?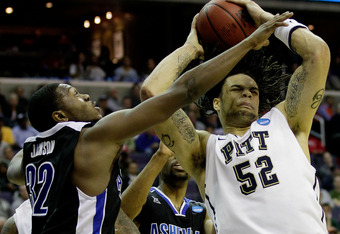 Rob Carr/Getty Images
Do Louisville and Cincinnati join the A-10 or MAC simply out of geography? Talk about boring domination, as they are too big and too good for that competition. All that does is make it impossible for the members already there to ever be heard from again. It's almost like a new conference would have to be formed for the remaining former members of the Big East, who were shut out of the ACC.
The report continued that Rutgers and UCONN are expected to be candidates to complete the ACC's new power conference membership to 16 and I am asking: UCONN? Really? Why, because they made the Fiesta Bowl last year and 37 people watched? Connecticutions will tell you (one of my best friends is a native) that UConn is a basketball school and his friends don't care when they make bowl games in football, as it's all about basketball there.
As for Rutgers, it's all about grabbing the big New Jersey market that the Big Ten once flirted with if you remember, but Rutgers has only been good for what, four years and not consecutively either. Why are South Florida and the other schools just sitting by on their asses allowing this to happen, when in reality all these schools should be beating down the ACC's doors making sure they have a spot at the table?
TCU, Texas Tech, BYU all affected by Oklahoma and Texas' meetings today
TCU would be wise to stop this money-grab/AQ bid with the Big East next year and grab a ACC spot while they still can. Same for Boise State, who is wasting their time moving to the Mountain West where it literally is never going to happen.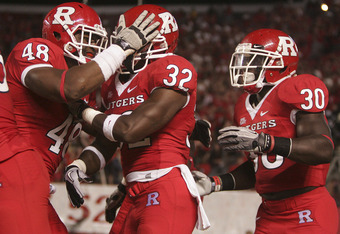 Rich Schultz/Getty Images
Then we read Iowa State and Baylor are using the Big East as a backup plan in case the Big 12 actually does break up, and again I ask why? With no AQ they cannot be in the title game or BCS games. All that would come with conference affiliation is a little bit more money and the sense of belonging that being an independent cannot.
We can only hope that Oklahoma, which this all rides on, decides to stay in the Big 12, thus keeping it in tact in case Texas decides stupidly to move to the new Pac-12 or cooler yet, go independent which they can do now that they have that unfair but lucrative Longhorn Network TV deal.
Should the Big 12 break up where does that leave a school like Texas Tech who no one is talking about? They'd seem to be prime candidates for a new, intriguing Mountain West whom I've always felt deserved the Big East's AQ.
If the Big 12 stays together they'd be wise to grab a school like BYU with their massive TV deal and large following or steal in state schools Houston and SMU from Conference USA that may just work.
With Texas and Oklahoma meeting separately today to discuss their own futures, where does that leave the two Kansas schools K-State and Kansas? Granted they aren't much for football, but think what you are getting in basketball. Add that to what's left of the Big East and that certainly would work.
Adding Missouri and Kansas to the Big Ten would also work too geographic wise and the fact Iowa State has already reached out to the Big East proves they've got no shot at membership the Big Ten despite seeming to be a perfect fit. The fact remains I'd take Kansas and Missouri first as a fan of the Big Ten before I'd take some media hogs like Texas and Oklahoma who would over shadow the rest of the have-nots of the conference even more than they already are.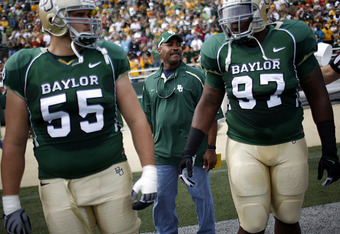 Tom Pennington/Getty Images
In all, I think these "power conferences" are crap because they are money-driven which is sad and it destroys literally century old rivalries as is the case with the Red River Rivalry if and when it happens and Nebraska-Oklahoma to name a few. Think of the smaller schools like Iowa State and Baylor who are scrambling now but soon who we'll never see once they get shuttered to some literal nothing conference like the scraps from what's left of the Big East.
There is no reason TCU should be playing in the Big East or ACC if it comes to it. In a perfect world they'd either join the Big 12 once Texas or Oklahoma and Texas A and M leaves, or in bad-ass fashion they'd stay in the Mountain West and the NCAA would give them a much-deserved AQ on which to earn.
I think a new MWC of Hawaii, TCU, Boise State, Nevada, Fresno State, Texas Tech, Baylor could really be something if given a chance.
Information from ESPN and ESPN.com and Andy Katz contributed to the content of this article.