2011 NFL Fantasy Football Week 3: Wide Receivers Rankings/Projections
September 19, 2011
Grant Halverson/Getty Images
In order to compete this year, the Titans had to get Kenny Britt going as the teams true No. 1 option in the passing game and thus far it's been a success. With Matt Hasselbeck playing smart football, the Titans have a chance to compete as Britt checks in as a Top 10 receiver on our Week 3 rankings.
Just looking at what Jerome Simpson and A.J. Green did to the Broncos defense with Andy Dalton at quarterback makes you feel good about Britt's chances of a huge performance this week. The Titans found success against the Ravens down the field, and I expect that to continue against the Broncos' weak secondary.
More Week 3 Rankings: QB | RB | WR | TE | K/D | DL | LB | DB |  Waiver Wire | Start/Sit |
Vincent Jackson vs Chiefs

In a shootout against the Patriots, Vincent Jackson went wild with 10 receptions for over 170 yards and two touchdowns. While we should expect him to repeat that performance this week against the Chiefs, he should have another dominant WR-1 type performance. The Chiefs are going to be one of the worst teams in football with Eric Berry and Jamaal Charles now lost for the year, so expect the Chargers to put another whooping on this team for the third week in a row.
Steve Smith vs Jaguars

Before the lockout ended, my main argument for why fantasy owners should still believe in Steve Smith was because his recent years of struggles had more to do with ineffective play at the quarterback position then his own skills diminishing. Now, I will admit that, like many, I thought Smith was going to play for another team once the lockout lifted as he was asking management for a trade.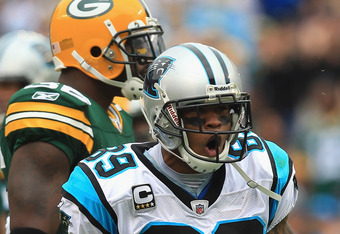 Streeter Lecka/Getty Images
Then Cam Newton convinced Smith to stay in Carolina and many fantasy owners (including yours truly) moved him down as low as a WR-4 on their cheat sheets.
Who the heck knew that Newton was going to come out like a rock star and throw for 400 yards a game, and now Smith is a weekly Top 20 receiver again. Fantasy owners may not use Newton as a starting quarterback, unless they're struggling at that position, but Smith is clearly a WR-2 going forward, and he has a great matchup against the Jaguars this week.
Nate Burleson @ Vikings

Always an interesting twist when Nate Burleson plays the Vikings after the crazy situation of the Seahawks giving him a huge deal after the Vikings stole Steve Hutchenson away. Burleson is going to have a great year as long as he can stay on the field. With Calvin Johnson laboring through an ankle injury, it is Burleson that will lead this team in receptions, and he should have another solid performance against his old team.
Devery Hendreson vs Texans

You've got to love a receiver who makes fantasy analysts cringe because he thrives off the big play and doesn't do much else, which makes people like me not want to trust him. While Henderson has earned a WR-3 spot after two strong weeks, he should be considered a boom or bust player as the man doesn't know what a possession receiver is.
Still, Colston is out and Lance Moore is working his way back from a groin injury, so Henderson and Robert Meachem should continue to find the end zone against the Texans.
2011 Weekly Lineup Help