New York Jets vs Oakland Raiders: Why Linebacker Play Is Crucial
September 20, 2011
Jeff Zelevansky/Getty Images
Week 3 of the season contains a game that is pivotal for both the Jets and the Raiders as they continue to run the gauntlet of an NFL season.
The Jets are 2-0 and flying high after mauling the Jaguars at Met Life Stadium.  
The Raiders are 1-1 but look to be a legitimate contender for the AFC West title. 
The Jets' trip to the Black Hole in Oakland marks the beginning of an arduous road trip. They will face a talented Raiders team, particularly on the defensive side of the ball.  
Much like New York, Oakland's greatest asset on defense may be their young group of vicious linebackers.  
Rolando McClain, Kamerion Wimbley and Quentin Groves pose a threat to almost any offense.  These young leaders on the Raiders defense will have to deal with Dustin Keller underneath as well as the running game.  Keller has 11 catches, 162 yards receiving and two touchdowns in just two games. The Jets also rely on short passes to ignite their offense, and the Raiders' linebackers will have to tackle well over the middle in order to eliminate the Jets' offensive effectiveness. 
The Jets are by no means undermanned up front either.  
David Harris, Bart Scott, Bryan Thomas and Calvin Pace have all played at a very high level so far this season.  They will have the difficult task of limiting Darren McFadden, who has been a beast so far in 2011.  The Jets have kept Felix Jones and Maurice Jones-Drew under 80 yards in their first two games.  If Rex Ryan's linebackers can put a strangle hold on Oakland's running game, it will allow the defense to pin their ears back and overwhelm Jason Campbell.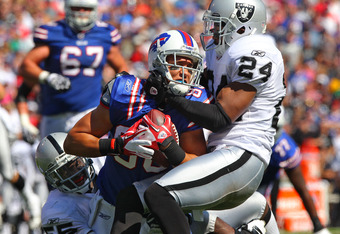 Tom Szczerbowski/Getty Images
New York's game against the Jaguars demonstrated how powerful they can be when they get an early lead.
If the Jets' linebackers can limit the Raiders' big plays early, the Jets offense will have another chance to grab an early advantage.  The longer the Raiders are allowed to hang around, the more dangerous they will become.  
Both teams need a win this week in order to position themselves for a playoff run, and their respective linebackers will play a huge role in the outcome.  
If you liked this, check out my other articles
Follow me on Twitter