Monday Morning Rehab: Jamaal Charles Likely Done for the Season
Use your ← → (arrow) keys to browse more stories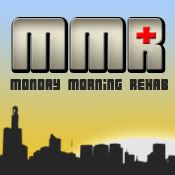 Forget fantasy owners, things just got really worse if you are a Chiefs' fan.
And I bet you thought that was not possible after getting blown out by Buffalo at home in Week 1.
Not only are the Chiefs terrible so far this season (outscored 89-10 in two games against the Bills and Lions), but they now also have potentially lost explosive running back Jamaal Charles for the rest of the 2011 season to a knee injury.
It happened early in the game against Detroit yesterday while Charles was running toward toward the sideline. He landed awkwardly on his leg while trying to avoid a defender and went to the ground in obvious pain.
That it came without much contact was cause for immediate concern. Those non-contact knee injuries can be just as devastating to watch as a contact injury.
For Charles' owners in fantasy leagues, it is a destructive blow. Charles was a top-5 pick in most fantasy leagues this summer and expected to challenge for the top running back spot in 2011. Those aspirations will have to wait for another year, while Charles' owners are left scrambling without their top running back.
Jamaal Charles [RB, Chiefs]
From ProFootballTalk:
Jamaal Charles suffered a torn ACL in Sunday's game, according to ESPN's Adam Schefter. Charles will undergo an MRI on Monday to confirm the initial diagnosis, but everything points to Charles missing the season.
Dexter McCluster is the name-to-know, Thomas Jones is the name-you-already-know. I expect to see the Chiefs use McCluster similarly to Charles, so he should be an active name on waiver wires this week.
The Cowboys
From ProFootballTalk:
It's a good thing Dallas pulled off a terrific comeback victory Sunday, because the news after the game wasn't so good.

Chris Mortensen of ESPN reports that running back Felix Jones has a separated shoulder. Wide receiver Miles Austin also pulled his hamstring again and the team fears he will be out through the team's Week Five bye.
Where to start? Dez Bryant was inactive following a leg injury he suffered last Sunday against the Jets. Tony Romo fractured a rib, left the game, came back and won it. Miles Austin had three touchdowns but hurt his hamstring. And Felix Jones has a separated shoulder. Ouch.
Arian Foster [RB, Texans]
From ProFootballTalk:
Foster ran 10 times for 33 yards in first half, but the Texans came back from the break featuring Ben Tate and Steve Slaton as their running backs. The answer for the shift in focus came during the third quarter when the team announced Foster had reinjured his hamstring. He's being called questionable to return, but the idea that they'd risk a further injury at this point seems very unlikely.
As a Foster owner, I really wish the Texans would have waited another week for two reasons: (1) They could have won this game without him and (2) It would have allowed me to start someone more useful in my fantasy lineup. Now the Texans, and fantasy owners, may be without him for a few more weeks if he really did re-aggravate the hamstring.
Peyton Manning [QB, Colts]
From ProFootballTalk:
Jay Glazer of FOX reports that Manning flew to Europe for a stem cell therapy that currently is not approved for use in the United States.
If nothing else, it is an interesting story. Manning wants to get back on the field and it is obvious the Colts miss him. Indianapolis is 0-2 to start the season after losing to the Browns at home on Sunday.
The MMR will continue to run every Monday morning as scheduled during the regular season. If you have an injury update or want an update on a certain player, please leave a note in the comments.