Roger Maris' Teammates Appreciated His Greatness More Than the Yankees Fans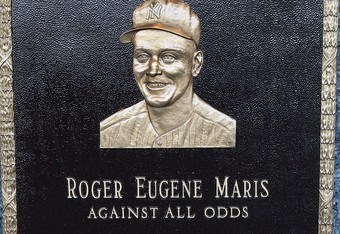 Jim McIsaac/Getty Images
Mickey Mantle was in a hospital watching television. He saw Roger Maris hit his 61st home run off Tracy Stallard to set a single season home run mark that even most New York Yankees haters believe still stands.
Mantle was autographing baseballs 25 years later at the Yankees' celebration of the 1961 season that ended with the World Championship. He recalled seeing Maris' home run.
''I saw Roger's 61st on TV and I got goose bumps,'' Mantle remembered. ''That was the greatest single feat I've ever seen in sports.''
Tony Kubek, who was the shortstop on that team, remembers what happened in Detroit just before Maris hit home run No. 58.
With ace relief pitcher Terry Fox on the mound, Kubek took a long lead off second base. Maris suddenly stepped out of the batter's box. Kubek explained the rest.
''Roger looked up at a flock of maybe 250 geese that were flying up behind the right-field roof,'' Kubek said. ''I think Nestor Chylak was the home-plate umpire, and he finally had to tell Roger to get back in the box. I think Terry Fox was the pitcher.
"The next pitch was about six inches off the ground, but Roger pulled it into the upper deck. He told me later that watching those geese was one of the only times he'd had any peace.''
At the start of September, both Maris and Mantle were ahead of Babe Ruth's pace, but Mantle realized that it meant little because of Ruth's great finish in 1927.
''You forget that Ruth hit 17 in September the year he hit 60,'' Mantle said. ''You keep thinking you're ahead of him, but then you've got to hit 17 the last month to stay ahead.''
Maris is remembered for hitting 61 home runs, which has blurred the fact that he was a great outfielder, an excellent base runner with great instincts and a great team player.
Ralph Houk, who was in his first year as manager, graphically illustrated Maris' great defense by recalling the seventh game of the 1962 World Series against the San Francisco Giants.
"...the thing I'll never forget about Roger was the throw in San Francisco he made from down the line that prevented Willie Mays from scoring the tying run in the seventh game of the Series....He could do everything. With a man on second and nobody out, he'd drag the ball to move the runner over. And he was one of the best at breaking up the double play.''
Maris, who died in Dec. 1985, was one of the all-time Yankees greats. Fan loyalty to the team probably hurt Maris more than anyone realized at the time.
For almost his entire career, with the exception of 1956, Mantle was booed, sometimes unmercifully. When he and Maris assaulted Ruth's record, Yankees fans started cheering Mantle and transferred their need to boo onto Maris.
After all, went the specious reasoning, Mickey is one of us, but Maris was a Cleveland Indian and a Kansas City Athletic. Ruth's record should be broken by a Yankee.
Johnny Blanchard, who was a part-time left fielder and back up catcher on the 1961 team, expressed the feelings of all the Yankees at the 25th anniversary celebration.
''I went to the funeral,'' Blanchard remembered, ''but I wouldn't look at the casket. I didn't want to remember him that way. I wanted to remember him on the ball field.''
Reference:
Anderson, Dave."Sports of the Times. "Remembering Roger Maris." New York Times. 20 July 1986.
This article is
What is the duplicate article?
Why is this article offensive?
Where is this article plagiarized from?
Why is this article poorly edited?

New York Yankees: Like this team?