Cleveland Browns Report Card: Grading Each Position from Sunday's Win
Matthew Stockman/Getty Images
It's report card time again, Browns fans, and for the first time in what feels like forever, Cleveland brought home good grades for the week.
In a decisive 27-19 victory over the Indianapolis Colts, though it really wasn't that close, the Browns showed that while they've still got a long way to go before becoming a contender, they have made tremendous strides in their development.
Sunday's well-played game across the board proves it.
Following are grades for each position group for Cleveland's victory over the Colts. While their grades for the season as a whole are yet to be determined, the marks for Week 2 should make every Browns fan proud.
Quarterbacks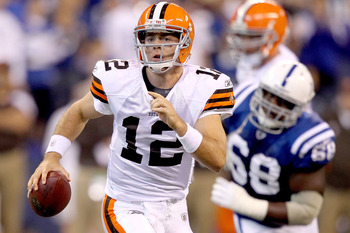 Matthew Stockman/Getty Images
It was tough to find much fault with Colt McCoy's performance this week, as he led his team to victory in a combined display of smarts and athleticism.
McCoy, touted for his accuracy, made good on the hype by going 22-for-32 for a completion percentage close to 70. While the 211 yards he threw for looked unremarkable compared to the air show numbers put up by players like Tom Brady and Surprise! - Cam Newton this week, they are demonstrative of a quarterback who did a nice job creating a balance between putting the ball up and using his team's ground game effectively.
Grade: A-
With no major mistakes, it's tempting to give McCoy a solid "A," despite the lackluster yardage totals and just one passing touchdown.
What dropped the grade a bit was a few near-miss interceptions. Some of McCoy's passes, such as the TD throw to Evan Moore, were about six inches away from being a potential pick. Still, it is tough to find much to complain about here.
Wide Receivers and Tight Ends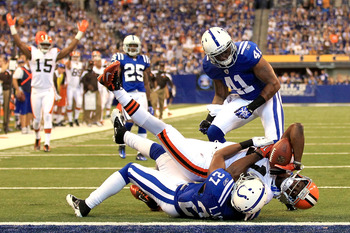 Matthew Stockman/Getty Images
After watching an easily catchable ball slide through the arms of WR Mohamed Massaquoi early in the game, it looked like we might be in for more of the same old, same old for the Browns in terms of dropped passes and missed opportunities by Browns receivers.
Luckily, Massaquoi later redeemed himself with an excellent catch that would set up a rushing touchdown for the Browns.
Crisis averted. For now.
Among the Browns receivers, there were no spectacular yardage totals, but McCoy's use of eight different receiving targets (including running backs), showed that the Browns are effectively executing the West Coast offense they've adopted by spreading the ball around. It's a great strategy for a team with no star receivers and allows them to gain advantage over opposing defenses by keeping them guessing.
Massaquoi, Josh Cribbs, and Greg Little put up 45, 41, and 38 receiving yards, respectively, on a total of 10 receptions in 14 targets.
The touchdown pass to Evan Moore excepted, the tight ends were much quieter this week than they have been in the recent past. Moore, Alex Smith and Ben Watson logged 51 yards on 6 receptions in five targets.
At least for now, this is probably a good indication for the receivers.
For a long time, the Browns TEs saw a lot of action simply because the Browns had no viable WRs to throw to. The fact that the TEs are no longer always the primary pass targets is a good sign Cleveland's receivers are starting to come around.
Conspicuously absent was Brian Robiskie, who looks as though he may be out of a job before too long.
Grade: B
The yardage totals were too low and there was only one passing TD, so it was tough to justify a grade higher than this for the receiving corps.
Still, my biggest complaint in this area was that Josh Cribbs was underused (as usual), and that's a personnel decision that players can't be punished for.
Overall, huge improvements in this area, but still some major work to do.
Running Backs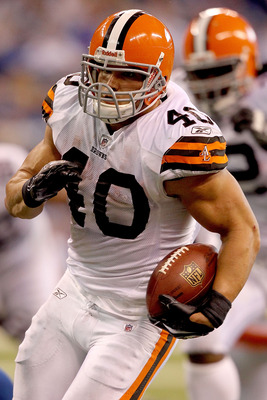 Matthew Stockman/Getty Images
Let's start with the obvious—Peyton Hillis gets an A.
94 rushing yards on 27 carries, two rushing touchdowns, and four receptions for 23 yards gets you off the hook for one fumble, especially if your own teammate recovers it. The way Hillis carries the ball makes me crazy sometimes, but I won't take issue with it in a situation where it didn't hurt the Browns and where Hillis more than made up for it in other ways.
When we move beyond Hillis though, it was frustrating to see the way the Browns didn't make good use of the rest of their ground game.
It's tempting to give the ball to Hillis on every rushing play all game long, but as has been discussed over and over again, he cannot possibly continue to survive that kind of beating if we want to keep him alive until his next birthday.
Last season, the Browns had no choice on that matter, but this year Montario Hardesty is healthy and a viable option. He had just three carries for one yard in limited playing time Sunday. You can't blame Hardesty himself for this, but I was a bit unhappy with the decision not to diversify the ground game.
One other plus was FB Owen Marecic, who looked infinitely better than he did in Week 1, blocking nicely and even logging a few receptions for 13 yards.
Grade: A-
If I were grading the strategic use of the running backs in this game, the mark would be lower, but since we're grading players here, it's tough to go below an A-, even if Hillis alone gets most of the credit for that.
Offensive Line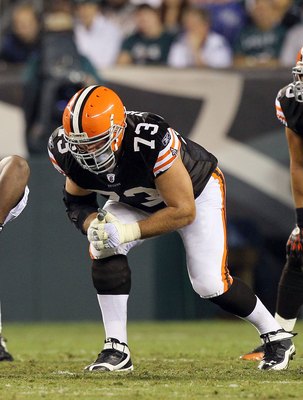 Jim McIsaac/Getty Images
Notably absent from the offensive line this week: egregious penalties that cost the Browns dearly. What a relief.
Also absent: The proverbial Swiss cheese factor seen so often on the ever-troubled right side of the Browns' offensive line. Yet another injury to Tony Pashos forced the Browns to use Artis Hicks, who wasn't a disaster by any means, but he was visibly over-matched.
Still, the Browns held off Colts monsters Dwight Freeney and Robert Mathis for the most part. McCoy was sacked just once, though he was hit four times.
The offensive linemen did a better job by far than they have in a while, but there were still visible problems. Even if they kept McCoy out of trouble reasonably well, there were some blocking issues that hampered the running game at times.
Grade: B
This grade may be a bit generous, but I'd like to give the line some points for improvement, and there were no major errors that would prevent that. Joe Thomas was terrific as always, and most of the rest of the group is really starting to come along.
Linebackers and Defensive Line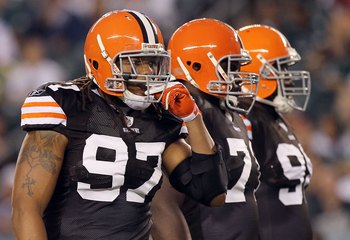 Jim McIsaac/Getty Images
I've decided to rate Cleveland's linebackers and defensive line separately in the interest of being accurate and fair to both.
Bad news first: the linebackers.
While they weren't anything close to terrible on Sunday, they weren't anything close to perfect, either. Fortunately, the problem is more about depth than a lack of viable starters.
D'Qwell Jackson continued to be absolutely fantastic and Scott Fujita did a nice job. Chris Gocong wasn't terrible by any means but still continues to visibly struggle.
I saw far fewer missed blocks and major errors this week from the LBs, but they're still missing a consistent, punishing pass rush. Kerry Collins and the Colts didn't require one. Future opponents will.
Grade: B-
The Browns really need to work on their pass rush, and they had better pray that Jackson doesn't get injured. Depth at this position is still virtually non-existent.
The defensive line could use improvement, but I loved what I saw out of this group this week.
Rookies Phil Taylor and Jabaal Sheard are progressing at an impressive rate. Both looked terrific, considering this is only their second NFL game. Sheard sacked Collins and Taylor's play was just crushing. Ahtyba Rubin was impressive as usual.
Grade: A-
Granted the Colts are an easy mark, so our expectations must remain somewhat tempered, but when grading purely for this game, the defensive line did an excellent job.
My one complaint—they still looked like they were worn down toward the end of the game, as has been a problem for the Browns in the fourth quarter since last season.
This is something that absolutely has to be fixed (and applies to the entire defense, not just this group), but hopefully as the younger players get more used to the intensity of playing a full 60 minutes, their endurance will improve.
Secondary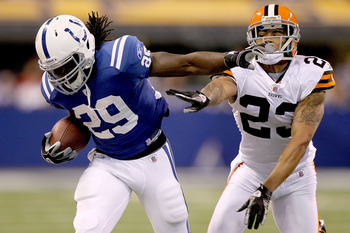 Matthew Stockman/Getty Images
The secondary got off to a really bad start Sunday, when Joe Haden was flagged for not one but two penalties on one play—an illegal block and pass interference.
It was an eye-rolling start for the secondary, making Browns fans worry right off the bat that we were in for more empty-headed play that ex-Brown Eric Wright was so maligned for last season.
Luckily, the flub by Haden proved not to be indicative of what we would see for the rest of the game.
Haden redeemed himself quickly and was his usual dominating self. T.J. Ward looked more focused this week, delivering punishing hits and playing smart football rather than hot dogging and looking too proud of himself for successfully executing routine hits.
Dmitri Patterson came up big early in the game when he knocked away a pass that forced the Colts to settle for a field goal, and Usama Young had an interception in his first game for the Browns.
Grade: B+
Despite the somewhat ageless Reggie Wayne, the Browns' secondary had a relatively easy day facing the Colts, given their lack of offensive depth and the fact their receivers were at the mercy of Kerry Collins' erratic throwing arm.
There were plays in this game made by the secondary that would have hurt the Browns far more against a stronger opponent, but in terms of the job at hand, they did what they needed to do and held the Colts to just one touchdown.
Keep Reading

Cleveland Browns: Like this team?