NFL: 10 Teams We Have Changed Our Minds About After Week 2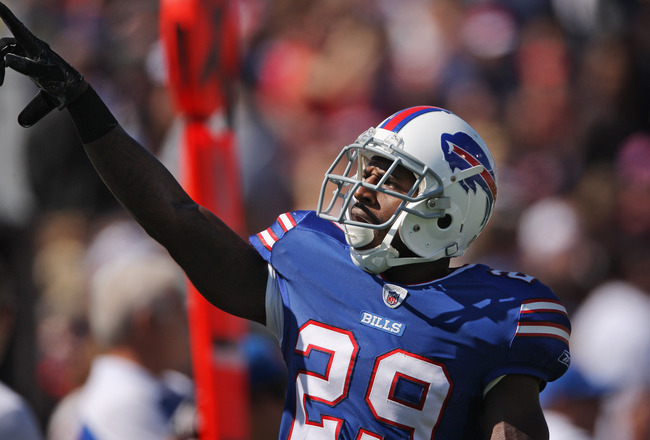 Tom Szczerbowski/Getty Images
Though the year is only two weeks old, we are already starting to get a sense of what teams are surprising us and those who are big disappointments.
Sure, most of us could have predicted the New England Patriots would have gotten off to a good start, but how many people believed the Washington Redskins would be 2-0?
Parity appears to be alive and well in the league, as there are only seven teams undefeated.
And that group doesn't include traditional powerhouses like the Philadelphia Eagles and Pittsburgh Steelers.
It's just an example that there could be a lot of new teams competing for a playoff spot, with some former contenders taking major steps back.
Let's take a look at 10 of these teams we have changed our opinion on.
Honorable Mention: Seattle Seahawks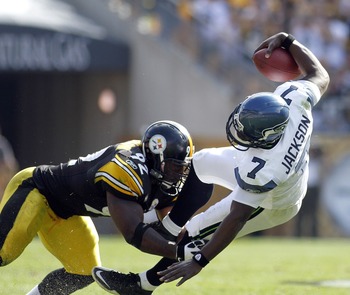 Justin K. Aller/Getty Images
It's hard to be surprised at how bad a team is when they "won" a division with a 7-9 record in 2010.
However, the Seattle Seahawks have gone the wrong direction this year, as they look notably worse.
Instead of trying to improve after their surprise run to the Divisional round of the playoffs, the Seahawks look like one of the worst teams in the league.
Perhaps no one is shocked they're 0-2. What is surprising is just how uncompetitive they've looked.
With a quarterback duo of Tavaris Jackson and Charlie Whitehurst, conspiracy theorists are going to believe that Pete Carroll and the 'Hawks are tanking this year to draft Stanford's Andrew Luck or USC's Matt Barkley, the latter being a QB that Carroll recruited when he coached at the school.
The Seahawks' lone strength is that they do have weapons with guys like Sidney Rice and Zach Miller.
The problem is, they have no running game, their quarterback play is awful and the defense is woeful.
Other than that, they're a great team!
10. Tennessee Titans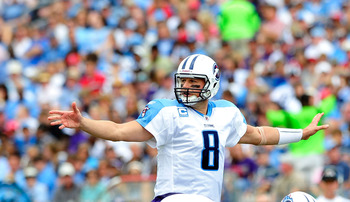 Grant Halverson/Getty Images
There were a lot of people that wrote off the 2011 season for the Tennessee Titans.
Bringing in Matt Hasselbeck, a quarterback that many believed was over the hill, the Titans were never talked about as an AFC South contender.
In fact, this was supposed to be a season where rookie quarterback Jake Locker was groomed to be the starter.
Well, people may not want to keep sleeping on this team.
Yes, the Titans lost a game to a Jacksonville Jaguars team that got demolished yesterday by the New York Jets. However, the Titans outplayed the Baltimore Ravens in every sense of the word yesterday, beating them 23-13.
Their defense got to Joe Flacco, and their offense controlled a Ravens defense that forced seven turnovers against the Pittsburgh Steelers last week.
The even more surprising thing is they're doing their damage through the air.
Hasselbeck is sixth in the NFL in passing yards, and wide receiver Kenny Britt looks like he's emerging as one of the best wideouts in the NFL.
Meanwhile, Chris Johnson has only run the ball for 77 yards in two games with a paltry average of 2.3 yards per carry. In fact, his longest run has only been nine yards.
What is encouraging is, the passing game is shouldering the load while Johnson gets his timing back after his lengthy holdout.
Once Johnson looks like his formidable self, this team could have a dynamic offense.
If the Houston Texans end up doing their almost annual nose dive, the Titans could be a team that sneaks up on us all and competes for the division crown.
9. Carolina Panthers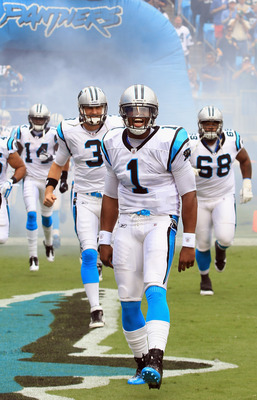 Streeter Lecka/Getty Images
Have you ever seen a fanbase more excited about an 0-2 team than the fans in Carolina?
Yes, the Panthers have lost both games, but what is more important to fans, journalists and analysts has been the shockingly awesome performances by rookie Cam Newton.
A controversial player who many believed was not ready to be an NFL quarterback, Newton has thrown for 854 yards in two games, ranking him second in the NFL.
There were those who were doubters after he threw for over 400 yards against the Arizona Cardinals because the Cards have one of the worst pass defenses in football.
However, Newton put the league on notice when he threw for 432 yards against the defending Super Bowl champion Green Bay Packers.
Yes, he threw three interceptions, which isn't shocking for a guy playing in his second game.
What's funny is, the Panthers running game, the one area people believed was a strength, is suffering because of Newton's passing prowess.
The Panthers are the fourth-worst rushing team in the league thus far.
Nevertheless, for a team that had one of the worst offenses in NFL history last year, this is an exciting time for Panther fans.
If the team can find a better balance between its passing and running game, this is a team that will almost certainly exceed preseason expectations.
8. Washington Redskins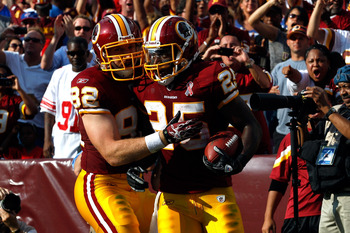 Ronald Martinez/Getty Images
One of the surprising 2-0 teams is the Washington Redskins, who had an impressive comeback victory against the Arizona Cardinals, 22-21.
People will argue that the team's wins versus the injury-plagued New York Giants and rebuilding Cardinals are not exactly against two big contenders.
The fact is, though, Rex Grossman and the Redskins were routinely picked to not only finish last in the NFC East, but to be one of the worst teams in the league.
Right now, Grossman is ninth in the NFL with 596 yards for four touchdowns and two interceptions with a 90.6 rating.
Those are very solid numbers for a guy most thought was no longer worthy of playing in the NFL.
Their defense has also been strong, anchored by the ageless London Fletcher.
And running back Tim Hightower looks like one of the steals of the NFL offseason, as he's run for 168 yards in the first two games.
The Redskins still have plenty of tests against their division rivals, and they also play against an AFC East that has three of the NFL's seven 2-0 teams.
But for a team some thought would only win three or four games, it's still an exciting start in D.C.
7. Oakland Raiders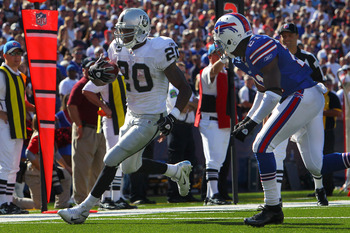 Tom Szczerbowski/Getty Images
You might be questioning why the Raiders are on this list, given their horrid collapse against the Buffalo Bills in which they lost 38-35, despite having a 21-3 halftime lead.
However, consider the fact that it was impressive they were even in the game to begin with.
In my many years of watching football, I've never seen a team given such a raw scheduling deal.
The Raiders started the year with a 23-20 win at Denver on a late Monday Night Football game. Oakland, then had a short week, yet still had to fly across country to play at Buffalo for an early game on Sunday.
To me, the team just looked exhausted by the end of the contest.
The four west coast teams are historically awful when they have to travel east, and the Raiders had less time to prepare. Yet Oakland was very close to starting this season 2-0.
The Raiders have been so bad since 2002 that their fans were celebrating their 8-8 2010 season.
By the looks of it, the Raiders could possibly be better this year even though they lost Nnamdi Asomugha to free agency.
Their defensive line has looked like one of the best in the league thus far, Darren McFadden is now a star and Jason Campbell has looked like much more than a game manager.
Yes, the Raiders lost to Buffalo.
Still, there are a lot of encouraging signs in Raider nation.
If the San Diego Chargers disappoint again this year, the Raiders could be the 2010 Chiefs in that they quietly win the AFC West.
6. Minnesota Vikings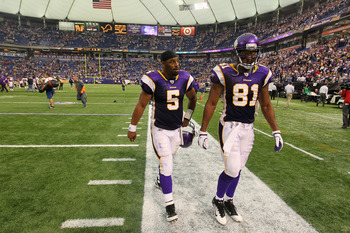 Adam Bettcher/Getty Images
The Vikings were a tricky team to predict before the season started.
Some believed this team was going to mimic their stadium of last year and continue to fall apart.
Others, though, believed a motivated Donovan McNabb would help lead the Vikings back to playoff contention.
After two games, it seems this team is still in a funk that started last year that saw the Vikings go from potential champ to chump.
McNabb has only thrown the ball for 267 yards in the first two games, completing less than 60 percent of his passes.
Part of this could be attributed to the fact that he doesn't have many targets. It's so bad that Toby Gerhart's 42-yard reception places him third on the team in receiving yards.
Their defense is nothing to write home about either, as they've given up chunks of yards in the air and couldn't come through in the clutch in a second-half collapse yesterday against the Tampa Bay Buccaneers.
The Vikings look like a team that's going to limp to a four or five win season.
The saddest thing about this team is, you're witnessing the potential end of Donovan McNabb's career.
Before long, you are going to start seeing Viking fans getting revved up for the Andrew Luck sweepstakes.
5. Philadelphia Eagles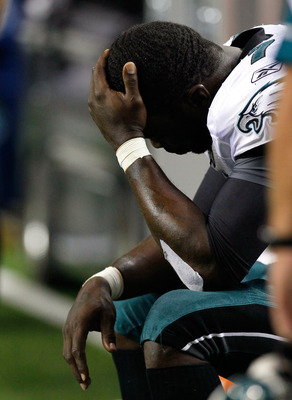 Kevin C. Cox/Getty Images
For all of the offseason, we have heard ad nauseum about how good the Eagles were going to be this year.
With additions like Nnamdi Asomugha, Jason Babin, Steve Smith and Ronnie Brown, most analysts were predicting the Eagles would at least get to the NFC Championship.
Those predictions may very well ring true, but after seeing the Eagles lose to the Atlanta Falcons 35-31 last night, you saw a team that made a lot of improvements—but not necessarily to the two weakest areas of the team.
Michael Vick sustained a concussion last night, and it's unknown how severe it is.
However, if you watched the game, you had the sense it was only a matter of time before Vick hit the turf and didn't get up.
While Vick wasn't sacked, he was routinely beaten up by a Falcons defense that tore through the Eagle offensive line.
Michael Vick is an extremely dynamic player, but whether he was staying in the pocket or trying to get out of it, it seemed Vick was often running for his life.
Now, he and Vince Young are hurt, leaving the offense in the hands of Matt Kafka.
Just as worrisome for the Eagles is their weak linebacking corps. Both the St.Louis Rams and Atlanta Falcons ran through the Eagles like a hot knife through butter.
How bad has it been for Philly? They currently have the third-worst run defense in the NFL.
The Eagles are still a good team and should compete for the NFC East.
But for all the highly publicized additions the team made, it's the ones they didn't make that could end up costing them their season.
4. Detroit Lions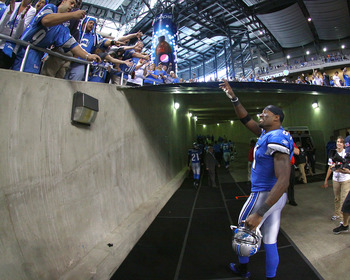 Dave Reginek/Getty Images
When the Lions won the last four games of the NFL season, there was a lot of hope that Detroit was turning a corner.
After two games, including an epic 48-3 beatdown against the Kansas City Chiefs, Lions fans are having realistic thoughts that this team could be in the playoffs in January.
It's an incredible turn around for a team that just three years ago became the first team in NFL history to go 0-16.
Since Matt Millen was rightfully let go, the Lions franchise has drafted incredibly well, as every first round pick since '08 is making a contribution (2011 first rounder Nick Fairley has not seen the field yet due to injury).
Matt Stafford looks like he is ready to become an elite quarterback, Calvin Johnson may be the best receiver in the NFL and the team's defense led by Ndamukong Suh looks scary.
If this team wasn't called the Lions, they could quite possibly be thought of as a Super Bowl contender.
The news is all good in Detroit.
Even if Stafford hurt his oft-injured shoulder again, they have arguably the best backup quarterback in the NFL in Shaun Hill, who put up above-average numbers in 2010.
People thought Detroit was going to be a good team. But this good?
I doubt many felt they'd be beating down foes by 45 points.
3. Indianapolis Colts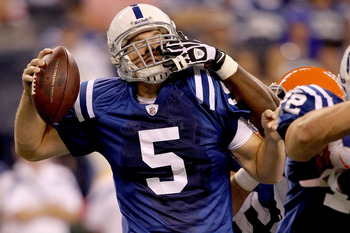 Matthew Stockman/Getty Images
Let's be real here.
When it was announced Peyton Manning was going to miss the majority of the 2011 season, people feared the Colts would be in trouble.
But it was hard to imagine just how horrible this team would look, as they were humiliated 34-7 in Week 1 against the Houston Texans and then lost 27-19 at home to the Cleveland Browns.
How many people would have believed the Browns of all teams would be favored to win at Lucas Oil Stadium?
Yet Cleveland proved why the Vegas oddmakers had them as the favorite.
Peyton Manning has won several MVP awards in his career, and his injury is proving that he probably should have won it every year.
With that said, though, something that most fans and analysts aren't considering is that the Colts team may not have been that good even with Manning.
Having gone 10-6 a year ago, the Colts really did nothing significant to improve their team.
The running game is one of the worst in the NFL, and the defense is built around thriving when the team has a lead.
The receivers consist of Reggie Wayne, an overrated Pierre Garcon, a concussion-ridden Austin Collie and tight end Dallas Clark, who is coming back from major knee surgery.
Additionally, the offensive line is old.
For all of the accolades this team has had in terms of long-term success, it seems it was only a matter of time before the run came to an end with or without Manning.
It just so happens without him, the Colts may be the worst team in the NFL.
2. Buffalo Bills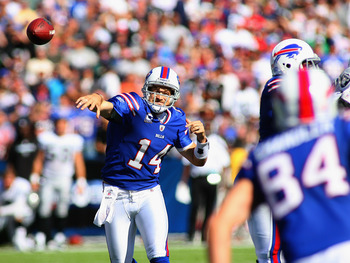 Rick Stewart/Getty Images
For a team that's had very little to be happy about since guys like Jim Kelly and Doug Flutie were quarterbacking the team, it was a great day in Buffalo to see the Bills come back from being down, 21-3, to win the game, 38-35.
They became the first team in 18 years to score touchdowns on all five second-half possessions.
Their 2-0 start is a far cry from last year in which they started 0-8. Since that start, though, they've won six of 10 games.
The Buffalo offense looks like it has the talent to be a top-10 unit.
Ryan Fitzpatrick continues to prove people wrong and is staking his claim as a legitimate NFL quarterback.
No one is going to say he's the second coming of Tom Brady, but he's certainly entering the area where you'll find Kyle Orton, Jay Cutler and Eli Manning.
You can't argue success, and his seven touchdown passes in two games ranks him tied for first in the NFL.
Fred Jackson has run for over 100 yards in both their games, and C.J. Spiller is showing flashes of the player the Bills hoped he would be when they drafted him ninth overall in the draft last year.
At receiver, Stevie Johnson continues to look like a Pro Bowl receiver.
The defense is another matter.
While the unit is improving, they did give up 35 points and a ton of yards against Oakland. It's unlikely they'll look much better with Tom Brady coming to town next Sunday.
Still, for a team most expected to finish as one of the worst teams in the NFL this season, it's an exciting team in Buffalo.
They play in the top-heavy AFC East and likely won't make the playoffs. However, this is a team that could very well finish with eight or nine wins this year.
1. Kansas City Chiefs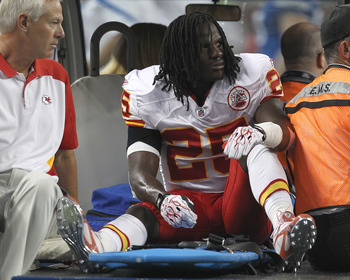 Dave Reginek/Getty Images
Have we ever seen such a horrible collapse of a division champion?
The Chiefs went 10-6 in 2010 and won the AFC West, yet many people felt their success was a fluke.
Still, the team made some solid offseason additions, and it at least appeared the Chiefs would be competitive.
The season, though, seemed to get off to a bad start from the very first snap of the preseason.
Todd Haley got into it with the Baltimore Ravens for running up a score....during a preseason game.
He also played many of his starters deep into the fourth preseason game, which is unheard of in the NFL.
Then you got to the regular season in which they were destroyed by the Bills, 41-7, at home.
You thought the team would have be angry and play with desperation yesterday at Detroit. Instead, they played even worse, losing 48-3.
Incredibly, this team has been outscored, 89-10, against teams that finished a combined 10-22 last year.
The year could be defined by the awkward injury to Jamaal Charles, who tore his ACL while running out of bounds and falling into the Detroit Lions mascot.
Beyond his injury though, the offense, which was so efficient with the ball last year, has already had nine giveaways.
Quarterback Matt Cassel, who threw just seven interceptions last year, already has four in two games.
Injuries have certainly played a part in this failure.
In addition to Charles, safety Eric Berry is out for the year, as is tight end Tony Moeaki. Still, those injuries don't excuse a team that's giving up over 44 points per game.
Of all the teams in the NFL, it might be the Chiefs that have the best chance of going 0-16 this year.
Keep Reading