Boston Red Sox Collapse in 2011 Is Not That Surprising
September 19, 2011
Jim Rogash/Getty Images
Why do I keep hearing sports radio talk show hosts and fans acting so surprised that the 2011 Boston Red Sox are playing substandard baseball right now? As I write, the Baltimore Orioles are belting home runs off rookie starter Kyle Weiland and beating the Red Sox in the first game of Monday's doubleheader. Is that surprising? No. (See below)
Before today's doubleheader vs. the Baltimore Orioles, the Red Sox have gone 4-13 in September, and are struggling to hold onto a wild card playoff spot. The reasons for the Sox's collapse have been glaring and numerous. I'll list just 11 or so reasons together for cumulative effect:
1. In May, the team lost fifth starter Daisuke Matsuzaka for the season due to an injury that required "Tommy John" surgery. You can dismiss Daisuke's impact, but don't forget that he was better than average for a fifth starter and pitched a hell of a lot better than Tim Wakefield or Kyle Weiland!
2. In June, Clay Buchholz's back injury forced him out for the season. The loss of Buchholz alone significantly lowered the chances for the Red Sox to advance in the playoffs.
3. Bobby Jenks pitched poorly, then was lost for the season, leaving a hole in the bullpen for setup relief, a weakness all year.
4. Jed Lowrie, after a sizzling stretch early in the year, has missed a lot of time due to injuries.
5. Kevin Youkilis has never been himself due to an array of injuries. The absence of his normal contributions—his lengthy at-bats, his clutch hitting, his hitting for contact and power and on-base percentage due partly to drawing so many walks—has been a huge factor. Before Adrian Gonzalez arrived, Youkilis was the best hitter on the team. He hasn't been hitting to his potential most of the year.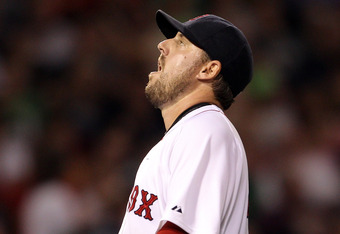 Elsa/Getty Images
6. John Lackey has continued to be a disaster. He's one of the worst starting pitchers in the American League, and, were it not for his outrageously high salary, he would have been removed from the rotation. Lackey has hurt the team tremendously, not only with his losses, but by taxing the bullpen almost every time he starts.
7. Carl Crawford has been another disaster. Instead of being a key contributor, as expected, Crawford has often hurt the team's chances to win games, ending rallies, having terrible at-bats and not even stealing bases.
8. We just learned of the possibility that Adrian Gonzalez's surgically-repaired shoulder might be causing a loss of power and capacity to hit the opposite way. FOX News' Ken Rosenthal reported this on Saturday during the nationally-televised game vs. the Tampa Bay Rays.  If it's true, and Gonzo's refusal to comment suggests that it is, this not only might have impacted the team during the second half of the season—when Gonzo lost some power—but will reduce their chances in the playoffs.
9. Tim Wakefield has pitched poorly for a long part of the second half of the season, yet, the team has kept starting him.  He has lost many games and reduced the team's chances in other games. Given that Wakefield's performance has gone downhill, similarly, in the second half of the past few seasons and he is 45 years old, I don't think he should have even been allowed back in the rotation. 
10. After an excellent first half-season, reliever Matt Albers suddenly transformed into a horrible pitcher in the second half. Worsening matters, Francona kept using him, and, predictably, he kept contributing to losses.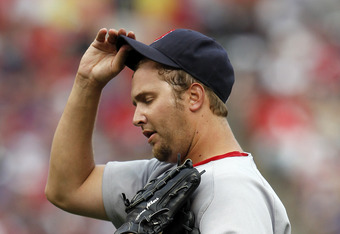 Tom Pennington/Getty Images
11. The 2011 Red Sox have had a striking lack of pitching depth and lacked depth for their bench too. Why the hell are Wakefield and Weiland pitching so many games? I've never seen so many starts pitched by so many lousy or inexperienced Red Sox pitchers during a year the team has a chance to make the playoffs. (The same applies to the bullpen, where we've seen Scott Atchison, Franklin Morales, Michael Bowden and others)
The Red Sox' management—meaning primarily GM Theo Epstein, but, also owner John Henry and CEO Larry Lucchino—have been responsible for some of the largest problems this season, e.g., they've been let off the hook to a surprising extent.
After all, the management team brought us Lackey and Crawford. It is the same management team, especially Epstein, who is responsible for the tremendous lack of pitching depth that has hurt the team in recent weeks. I assume there are no good pitchers in the minors who Epstein has felt could have started some of these recent games. Yet, there is NO excuse to keep putting Wakefield and Weiland out there. Oh, I forgot about Andrew Miller, who also started a few too many games after displaying weaknesses that he needs to work on more.  
One of Theo Epstein's weaknesses—shared by manager Tery Francona—is to not address weaknesses on the team after they've become consistent problems. They both are predisposed to keep playing underperforming players—like Weiland or Wakefield—rather than try alternatives, even if that means taking some risks on younger players. The starting pitching has been awful for much of the second half, but little action has been taken. 
Francona has not had one of his better seasons. He has moved to slowly to get poorly-performing starters and relievers out of games. He has expected a bit much from Daniel Bard, who clearly needs more rest, and occasionally, some help with how he pitches in key situations on the road, especially.
Jon Lester has been good, but not as dominant as 2010.  On the other hand, consider the fantastic seasons that Jacoby Ellsbury, Adrian Gonzalez, Dustin Pedroia and Jonathan Papelbon have had, and it'll be a shame if the Red Sox bow out quietly without going anywhere in the playoffs.
The team seems to lack a bit of fire. It's hard to detect whether many players really care THAT much about winning a championship.  BUT.....BUT.....I do NOT agree with those critics who have argued that the team's lack of fire in the belly is a large factor.
No. If you look at the list in this article, it's obvious the team had too many obstacles to overcome. Just the loss of Clay Buchholz and a healthy Kevin Youkilis was enough to really damage the 2011 Red Sox.