UFC 137: 5 Reasons Why the UFC Should Have Cut Nick Diaz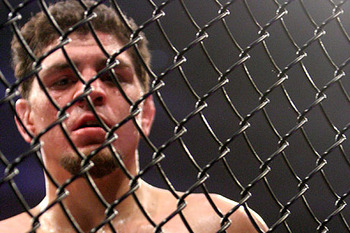 (photo: mmaweekly.com)
Nick Diaz has proven to be one of the top talents in the sport of mixed martial arts.
After his initial exit from the UFC in 2006—on the heels of a two-fight win streak against notables Josh Neer and Gleison Tibau—Diaz has recorded some of the biggest wins of his career, helping to establish a highlight reel career of exciting fights.
Eventually, the 28-year-old became the first Strikeforce welterweight champion with a first-round knockout win over DREAM champion Marius Zarmoskis and has since defended his title three times. All of this has culminated in a "Fight of the Year" candidate going against fellow UFC vet Paul Daley, whom Diaz also starched in the opening frame, opening up a return to the Octagon.
However, with all of his talent and accolades, Diaz has still drawn the ire of the fans and media alike, so why hasn't the organization parted ways with the troubled fighter?
5. Not Media Friendly

"..people like that get slapped"

It's a love/hate relationship the media share with Nick Diaz.
The UFC fighter has made it clear that he's not particularly fond of the tedious questions and answers of the press. This became evident when in 2009, in the lead-up for his Strikeforce title bout with the aforementioned Zarmoskis, Diaz made every attempt to keep himself entertained by practicing his nunchuck skills while taking bong rips mid-conversation.
Perhaps the most infamous of Diaz' interviews was with MMAFighting's Ariel Helwani, whom the Stockton native accused of creating drama between himself and Paul Daley in the moments leading up to their championship bout this past April.
"I wasn't going to do this interview, but they told me I had to...I feel like you instigate fights quite a bit..that's your job but where I come from, people like that get slapped", said Diaz, with a smile.
Both Tito Ortiz and Quinton "Rampage" Jackson can probably sympathize with Diaz' feelings towards the AOL Fanhouse rep.
4. Fights Both Inside and Outside the Cage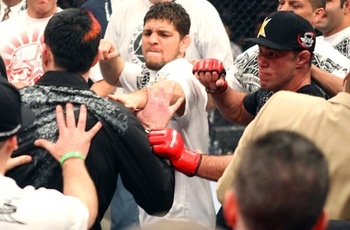 We've seen Diaz tussle with some of the best in his class inside the cage, gaining the popular fighter notoriety as a would-be contender for welterweight kingpin Georges St-Pierre.
However, the Stockton native has been known to have a short fuse, which has been attributed to some of his less-than-stellar career highlights.
In 2006, after a hard-fought battle with veteran Joe Riggs at UFC 57, both fighters were sent to the hospital where they would later engage in another fight; this time inside the medical facilities.
And of course, there is the infamous "Strikeforce: Nashville" debacle in 2009, where the whole Cesar Gracie crew jumped an ignorant Jason "Mayhem" Miller, live on CBS no less.
Needless to say, Strikeforce hasn't been on the channel since.
3. Disrespect Is Diaz' Cornerstone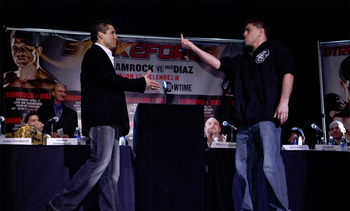 (photo: esther lin; allelbows.com)
Nick Diaz' level of disrespect to his opponents in the moments leading up to the fight is something that makes him appeal endearing to some fans, while making him public enemy number one to others.
The Las Vegas Review-Journal, in 2006, published a story detailing the moments leading up to Diaz' battle with then-budding welterweight contender Diego Sanchez. The brash fighter made outlandish comments against Sanchez' family, cursing at the New Mexico native and even throwing a shoe at him in the locker room before their match.
Sanchez would later take a clear cut decision win.
And of course, there is the infamous Frank Shamrock epidemic. While Diaz demonstrated all levels of respect post-match, Shamrock became the butt of an infamous picture detailing Diaz avoiding the hand shake from "The Legend" by giving him the one finger salute.
Oh, Nick.
2. Marijuana Drama
In February of 2007, Nick Diaz had the biggest opportunity of his career before him: a battle with then-lightweight kingpin Takanori Gomi, who reigned as the organization's undisputed champion.
A black belt in Brazilian Jiu-Jitsu, Diaz weathered an early storm from Gomi, who leveled Diaz with a hard overhand right. True to form, the kid from Stockton recovered quickly and engaged Gomi right away, eventually peperring the Japanese fighter with shots to the head and body.
Diaz locked up a gogoplata less than two-minutes into the second-round, submitting Gomi, and establishing himself as one of the best fighters in the world—though the moment was short lived.
The 28-year-old's avid use of marijuana cost him the biggest win of his career, as the Nevada State Athletic Commission would later overturn the submission victory into a "no-contest" once Diaz tested positive for THC. He was later fined and suspended for his actions.
1. Unreliable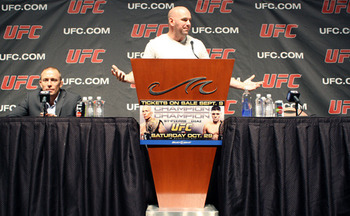 (photo: mmajunkie.com)
Once his Strikeforce tenure was over, Nick Diaz was brought back into the fray of the UFC in an effort to challenge champ GSP for the welterweight title.
At UFC 137, Nick will be fighting, however, St-Pierre has since found a more responsible opponent in Carlos Condit to do battle with.
Just a couple of weeks ago, Diaz was pulled from the match by UFC President Dana White when the controversial fighter no-showed at several pre-fight press conferences, both in Toronto and in Las Vegas, back-to-back and was later nowhere to be found.
Deeming Diaz unfit to challenge for the title due to his inability to perform his duties to the organization, the Cesar Gracie protege lost upwards of $1 Million dollars, his shot at the belt, and the trust of the organization.
Keep Reading