Floyd Mayweather Jr vs. Victor Ortiz: Is Manny Pacquiao Next?
September 19, 2011
Ethan Miller/Getty Images
In the build up to Floyd Mayweather Jr.'s fight against Victor Ortiz, speculation suggested that it was little more than a tune up for the Pretty Boy as he gears up for a bout against Manny Pacquiao.  
Remarks about HBO's Larry Merchant and the acrimonious way in which he knocked out his counterpart have served to remind the boxing community that Mayweather is the author of his own script.
The American, despite freshly being crowned the WBC welterweight champion of the world, has far from covered himself in glory, but it is this controversy that Mayweather feeds off.
Much has been said about Mayweather's actions, but what fans really want to know is: Is Manny Pacquiao next?
In the post-match press conference, Mayweather launched a seething attack on his Filipino counterpart. He exclaimed:  "I don't need Pacquiao. With or without him, every time Floyd Mayweather goes out there he's going to make over $70 million, period. I don't need him.
"Where was he (Pacquiao) in '96, '97, '98, '99, 2000, 2001, when I was dominating the game? Now when I'm 34 they say this guy wants to fight. They didn't ask me when I was in my 20s or when I was in my teens," Mayweather added.
Although such harsh words are on appearances a rejection of Pacquiao's quality, the reality is Mayweather is simply keeping tension between the two camps fresh.
However unlikely the fight seems to be, renewing the animosity between the two protagonists of welterweight boxing is a good money spinner for a boxer who seems to care more about making cash than the sport that has so richly rewarded him.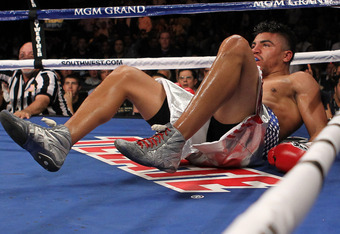 Al Bello/Getty Images
It keeps tensions frayed between the two camps and until it is explicitly announced that the two will not fight, the boxing community's mouths will be watering for months, or maybe years, to come.
If this was not the case, why would he once again imply that Pacquiao was using performance enhancing drugs (PEDs)?
"If were to go up right now to heavyweight and compete with the Klitschkos, you would say, 'Floyd Mayweather is on something.' But a man goes up from 105 to 154 and you say, 'Oh, it's all natural.' C'mon man, wake up," he said.
Such comments are not saying anything new, they are just reaffirming the rivalry.
Manny Pacquiao has responded to Mayweather's actions, condemning his actions as being "very poor sportsmanship."
At present, it seems that both camps are simply keeping the engine ticking.
Although strains have been resumed between the two boxers, it does seem more likely that Mayweather will opt to fight a different big-name opponent.
Prior to the fight, Sergio Martinez staked his claim to Mayweather's scalp, but having just won the WBC welterweight championship, it  is unlikely that the Pretty Boy will want to go up in weight.
Britain's Amir Khan is the latest contender to throw his name into the mix. The Telegraph reports that negotiations have already taken place for the Khan to move up from light welterweight following his clash with Lamont Peterson in December.
Prior to Mayweather's bout against Ortiz, Khan said: "The defining night of this stage in my career is to get Mayweather in a ring with me. I'm not after Mayweather for the pay day, I'm after him for the glory. I want to be the man remembered in history for taking his unbeaten record away, and want that as part of my legacy," Khan said.  
Following Mayweather's disposal of Ortiz Khan added, "I saw a lot of mistakes and weaknesses that I have never seen before. Putting together [my] skills, power and Freddie's brain will be too much for Floyd."
Mayweather himself has left open the possibility of a rematch against Ortiz, telling HBO's Larry Merchant that the former WBC welterweight champion can have a rematch if he needs it.
Is this a match that fans would want to see again?
Putting aside the mega bout against Manny Pacquiao, and assuming that Mayweather will not want to step up in weight to battle Sergio Martinez, Amir Khan does seem like the natural choice to be his next opponent.