Why José Mourinho Should Be Concerned After Real Madrid's Defeat to Levante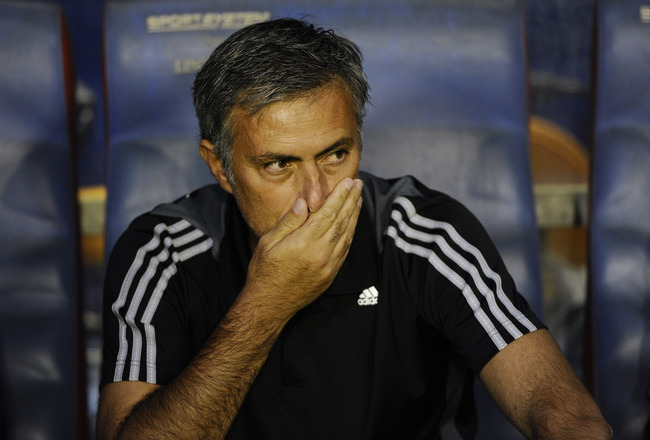 David Ramos/Getty Images
This past Sunday, José Mourinho and Real Madrid suffered a shocking 1-0 defeat to Levante. After winning away at Dinamo Zagreb during the week, Los Blancos traveled to the Estadio Ciudad de Valencia.
After scoring 10 goals in their first two La Liga matches, Madrid entered the match with a perfect six points out of six. Mourinho's men fought for a key away victory in Croatia and looked to continue their fine start to the season.
With the Portuguese tactician resting Mesut Özil and Cristiano Ronaldo from the start, Madrid looked to former Ballon d'Or winner Kaká for creativity and invention in the final third.
Although Los Blancos were heavily favored heading into the weekend, Sami Khedira's sending off in the first half made it difficult for 10-man Madrid to unlock the well-organized Levante defense. Los Blancos struggled going forward and were unable to suppress the quick Levante counterattack.
Here are eight reasons why Mourinho should be concerned following Real Madrid's defeat to Levante.
The International Break Has Slowed Down Real Madrid's Fast Start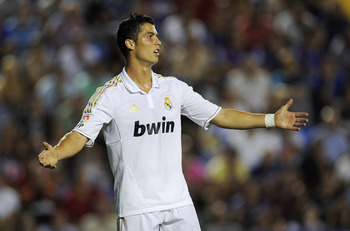 David Ramos/Getty Images
Real Madrid have struggled to regain top form following the recent international break. Mourinho's men were summoned for international fixtures after an impressive preseason and a 6-0 thrashing of Real Zaragoza in their La Liga opener.
Although Madrid started the season in blistering form, they have not been the same team since the international break. Los Blancos beat Getafe 4-2 at home, but the performance itself was unconvincing. Their attacking movement was stagnant at times, and the defending was poor.
After the local derby, Madrid traveled to Croatia for a tough Champions League match against Dinamo Zagreb. The Croatian champions defended well against the first-choice Madrid starting XI. Although Los Blancos fought hard for the three points, it was another subpar performance from the Spanish giants.
Mourinho's men were able to grind out two victories following the international break, but Levante was able to capitalize on Madrid's mistakes. While Khedira's sending off made it a difficult task away from home, Los Blancos still lacked the sharpness and ruthlessness they displayed against Real Zaragoza.
The international break has slowed down Madrid's fast start to the season. Although Los Blancos were one of Europe's hottest clubs going into the break, Madrid have struggled to find their best form since returning to domestic and European action.
Ricardo Carvalho Looks off the Pace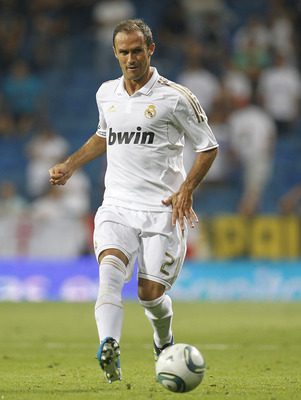 Angel Martinez/Getty Images
Ricardo Carvalho was undoubtedly one of Real Madrid's best players last season. The experienced Portuguese centre-back slotted perfectly into Mourinho's back four, forming a solid partnership with compatriot Pepe.
However, through the first few matches of the 2011-12 campaign, Carvalho has looked off the pace. The former Chelsea defender has not made any glaring mistakes at the back, but he has been partially at fault for a few goals this season.
At the weekend, Carvalho played a key role in Levante's match-winning goal. He was slow to step up and pressure the ball in midfield, and he did not track the runner into the box.
As Pepe occupied a central position around the six-yard box, Carvalho tried to make the block and overcommitted to Javi Venta. His poor communication with Marcelo left Kone unmarked in the box, and a clever pullback by the Spaniard gave the striker time and space to seal the victory for Levante.
Carvalho still has the craft and experience to lead Madrid to domestic and European glory. However, over the past few matches, the centre-back has noticeably looked off the pace.
Real Madrid's Passing Tempo Has Slowed Down Considerably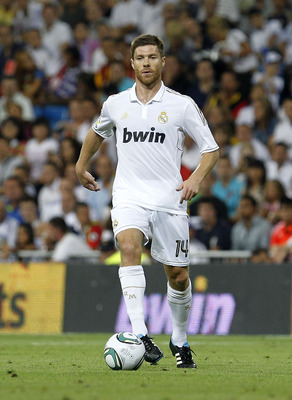 Angel Martinez/Getty Images
Since returning from the international break, Real Madrid's buildup play has slowed down considerably. In the preseason and against Real Zaragoza, Los Blancos sprayed the ball around midfield with pace and precision.
Xabi Alonso picked out teammates with firm passes and cross-field diagonals, while Fábio Coentrão provided outstanding box-to-box runs from his defensive midfield position. Before the break, Los Blancos were a potent attacking threat and serious danger with possession.
Madrid played with a high tempo going forward, passing with pace and purpose. Mourinho's men were able to unlock defenses by quickly switching the point of attack, completing penetrating passes in the final third and constantly driving forward.
Over the past few matches, Los Blancos have lost that passing tempo and rhythm. Madrid have looked stagnant in midfield, often keeping possession by playing square or negative passes. Players seem to be dwelling on the ball for longer periods of time, instead of passing it quickly and infusing pace into the play. The poor movement up front has been a key factor in Madrid's slow buildup play as well.
In the middle third of the pitch, Madrid have looked out of ideas. Mourinho's men have not been able to recreate the quick, uptempo passing that was on display against Zaragoza.
Although pass-master Alonso has been a consistent figure in the heart of midfield, Madrid's buildup play and passing tempo have slowed down following the international break.
Real Madrid's Combination Play and Incisive Football Have Gone Missing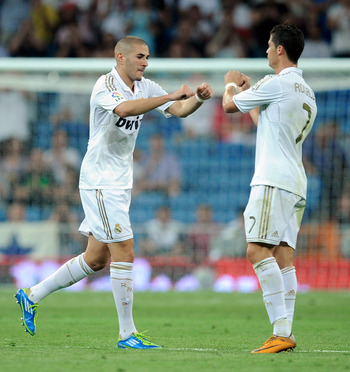 Denis Doyle/Getty Images
What happened to Real Madrid's sparkling, champagne football? The intricate one and two-touch passing in the final third? The combination play, clever triangles and deft flicks from Marcelo, Benzema, Ronaldo and Özil?
In the three matches following the international break, Los Blancos have not played incisive, attacking football. Although Mourinho's men scored four goals against Getafe, the starting XI were not at their best.
Against Dinamo Zagreb and Levante, Madrid's quick combination play seemed to disappear. Marcelo barely linked up with Ronaldo down the left wing, which has become a key aspect of Madrid's attacking system.
In addition, Benzema, Ronaldo and Özil have not played the intricate one-twos and clever touches around the box. The Madrid attackers are unbelievably skilled as individuals, but they are most dangerous when combining and releasing one another into space.
Incisive football has been a large part of Madrid's success. After a few lackluster performances, Mourinho must find a way to restore that quick and dynamic style of attacking play.
Karim Benzema Must Be More Clinical in Front of Goal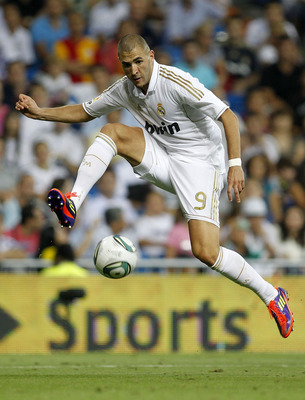 Angel Martinez/Getty Images
Karim Benzema emerged as Mourinho's first-choice striker heading into the new season. Although he has scored two goals in three La Liga matches, the French international still needs to be more clinical in front of goal.
Over the past two matches, Benzema has missed a couple of outstanding goal-scoring opportunities. Against Dinamo Zagreb in the Champions League, the Frenchman was unable to find the back of the net. He clipped the bar early in the first half, but the Madrid star could not deliver in front of goal. Although Benzema has shown great improvement, he must be more ruthless in and around the box.
In the La Liga match away to Levante, the Madrid No. 9 failed to convert a golden opportunity once again. After the opposing keeper made a costly mistake inside the penalty area, Benzema had the goal at his mercy.
With the keeper off his line, the Frenchman only needed to place the ball in the back of the net to give Madrid the 1-0 advantage. Benzema made good contact with his first-time strike, but he failed to score the opening goal. His overall play has been great as the lone striker, but Mourinho needs more goal production upfront.
Benzema has all the tools of a complete, well-rounded striker. However, he must be more clinical inside the box.
Mesut Özil Has Been Quiet over the Past Few Matches
Laurence Griffiths/Getty Images
Mesut Özil is arguably the best attacking midfielder in the world. After creating an impressive 165 goalscoring chances in all competitions last season, there are high expectations for Real Madrid's No. 10.
Although the German international had one assist in the 4-2 victory over Getafe, he has gone quiet over the past few matches. Özil drifted in and out of the Dinamo Zagreb match as well, failing to leave his mark on Madrid's first Champions League match of the season.
The playmaker has shown moments of great skill, but his overall play since returning from international duty has been average at best. Özil has struggled to combine with teammates in the final third, as the team has looked out of sync going forward.
He excels at playing the perfectly weighted through-ball, but Madrid's lack of movement off the ball forced the German to play more simple and square passes in recent matches. As Los Blancos struggled to find their attacking rhythm, Özil did not have the opportunity to unlock defenses with the killer ball or reverse pass.
In Mourinho's 4-2-3-1 system, the Madrid No. 10 is the chief playmaker. Most positive attacking movements go through the German star, making him one of the most valuable players in the starting XI. Özil has not been at his best in September, which will be a concern for the Portuguese tactician.
Cristiano Ronaldo steals most of the headlines in the Spanish capital, but Madrid's success will be a direct result of Özil's play this season.
Pepe and Fábio Coentrão Join Injury Hit-List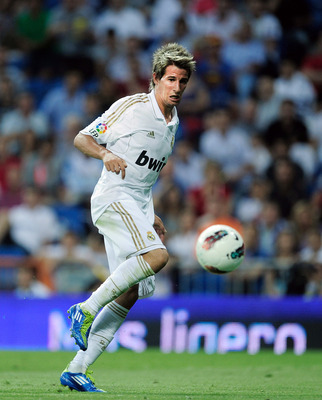 Denis Doyle/Getty Images
Although they played the full 90 minutes against Levante, Pepe and Fábio Coentrão both sustained injuries during the weekend. The Portuguese duo will join new signings Nuri Şahin and Hamit Altintop on Real Madrid's injury hit-list.
The club has not released timetables for their respective returns, but it looks as though both will miss Madrid's midweek clash with Racing Santander.
With Carvalho struggling at the start of this season, Pepe's absence will be a serious blow for Los Blancos. The Portuguese centre-back has been outstanding, covering every blade of grass and working hard for the team.
Mourinho has Raúl Albiol as a potential replacement for Pepe, or he could move Sergio Ramos into the middle and bring in Álvaro Arbeloa at right-back. Although both can be effective at centre-back, Pepe's athleticism and tenacity will be missed in the heart of defense.
Madrid have the depth in midfield and out wide to fill in for Coentrão, but the former Benfica left-back has been a solid performer this season. He has primarily featured in a defensive midfield role, alongside pass-master Xabi Alonso.
Coentrão gives the team an extra dimension in midfield. His quickness and box-to-box running creates a more fluid, dynamic attack. The Portuguese international's late runs help relieve pressure further up the pitch, giving Madrid's attacking quartet another option bursting through the middle.
Mourinho has built a squad that has good depth at multiple positions. Although Madrid have quality squad players, Pepe and Coentrão will be difficult to replace in the starting XI.
Real Madrid Could Not Keep Lead over Barcelona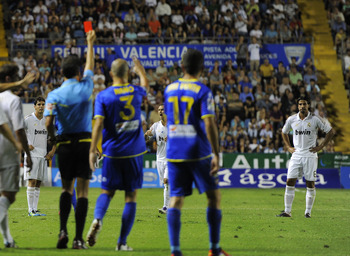 David Ramos/Getty Images
Real Madrid entered the weekend with a perfect record, with three wins out of three. Los Blancos were the No. 1 team in La Liga, and had fought for a well-earned victory away to Dinamo Zagreb in the Champions League. Although they were impressive at the start of the season, Madrid should be concerned following the shocking defeat to Levante.
When Barcelona drew 2-2 with Real Sociedad, Mourinho's men were able to create some early separation in the league table. Madrid came into the weekend with that slight advantage, but were unable to stay at the top of La Liga.
The loss drops Los Blancos from first for fifth, two spots behind Barcelona. As Mourinho looks to dethrone the Catalan giants in domestic and European competition, Madrid must take advantage of any misstep from the reigning Spanish champions.
With Barcelona looking for their fourth consecutive La Liga trophy, Los Blancos must take maximum points from middle-of-the-table clubs and those in the relegation battle.
Mourinho will have key notes and takeaways from the club's recent performances, but earning the result is most important. Madrid had the opportunity to stay in front of Barcelona with an away win against Levante. However, Mourinho's men were unable to so. Madrid could not overcome Khedira's sending off, and stumbled to their first loss of the 2011-12 La Liga campaign.
Keep Reading

Real Madrid: Like this team?