NFL Power Rankings Week 3: Bills, Redskins, Lions Improve to 2-0
September 20, 2011
Tom Szczerbowski/Getty Images
Before the season started, if I were to tell you that the Buffalo Bills, Washington Redskins, and Detroit Lions would all be 2-0 by the beginning of Week 3, you would have thought I was crazy. Yet, here we are, two weeks into the 2011 season and all three of these teams are surprising everyone. Both the Bills and Lions haven't made the playoffs since 1999, and the fans in Buffalo and Detroit deserve a playoff team, badly. Could this be the year they both do it? We are a long way away from the playoffs, but it's just a thought to think about.
1. Green Bay Packers (1): 2-0. The Super Bowl champs overcame an early deficit to beat the Panthers in Carolina, forcing four turnovers in the process. Next up for the Packers is a trip to Soldier Field for an NFC Championship game rematch.
2. New England Patriots (2): 2-0. In two games this season, Tom Brady has 940 passing yards, ranking him second most all time in consecutive games. Yeah, I'd say it's a good start for Brady.
3. New York Jets (6): 2-0. The Jets beat up on the Jaguars on Sunday as expected. Things get tougher in the next two weeks when they travel to Oakland and Baltimore.
4. New Orleans Saints (7): 1-1. Having a triple threat of Mark Ingram, Darren Sproles, and Pierre Thomas has made the Saints that much scarier. This team will be tough to beat.
5. Philadelphia Eagles (4): 1-1. People will point to Michael Vick's injury as the reason the Eagles lost that game to the Falcons, but the real problem was the defense. For the second straight week, they struggled to stop the run. Now, they have to beat the Giants, likely without Michael Vick.   
6. Houston Texans (8): 2-0. Yes the Texans were 2-0 to begin last season, but this time you really get the sense that this is their year. Wade Phillips is doing a great job with that defense.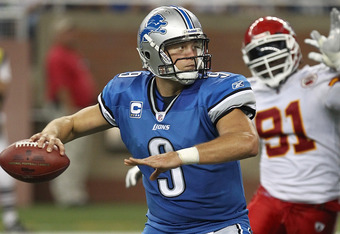 Dave Reginek/Getty Images
 7. Baltimore Ravens (3): 1-1. What happened to that Ravens team that we saw in Week 1 who dismantled the Steelers? Those are games you need to win. 
8. Pittsburgh Steelers (9): 1-1. The Steelers rebounded against the Seahawks as expected and next turn their attention to the Colts on Sunday Night Football.
9. Detroit Lions (12): 2-0. Pretty soon everybody is going to jump on the Lions bandwagon if they haven't already. They are going to make some noise this season.
10. Chicago Bears (5): 1-1. If the Bears do not fix that offensive line, Jay Cutler may not survive much longer. Things don't get easier this week with the Packers coming to town.
11. Atlanta Falcons (10): 1-1. Matt Ryan was impressive in that comeback victory over the Eagles, but that defense must improve. Next up is the division opener in Tampa Bay. That won't be easy.
12. San Diego Chargers (11): 1-1. The Chargers shot themselves in the foot with all their turnovers. You can't do that against the Patriots and expect to win.
13. Tampa Bay Buccaneers (15): 1-1. Once again, Josh Freeman leads another fourth quarter comeback for the Buccaneers. He shines under pressure, that's the sign of someone who is going to be special. 
14. Dallas Cowboys (13): 1-1. Tony Romo showed guts playing with broken ribs in the Cowboys comeback win over the 49ers. The injuries are piling up though, with Felix Jones separating his shoulder and Miles Austin aggravating his hamstring.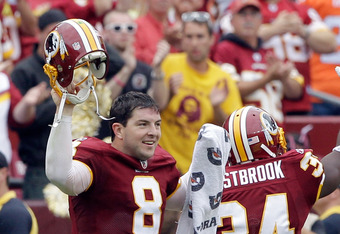 Rob Carr/Getty Images
15. Washington Redskins (14): 2-0. After a shaky start, Rex Grossman came up big in the Redskins win over the Cardinals. Next, the Redskins try to go 2-0 in the NFC East when the travel to Dallas on Monday Night Football.  
16. New York Giants (16): 1-1. The Giants took care of business Monday Night, and get a break when they travel to Philly, where Michael Vick will likely be out. 
17. Buffalo Bills (18): 2-0. Ryan Fitzpatrick has made the Bills one of the most exciting teams to watch in the NFL. That comeback against the Raiders was impressive. The Bills haven't beaten the Patriots since 2003; does the streak end here?
18. Arizona Cardinals (20): 1-1. The Cardinals lost a game they should have had, and Chansi Stuckey must be kicking himself after fumbling it away. They should rebound in Seattle, but it's the NFC West, anything can happen. 
19. Oakland Raiders (21): 1-1. The Raiders let one slip away in Buffalo, and it gets tougher the next two weeks with the Jets and Patriots coming to town.  
20. San Francisco 49ers (23): 1-1. That was almost a nice win over Dallas, and almost is the key word. You must play all four quarters to win, and the 49ers took their foot off the gas. 
21. Cleveland Browns (29): 1-1. With the Browns hosting the Dolphins and Titans in the next two weeks, there's a good chance this team is 3-1 at their bye week.
22. Tennessee Titans (28): 1-1. The Titans may be the only team in the AFC South who can challenge the Texans. That was a nice bounce back win over the Ravens, and they should win next week when they host the Broncos.  
23. Cincinnati Bengals (19): 1-1. Even though they lost, the Bengals saw huge steps out of both Andy Dalton and A.J. Green.
24. Carolina Panthers (26): 0-2. Cam Newton followed up his 422 yard NFL debut with a 432 yard game. The bad news is both games have resulted in losses. That will end this week when they host the Jaguars.
25. St. Louis Rams (22): 0-2. The Rams schedule doesn't get any easier this week when the Ravens come to town. A win here could turn their season around.  
26. Minnesota Vikings (27): 0-2. In the NFC North, the Vikings cannot blow games like that, especially at home. To avoid going 0-3, the Vikings now must beat the upstart Lions. Good luck. 
27. Denver Broncos (31): 1-1. So Tim Tebow finally got some game action on Sunday—at wide receiver. The next step is to start him at quarterback.   
28. Miami Dolphins (24): 0-2. In their last 12 home games, the Dolphins record is 1-11. Do you mind explaining me that? Brace yourselves for a long season Dolphins fans. 
29. Jacksonville Jaguars (25): 1-1. The Blaine Gabbert era is due to begin any week now. That was an ugly performance out of Luke McCown, to say the least. 
30. Indianapolis Colts (17): 0-2. How long is it until the Colts pull Kerry Collins? Another thing, how weird is it seeing the Colts be irrelevant? 
31. Seattle Seahawks (32): 0-2. It's going to be an offensive struggle for the Seahawks all season long, no matter who they are playing. 
32. Kansas City Chiefs (30): 0-2. Just when you thought things in Kansas City couldn't get any worse, they lost Jamaal Charles to a torn ACL. Todd Haley may not make it much longer. This team is embarrassing.