NFL Power Rankings Week 2: 3 Teams Free Falling Down the Rankings
September 19, 2011
Leon Halip/Getty Images
It's hard to truly tell what you have in a given team in Week 2 of the season. Trends have started to emerge, but it's just as likely that a particularly fast or particularly slow start is just an aberration.
That doesn't mean that there isn't concern when a team gets off to a slow start. If there's one thing we know about the NFL, it's that it's never too early for a team to hit the panic button.
It might not be the right move so early, but that doesn't stop anyone.
The following are three teams that probably have their hand hovering right above the panic button right about now.
Kansas City Chiefs
I cannot stress to you how bad the Chiefs have looked so far this season.
In their two losses, they have been outscored 89-10. Those are aggregate scores we're used to seeing when we talk about a highly ranked college team taking on their weak competition in the early part of the season. We don't see blowouts like that in the NFL all that often.
I will grant you the fact that the Chiefs lost star running back Jamaal Charles during their loss to the Lions in Week 2. As good as Charles is, though, he isn't good enough to make up the 45-point difference in the Week 2 result.
I think most viewed the Chiefs as something of a fraud coming off of a playoff appearance in 2010, but I don't know that anyone figured they would be this bad.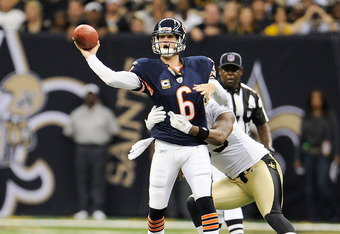 Stacy Revere/Getty Images
Chicago Bears
The Bears looked like a new team in Week 1 against Atlanta. They thoroughly outplayed the Falcons in every aspect, and it got me to thinking that maybe they would build on their postseason appearance from 2010.
It turns out that that was premature.
The Bears gave a very Bears-like performance in Week 2 against New Orleans. Their defense couldn't keep up with all the speed the Saints threw at them, the offensive line played poorly and Jay Cutler spent most of his time on the sideline throwing fits and moping.
Consider their Week 3 game against the Packers a barometer game. The Bears have given two very different performances, and they will prove to us which team they are closer to in Week 3.
Miami Dolphins
I was actually fairly high on the Dolphins after last week. Yes, they lost to the Patriots, but I thought they played them closer than the score indicated and I felt that their offense showed a lot of promise.
I take most, if not all of that back.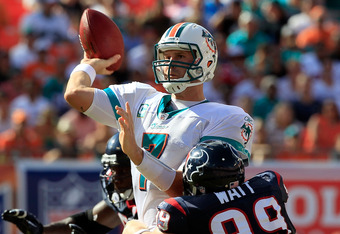 Sam Greenwood/Getty Images
The Dolphins played listlessly against the Houston Texans in Week 2. The Texans played by no means their best game, and yet it never really felt like the Dolphins were in the game.
The offense that looked so promising in Week 1 wasn't so great against Houston. Chad Henne was back to turning the ball over and the protection was bad. Rookie running back Daniel Thomas ran for over 100 yards, but it was at the expense of Reggie Bush, who barely saw the field.
Joseph Healy's NFL Power Rankings for Week 2
1. New England Patriots
2. Green Bay Packers
3. Philadelphia Eagles
4. Baltimore Ravens
5. Pittsburgh Steelers
6. San Diego Chargers
7. New Orleans Saints
8. Houston Texans
9. New York Jets
10. Atlanta Falcons
11. Chicago Bears
12. Detroit Lions
13. Tampa Bay Buccaneers
14. St. Louis Rams
15. Dallas Cowboys
16. New York Giants
17. Jacksonville Jaguars
18. Arizona Cardinals
19. Minnesota Vikings
20. Indianapolis Colts
21. Buffalo Bills
22. Oakland Raiders
23. Tennessee Titans
24. Kansas City Chiefs
25. Miami Dolphins
26. Washington Redskins
27. San Francisco 49ers
28. Carolina Panthers
29. Cincinnati Bengals
30. Cleveland Browns
31. Seattle Seahawks
32. Denver Broncos