WWE Night of Champions: CM Punk vs. HHH Part One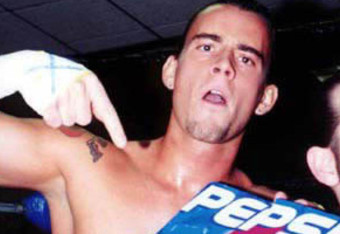 No Disqualification
CM Punk vs. HHH
Punk debuts a new awesome look...a WWE Ice Cream Bar t-shirt. They should seriously let this guy design all the merchandise because he's consistently coming up with great stuff. How many COOs out there arrive to their job shirtless and spewing water all over on-lookers?
Punk attacks during HHH's water routine and immediately preps the announce table but HHH recovers and tosses him into the crowd barrier. Punk gets thrown into the announcers, thankfully robbing us of Booker's in-depth analysis. They trade finisher attempts on the announce table until Punk smartly runs back into the ring and invites HHH to follow.
HHH pounds Punk down in the corner and dodges a running knee, causing Punk to tumble to the outside. Hunter wraps Punk's leg around the post the opposite way that it's usually done, giving it added effect. Punk fires back with right hands then hits his running knee with HHH leaning against the ring post. That doesn't have much effect though as Hunter sends Punk over the barrier and into the first row.
They battle into the crowd like it's 1999 and Cole's sudden loss of voice has left King and Booker to carry this main event...God help us all. Punk tosses HHH over a railing and back to the entrance stage where HHH catapults him into the video wall.
Hunter looks for a Pedigree but Punk backdrops him over the video wall and Punk tosses equipment bags at HHH in a kind of funny spot. We do the "I got your hair, let's walk JERK!" spot and finally get back in the ring where Punk finds a chair under the squared circle.
Punk delivers a shot to the back as a fans gets a "I wish Benoit was here" sign on camera, which is probably the first time I've seen his name on a WWE telecast in years. I'm sure the sign was confiscated and destroyed seconds later.
Punk wedges the chair in the corner but HHH surprises him with a spinebuster for two. Hunter drags him to his feet and tosses Punk to the corner where he hits the chair and does a nice sell job. On the outside, HHH does a Ric Flair chop block and wraps Punk's leg around the post yet again. Hunter is in a particularly annoyed mood tonight so he adds a chair shot to the leg as well.
However, Hunter makes the mistake of trying a figure four on the outside and Punk boots him into the ring steps and lays him out on the Spanish announce table. Punk heads up top and, in a sweet spot, does the MACHO MAN FLYING ELBOW through the announce table, rightly earning a big pop.
Most recent updates:
This article is
What is the duplicate article?
Why is this article offensive?
Where is this article plagiarized from?
Why is this article poorly edited?