WWE Night of Champions: John Cena Defeats Alberto Del Rio, Wins Title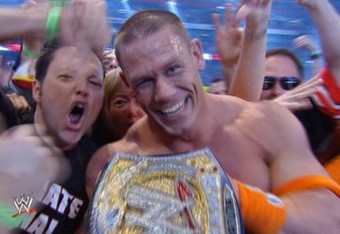 -Another cool video gives us the history of the WWE title and splices Alberto Del Rio in as well. I guess this means HHH-Punk is last...gee, I wonder who made that decision?
WWE World Title
Alberto Del Rio vs. John Cena
Why, why, why, why, why is Alberto introduced first? I hate crap like that. John Cena steals Alberto Del Rio's car because he's annoying like that. They also battle over ring announcements because...well, I guess Cena wants to make a point.
They stall to let the crowd get the chanting out of their system and Cena finally attacks and hits a bulldog. Ricardo gets involved early and referee "Little Naitch" Charles Robinson sends him to the showers. Cena misses a blind charge and Del Rio delivers a kick to the kidney, putting Cena on the floor.
Back in, Del Rio hits a double ax handle off the top for two and hits the chinlock. Cena fights out and hits a gutwrench suplex then adds a vertical one for two. Del Rio quickly recovers with Divorce Court for two and adds a couple big boots for another near fall.
Del Rio goes back to a submission but Cena hooks a belly to belly suplex to break and they clothesline each other for a double KO. When he recovers, Del Rio kicks Cena to the apron and Cena necksnaps him but Del Rio catches John with a clothesline for two.
Like all heels, Del Rio goes to his token "this move never hits spot" as he charges while Cena is in the ropes and falls through to the arena floor. Cena brings Alberto back in from the apron the hard way for yet another double KO spot.
Cena finally goes into his SOS comeback spot and tries the AA but Del Rio turns it into a Back Stabber for two. He tries for the cross armbreaker but gets caught with a dropkick for two and Cena heads to the top but gets caught with a flash kick for two.
A weird spot in the corner leads to Cena trying for the STF but Del Rio dodges and hits a tilt-a-whirl backbreaker for two. He hangs Cena in the Tree of Woe but makes the mistake of trying a spear and hits the ring post hard with his shoulder.
Cena comes off the top with his trademark legdrop but Del Rio kicks out at two. Another AA attempt is countered to a german suplex by Del Rio for two as the crowd is unusually quiet for his time of the match. Buffalo is definitely not bringing the noise for anyone but Beth Phoenix so far...not a good sign.
Del Rio heads up top and hits a senton for two, frustrating the champion. He looks to finish and tries to get the cross armbreaker but Cena rolls to his knees and powers Del Rio up for a slam in a spot that always looks good. Cena hits the Attitude Adjustment but Rodriguez returns and gets introduced to the ring post. Cena scrambles back over and locks the STF on and Del Rio taps out to the delight of the prepubescents in the crowd.
Winner and NEW Champion: John Cena
-So after all that stuff with Del Rio, he turns out to be a three week champion who loses to the John Cena...just like everyone else. WWE wonders why no new talent gets over and they only have to look to this match to figure out why. Where does Del Rio go from here? He's already lost to John Cena so he's the same as every other heel on the roster. I'm sure we'll get some sort of "rematch clause" angle tomorrow and a return match will be signed but the damage has already been done.
Oh yeah, the match. It was the best match of the night but didn't blow me away. However, I can see why people are going to like it ***3/4.
Most recent updates:
This article is
What is the duplicate article?
Why is this article offensive?
Where is this article plagiarized from?
Why is this article poorly edited?