WWE Night of Champions: Mark Henry Defeats Randy Orton, Wins World Title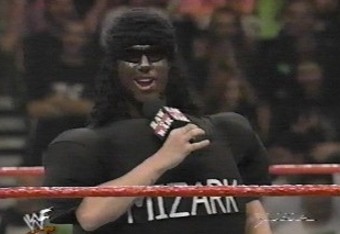 -Backstage, Vickie is so excited about winning that she kisses Matt Striker.
-Wait a minute here, WWE's next pay-per-view is in TWO WEEKS?!? Why the hell would they book these things so close together?
World Heavyweight Title
Randy Orton vs. Mark Henry
Lawler talks about putting over Henry way back during his debut in 1996. Good to see that rub from Lawler has payed off a decade and a half later.
Slugfest kicks us off and Orton goes to the knees and Henry hits the mat early. Why put Henry on the mat this early? Isn't he supposed to be some sort of unstoppable monster? Instead, Orton dominates early and tosses Henry to the floor where Mizark throws a big hissy fit.
Henry returns and tries a press slam but Orton wriggles out and runs into a big boot. Henry tries the World's Fattest Slam but Orton gets behind Henry and locks on a sleeper hold. Mizark drives Orton into the corner and hits him with a right hand, sending Randy over the top and to the floor.
Outside, Henry drives Orton into the apron a few times then wraps him around the post to continue working the back. Mark uses the POWER OF FAT to stand on Orton then hits a splash for two. Elbowdrop also gets two and Henry chokes away but he misses another splash attempt and Orton makes the comeback with punches in the corner.
A pair of clotheslines don't take Henry off his feet but a dropkick does the job. Henry shrugs off the hangman's DDT attempt and hits the World's Fattest Slam but it only gets two. The crowd didn't react to that false finish at all so maybe Henry isn't actually as over as WWE would have you believe.
Henry heads up top and tries a Vader Bomb but only hits knees and Orton makes his big babyface comeback with a DDT. Henry rolls to the apron and gets hit with the hangman's DDT for real this time but Henry's in the ropes so it only gets two.
Henry kicks Orton in the gut and that's a devestating enough maneuver to put Orton on the mat for about 30 seconds. When he recovers, Orton tries for the RKO but Henry turns it into the World's Fattest Slam...for the pin?!!?
Winner and NEW Champion: Mark Henry
-I guess the title means almost next to nothing but I still can't believe they actually put the B-level world title on Mark Freaking Henry. I find it funny that they sold the close-up crowd reactions as "I am stunned that monster just won the title" instead of the truth, which is "Oh my God, is Mark Freaking Henry seriously the world champion? That's dumb."
The match involved Mark Henry, so that means it was slow and kind of boring **.
-After the match, Henry cuts a promo promising to never lose the title. What, are they getting rid of it next month or something?
Most recent updates:
This article is
What is the duplicate article?
Why is this article offensive?
Where is this article plagiarized from?
Why is this article poorly edited?