WWE Night of Champions: Cody Rhodes Pins Ted DiBiase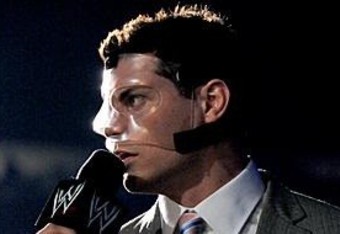 -Wow, HHH is acting all dramatic and stuff...I'm sure it's a definite Oscar contender.
-Meanwhile, Truth and Miz abuse Matt Striker and do some yelling.
Intercontinental Title
Cody Rhodes vs. Ted DiBiase
So we just get a random Ted DiBiase face turn because they needed an IC title match on the PPV? Just think, a few years ago WWE actually thought this match could be a featured match on WrestleMania...amazing how time changes things.
They exchange some amateur stuff and DiBiase kicks Cody in the face for two. So why are we allowed to know that DiBiase is the Million Dollar Man's son but Mike McGillicutty has to pretend he has no idea who Mr. Perfect is? DiBiase hits a dropkick for two and hammers away after Rhodes dares to slap him in the face.
Cody comes back with a knee to the gut and the Beautiful Disaster kick for two. Forward suplex puts Ted down as the crowd begins to entertain itself with random chanting and wondering what's at the concession stand. Hey Cody, grab a submission to really amp up the crowd here...there you go.
They work a knucklelock and double bridge out of a pin in a decent spot then Cody misses a blind charge and Ted makes his big babyface comeback. The crowd really doesn't care. DiBiase whiffs on a dropkick and Cody goes to the abdominal stretch. My God, someone tell Cody it's 2011 and not 1986, I think the abdominal stretch is DEAD as a move.
Dropkick for Rhodes gets two but Ted comes back with a clothesline and high knee for two. A spinebuster, called a sidewalk slam by Booker T, gets two and Cole actually has the balls to make fun of Booker for miscalling the move. Excuse me, Mr. Pot? The kettle is on line two.
Cody heads up top but gets caught and tossed to mat and DiBiase takes the opportunity to rip his mask off. Ted charges with the mask and immediately gets rolled up for the pin.
Winner and STILL Champion: Cody Rhodes
-Wheeeeeeew, that was boring. So Ted does a "big" face turn and then immediately gets pinned? Why not just send the kid back down to FCW before you turn him into a total jobber? Match was boring as hell and the crowd wasn't interested in any of it **.

Most recent updates:
This article is
What is the duplicate article?
Why is this article offensive?
Where is this article plagiarized from?
Why is this article poorly edited?