Moneyball Actor Stephen Bishop Calls Film 'Greatest Ever Made' in B/R Exclusive
September 18, 2011
With Moneyball, the film based on Michael Lewis' best selling book, set to release globally this week, I thought now would be a good time to take a behind the scenes look from the perspective of one of the films key actors.
No, I'm not referring to myself. Although you might happen to find me if you pause and break out a magnifying glass (I'm sitting in the stands somewhere behind a guy dressed as a Kansas City Royals fan).
I'm referring to Stephen Bishop, the very talented actor who portrays David Justice in the movie starring Brad Pitt, Philip Seymour Hoffman and Jonah Hill.
Bishop was gracious enough to spend about 15 minutes answering my questions about the movie and how his unique experiences leading up to the making of this movie shaped the final product we will see on the screen.
Talking with Stephen was a pleasure in itself, his enthusiasm for the project was evident in his voice throughout the conversation.
A graduate of Camolindo High School in Moraga, he is a local talent who jumped at the opportunity to wear the uniform of the team he grew up rooting for in his younger years.
"The A's were the local team, it was the A's or the Giants," Stephen told me. "The A's stadium wasn't as freezing cold as Candlestick park, so I spent most of my pro baseball watching days at the Oakland Coliseum." 
"I actually got a chance to go in their clubhouses a few times, meet their players. So yeah, I grew up watching the A's," he added. "To be able to play an A's player, run around in that uniform and run around on the Coliseum field for a few weeks was a dream come true for me."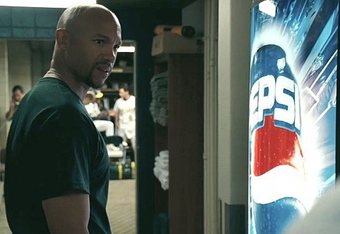 So our conversation jumps off to a good start, one A's fan interviewing another A's fan.
What Can We Expect to See in This Movie Though?
We've all seen the trailers and the finished product seems promising. You have to wonder how they managed to adapt the version written by Lewis to work on the big screen though...
Bishop tells us that we can expect to see "a good human story about a lot of people being effected by a little bit of a shakeup in the baseball world and a change in the philosophy of teams everywhere who were trying to compete in smaller markets."
"There's baseball in the film," he states, "but the film is more about the people and how they adjusted and were effected by what was going on in baseball at the time and more specifically what Billy Beane was trying to accomplish."
What Portrayal of David Justice Will We See in the Movie?
Justice was essentially an experiment by the Oakland A's, as described in the book. A test to see if an aging star's skills are maintained even when their body doesn't necessarily let them exploit their talent anymore. In the case of Justice, it was the ability to continue getting on base.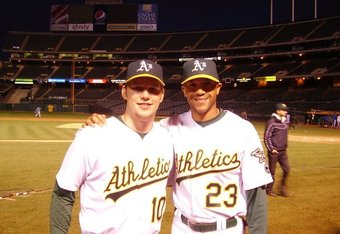 According to Bishop, "you can expect to see a portrayal of David Justice that you may not ever  have seen before." 
"David was a superstar player at the time," he begins to explain. "He was coming into a situation that was much different than the one he had just left. He was coming from the Yankees into a clubhouse where they were trying to save money at every turn, where the Yankees would spend money at every turn." 
"Not only that, they were trying to change the way people approached the game of baseball as players and how they played on the field. So it was a bit of an adjustment period for him and I think that should come across in the film from me," he says.
Bishop Brings Authenticity to the Role
Making Bishop's portrayal of David Justice more intriguing to watch is the experience he brought to the role by having the insight into the role as having been a long time friend of Justice himself.
"I've been friends with David since we played in the Braves organization," Stephen told me. "I was in the minor leagues, he was in the major leagues. Our resemblance to each other was so uncanny that we sort of gravitated to each other, he took me under his wing and became a mentor and a friend."
"He'd walk me around the clubhouse and the city telling everybody 'This is my little brother. You treat him how you treat me.' So he's been a friend of mine for a long time, I'm very happy to be able to play him in a film."
"I idolized him as a kid before I met him so having the chance to meet him, then finally become friends with him and then to play him in a film, it's just such a serendipitous thing. It blows my mind," he adds.
But did his friendship with Justice interfere at all with his portrayal of the role? Was it weird to play a one-time idol and friend in a film? Not according to Stephen.
"Being able to play David, it wasn't weird, it was really actually cool because it was easy for me to slip into him physically because I knew him, I knew some of his mannerisms," he said. 
"I studied him as a kid so I knew his physicality and his baseball mannerisms like the back of my hand. It was really cool, it gave me a bit of an advantage and made other aspects of shooting the film a little easier."
Producers Sought Baseball Authenticity As Well in Filming
Beyond going into the personal mindsets of some of the players that were part of the real life version of the film, the producers wanted the baseball in the movie to be authentic. Having played professional ball in the minor leagues in the Atlanta Braves and Baltimore Orioles organizations, Stephen was a natural fit.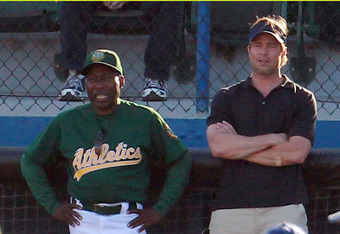 He explained, though, that the majority of the ballplayers in the movie were also high-level baseball players.
"We've all seen so many baseball movies where the guy who's supposed to be the star looks like he's never swung a bat in his life or picked up a ball to throw it, and yet they put him in there as the superstar baseball player and it just reads phony," he says. 
"They really wanted to guard against that in this movie and they set out to make the greatest baseball movie ever made, and hopefully they accomplished that."
So to protect against this in Moneyball, the producers had baseball tryouts as one of the requirements for auditioning for the movie.
"We had some tryouts where we had to show our baseball skills," Bishop explains. "It definitely helped me because I walk and carry myself like a baseball player. I've been a baseball player all my life, so it was second nature for me."
"When people who knew David, like Chad Kreuter, saw me and saw how I handled myself at the plate and how I handled myself in the outfield, they were like 'yeah, this is the guy,' " he said.
"Knowing made it very easy for me. So having the minor league experience and the pro experience, they knew I'd be able to bring some authenticity to the film that they really wanted. All the guys in the film, as far as the A's players are either pros or high level college players because they wanted REAL authenticity there."
So Where Will Moneyball Wind up Among Other Baseball Movies?
With the drama and insights into the characters and their mindsets that make up the story and how the A's built their playoff bound team, accompanied by authentic baseball scenes comprised of high level players, this movie certainly has looked promising in previews and trailers.
With so many good baseball films throughout the years, though, where does Bishop think Moneyball will rank? And what other baseball films does he personally think it compares well with?
"Major League, I really liked that. Bull Durham, I really like that and Field of Dreams, I really like that. Those are the three that I really liked," says Bishop.
"Bull Durham and Field of Dreams were the two that were really significant in their stories as well as their baseball content," he began to explain. "Like I said, they're really looking for authenticity here (with Moneyball) and they're trying to make it a story as well as a baseball flick."
"I'm hoping it comes out on top, that's what we set out to do, and hopefully we accomplished it."
Well, it goes without saying that I will join millions of baseball and movie fans this coming weekend to see the finished product of Moneyball on the big screen.
For me it has all of the ingredients: sports, drama and my personal favorite team dating back as far as I can remember.
To offer one final thought from Moneyball's Stephen Bishop, "it's a gigantic movie, hopefully the best baseball movie ever made. I hope everyone gets a chance to go out and check the movie out and I hope they enjoy it."
I'm sure we all will.