NFL Scores Week 2: Live Updates and Instant Analysis
Ronald Martinez/Getty Images
NFL Week 2: Live Scores and Updates:
St. Louis Rams at New York Giants (8:30 p.m. EDT kickoff Monday)
Philadelphia Eagles at Atlanta Falcons 35-31 Atlanta (Final)
Dallas Cowboys at San Francisco 49ers 27-24 Dallas (Final OT).
Cincinnati Bengals at Denver Broncos 24-22 Denver (Final).

Houston Texans at Miami Dolphins 23-13 Houston (Final).
San Diego Chargers at New England Patriots 35-21 New England, (Final).

Oakland Raiders at Buffalo Bills 38-35 Oakland, (Final).
Kansas City Chiefs at Detroit Lions 48-3 Detroit (Final).
Baltimore Ravens at Tennessee Titans 26-13 Tennessee, (Final).
Cleveland Browns at Indianapolis Colts 27-19 Cleveland (Final).
Tampa Bay Buccaneers at Minnesota Vikings 24-20 Tampa Bay (Final).
Chicago Bears at New Orleans Saints 30-13 New Orleans (Final).
Jacksonville Jaguars at New York Jets 32-3 Jacksonville (Final).
Seattle Seahawks at Pittsburgh Steelers 24-0 Pittsburgh (Final).
Arizona Cardinals at Washington Redskins 22-21 Washington (Final).
Green Bay Packers at Carolina Panthers 30-23 Green Bay (Final).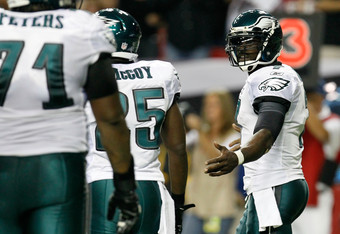 If there was any doubt that Mike Vick is one of the most valuable players in the NFL, they should be put to rest following his absence to the fourth quarter of the Eagles-Falcons game.
Mike Kafka couldn't get it together, while Vick was checked out in the locker room. With Vick out, the wind was punched out of Philadelphia, as the momentum swung in Atlanta's favor, giving the home crowd a chance to start wildin' out.
Atlanta could have gotten down, and added a home loss to Vick's return to his first team's city to go with the disaster against the Bears last week. Instead, the Falcons kept making plays on the ground, which opened up Matt Ryan getting some opportunities in the air.
The Falcons wound up in the end, cleaning up to the tune of a 35-31 finish.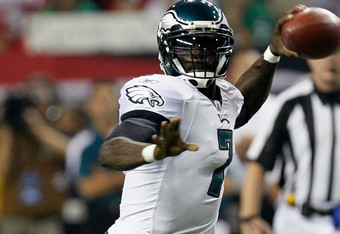 Mike Vick is adding boos to injury as he heads toward the locker room to get checked out after taking a hard hit.
Hopefully not the end of his day, as fans of both the Eagles and Falcons deserve to see his return to Atlanta play out.
There's a nervous energy looking around the arena, as it's starting to get chippy with Matt Ryan taking a hard, awkward hit as well.
See what direction it goes from here by keeping up with our live account of events in this current 31-21 Eagles game.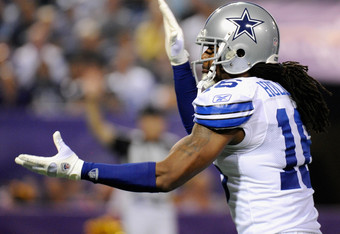 And this is what it's like to be a San Francisco 49ers fan in this day and age. The only thing we really have going is at least they aren't the Raiders.
Also, being a University of Oregon alumnus, I have a squad that is competitive on Saturdays. But it's becoming harder and harder to remember the glory days of Joe Montana and Steve Young. Hell, I'd kill for a in-his-prime Jeff Garcia at this point.
As is, I just witnessed the 49ers blow a lead, then blow some coverage on a 77-yard pass from Tony Romo to Jesse Holley. End result was a blown game, as the Cowboys just beat the 49ers in OT, 27-24.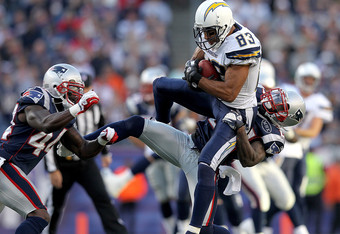 Vincent Jackson is killing the New England Patriots secondary, with 10 catches, 172 yards and just caught his second touchdown reception in some serious traffic to bring the San Diego Chargers back into striking distance, 28-21.
It's hard to imagine just how many yards Philip Rivers would have thrown for in 2010 if Jackson hadn't held out double-digit games looking for a new contract.
A 4,000-yard season is within reason for Rivers, as he also has Antonio Gates, Malcolm Floyd and Mike Tolbert as weapons in the receiving game.
Keep up with our live updates, by following our game report here.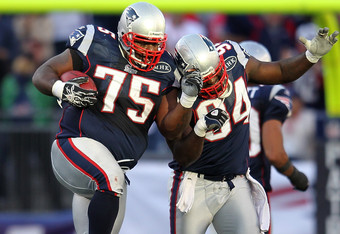 The New England Patriots defense is looking like a unit possessed against Philip Rivers and the Chargers. This team clearly didn't like its defensive performance against the Dolphins last week, and has made life tough on Rivers, picking him off twice already, as the Patriots lead 20-7 in the third quarter.
To read up on everything going on in the game, follow our live blog here.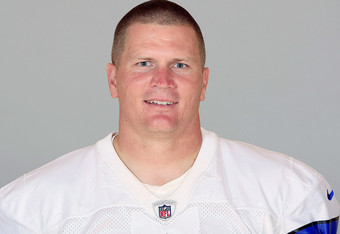 Jon Kitna celebrating is simply an awful sight to behold. I'd rather watch the senior citizen jello wrestling channel.
Keep up with everything happening in our live observations during the 49ers-Cowboys game, knotted up 14-14 in the third quarter.
This article is
What is the duplicate article?
Why is this article offensive?
Where is this article plagiarized from?
Why is this article poorly edited?