Take Notes Manny Pacquiao, Flagrant Embraces Are Unecessary
September 18, 2011
Ethan Miller/Getty Images
This past Saturday night we witnessed something that was quite foul, but not entirely uncommon in boxing as of late. The biggest boxing event of the boxing calendar saw 'Vicious' Victor Ortiz defend his WBC World Title against Floyd 'Money' Mayweather, the fight itself was not long lived but that did not stop it from providing the viewing public with drama and controversy.
Overlooked
After the fight once the dust had settled and sports headlines had been sent to press, I could not help but wonder if the true foulness of the night had been overlooked; it is something that has become all to common in recent times and one fighter in particular seems to be fighting against it. I guess the most notable example preluding Saturday's fight came in May when Manny Pacquiao took on Shane Mosley, what despicable act am I alluding to? The constant acknowledgement between fighters in this case through the touching of gloves at both the beginning and end of rounds, it was disgraceful.
I am glad to say that Mayweather against Ortiz failed to provide that volume of embraces, however it was a rather flagrant embrace which provoked Mayweather's brilliant left hook lead and straight right hand which sent Ortiz to the canvas, ultimately ending the fight.
The Incident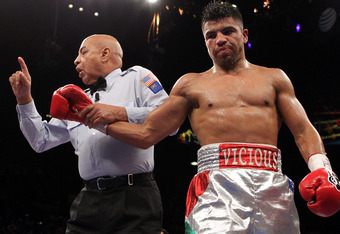 Al Bello/Getty Images
Victor Ortiz cut the figure of disgruntled fighter in the fourth round of his title defence on Saturday night, and after backing Mayweather on to the ropes midway through the round he threw a flurry of punches but was unable to land anything significant. The frustration was clear to see as he followed up that unsuccessful rally with a considerably more successful head-butt which split open Mayweather's bottom lip. This in itself was a quite contemptible act, but what followed was just as scandalous. Having head-butted Mayweather, Ortiz proceeded to hug and kiss him before Referee Joe Cortez was forced to pull Ortiz from his shameless grasp of Mayweather to deduct a point for the offence preceding the offence.
Joe Cortez then called for the fight to resume, and rather than the traditional touching of gloves before the resumption of the fight, Ortiz moved in to 'cuddle' Mayweather once more which was quite bewildering to say the least. Mayweather reluctantly accepted the gesture as Ortiz naively stepped back looking in the referee's direction. Floyd who is no stranger to capitalising on an opponent snoozing mid-fight (as was seen in the first round of his 2005 Junior Welterweight title fight against Arturo Gatti) gave Ortiz a lesson in ring conduct by unleashing a 'vicious' left hook and then a trademark straight right sending a message to all Boxer's out there; Flagrant Embraces are Unnecessary!
twitter: @HermanVirk