Mike McCarthy's Late-Game Style Change Crucial in Win over Carolina
September 18, 2011
Jonathan Daniel/Getty Images
The Green Bay Packers traveled south to battle the Carolina Panthers in Week 2, expecting to easily start off the season with a 2-0 record.
They did return to Titletown with a victory, but it wasn't as simple as the Super Bowl champions had hoped. After falling behind 13-0, the Pack scored 23 unanswered points and held on to deny the Panthers upset bid.
However, an interesting late-game strategy change by head coach Mike McCarthy may be what saved Green Bay from an embarrassing loss.
Whenever the Packers have a one-score lead with under five minutes left in the fourth, McCarthy usually opts to drain the clock instead of putting points on the board, frustrating fans and often leaving the opponent one last chance to get back in the game.
The Pack had just forced a turnover on downs in the red zone, maintaining their 23-16 advantage, but also finding themselves backed up near their own end zone. The ball was then given to James Starks who proceeded to pick up the first down, allowing his team the desired breathing room for what would happen next.
Usually, McCarthy would choose to continue running the ball in order to keep the clock moving, but those watching the game, along with the Panthers defense, would be caught off guard on this Sunday afternoon.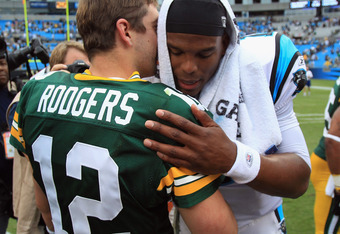 Streeter Lecka/Getty Images
McCarthy called a play-action pass and Aaron Rodgers hit Jordy Nelson for an 84-yard score, giving the Packers a comfortable two-touchdown lead.
Carolina responded by marching down the field and scoring on a Cam Newton TD run, but the rookie quarterback's hopes were crushed when the onside kick attempt failed.
What would have happened if McCarthy had played it safe and punted the ball away as he is known to do? It's fair to say that this game could have easily found its way into OT and the home team may have come out on top.
We may never know why McCarthy decided to put the Panthers away instead of letting them hang around like other teams in the past, but he sure picked a good time to switch up his late-game strategy.