Eagles vs. Falcons Sunday Night Football: Live Reaction, News and Analysis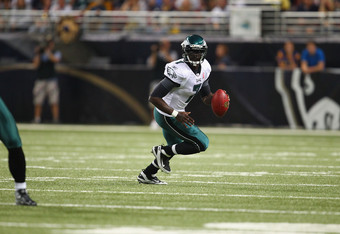 Dilip Vishwanat/Getty Images
With one week under their belts, both the Philadelphia Eagles and the Atlanta Falcons have had a chance to evaluate their teams and make adjustments.
The Eagles were able to cruise to a victory over the St. Louis Rams, who although many consider to be an up-and-coming team are not exactly in the top tier of teams just yet. Many were calling the Eagles the Miami Heat of the NFL after they went after most of the top free agents over the summer and established their new and improved defense that includes Nnamdi Asomugha.
The Falcons were blown out by the Chicago Bears, which was surprising to most who expected Atlanta to compete for the NFC championship.
The biggest storyline coming into the game is the return of Michael Vick to the Georgia Dome, which he called home from 2001-06. Vick was the franchise player for the Falcons before he was arrested and jailed for dog fighting. It should be an emotional return for both Vick and the city of Atlanta, despite Vick's dismissal of suggestions that this game means more.
Both the Eagles and Falcons have been picked by various sources to represent the NFC in the Super Bowl this season and this should be a good early test for both teams. Although the two teams went in opposite directions in Week 1, I imagine this game should come down to the wire.
The game will be broadcast to a national audience on NBC, with kickoff set for 8:20 p.m.
Make sure to check back for updated posts here ranging from fantasy advice to how crucial injuries could affect these teams now and in the future. Even if you are not a fan of the Eagles or Falcons, this game will have big implications on the rest of the NFC.
As always feel free to comment below with your own opinions on anything football related.
Jonathan Daniel/Getty Images
The Atlanta Falcons have one of the best receivers in the NFL in Roddy White, but it is Tony Gonzalez that is getting all the crucial looks in their game against Philadelphia tonight.
Gonzalez has made two very good plays that have both resulted in touchdowns, the first of which may have been the best catch in this early season.
Gonzalez has been in the NFL for a long time now, 15 years to be exact, and even though one would expect his production to slow down it does not seem as though he is any less valuable.
What's really amazing is the fact that Gonzalez does not play a non-contact position like kicker or punter, but plays a position that involves a lot of banging on run plays, and some big hits delivered on him in the passing game.
In today's NFL tight ends are very hard to cover, because their size is too much for defensive backs and their speed is often too much for linebackers. Throw in the rules that largely favor the offense, and it is difficult to take that big target away.
With this in mind Gonzalez is like a lot of tight ends in the league, a safety valve for Ryan that gets a lot of usage.
On a team that has a star wide receiver and one of the best rookie pass catchers in the league, it is old and steady Tony Gonzalez that is the most consistent option for the Falcons. The biggest question is going to be how long he can sustain against younger players.
This article is
What is the duplicate article?
Why is this article offensive?
Where is this article plagiarized from?
Why is this article poorly edited?
Kevin C. Cox/Getty Images
For a large part of last season Michael Vick was unstoppable, able to avoid any pass rush and often take off with a big run.
What made this so impressive was the fact that during all these rushed throws he only threw six interceptions, as compared to 21 touchdowns.
While many in the media made a big deal of how good Vick was at protecting the ball, an often overlooked stat is the 11 fumbles he had last season. The Eagles only recovered four of these, meaning that Vick really turned the ball over 13 times. While this is still impressive, it is not nearly as noteworthy as only six times.
In the first half of the Eagles game against Atlanta Sunday night, Vick fumbled twice, both of which seemed to be completely his fault.
On the first fumble he seemed to toss the ball to one, and Atlanta was able to scoop it up and run it way down in a drive that ended up in a touchdown. The second fumble was a classic Vick still carrying the ball like he is going to throw it even after he is way past the line of scrimmage. I don't know why Vick does this, but he seems to love to be ready to throw even when he is 15 yards down the field.
While it is not time to panic in Philadelphia yet, a pretty poor preseason combined with a poor first half in Atlanta could be a sign that defenses have figured out Vick, and know that as long as they go after the ball when he is running there is a very good chance they can get the strip.
This article is
What is the duplicate article?
Why is this article offensive?
Where is this article plagiarized from?
Why is this article poorly edited?
Chris Trotman/Getty Images
The Philadelphia Eagles just tied the game up at seven on a Jeremy Maclin touchdown reception.The key to the play was Maclin's teammate Desean Jackson pulling the defense all to the left, allowing Maclin to sneak out to the right uncovered.
The question posed after this is how valuable is Maclin in a fantasy league.
Of course the first option of the Eagles passing attack is Desean Jackson, but after him there is a bit of confusion as to who Vick looks for second.
The Eagles have always looked to their running back as a receiver, and that is the same for LeSean McCoy.
That being said, when looking down-field I think Vick's second option is still Maclin, who seems to be improving every week.
Of course just like any other wide receiver in fantasy they are going to have their down weeks, like Week 1 when he only had a single reception for 20 yards. However, the upside is there and with such a high powered offense it is not unheard of for him to catch 10 touchdowns this season.
Michael Vick's scrambling ability allows his receivers to get open, and both Maclin and Jackson benefit from this.
To conclude, Maclin is only going to gain in value as the season goes on, so get him now while he is relatively cheap and plug him into your starting line-up. He may have weeks where he is held to one or two catches, but he will have other weeks when he has six catches and 70 yards, good enough for a solid fantasy performance.
This article is
What is the duplicate article?
Why is this article offensive?
Where is this article plagiarized from?
Why is this article poorly edited?
Justin K. Aller/Getty Images
For most teams everything goes through their quarterback, and it is him that drives the offense up-and-down the field. Teams that don't have that stud quarterback often weigh heavily on their running back, and will hand off the ball 30-40 times a game to their best running back.
For the Atlanta Falcons things are a little different, because both Matt Ryan and Michael Turner play an equal role in their offensive production.
Matt Ryan is considered by most to be a top 10, and maybe even five, quarterback, and he has shown the ability to create a very good and very dangerous passing offense.
Michael Turner is also considered a top 10 running back, and has the ability to both break off a big run or consistently pick up four or five yards.
The biggest benefit for the Falcons is that they don't need both players to bring their A game to win against most teams in the NFL, as a strong performance by one of the two is enough to get them points.
What makes the Falcons even better is how good they can be when both are on their A game, and Ryan is throwing for over 300 yards while Turner is running for another 100.
Of course when one performs well the other often has better opportunities and follows suit. For example, if Ryan is throwing the ball down-field successfully the opponent may back off their linebackers and defensive backs a bit, leaving more space for Turner.
Neither Ryan nor Turner is more important to the success of the Falcons, and it is the combination of both that makes Atlanta's offense so good.
This article is
What is the duplicate article?
Why is this article offensive?
Where is this article plagiarized from?
Why is this article poorly edited?
Patrick Smith/Getty Images
Coming into the 2011 NFL season most people predicted the Eagles to be on top of the NFC East division, and the Washington Redskins to be on the bottom.
While the Eagles played up to expectations in Week 1, the Redskins have blown their expectations out of the water in their first two games, and have started off the season 2-0.
The Redskins biggest strength so far has been their defense, which held the New York Giants to 14 points and the Cardinals to 21 points.
Rex Grossman has looked like a new man, and even though he still has the occasional errant throw, for the most part he has much improved on threading the needle.
All of this being said, I would say the biggest reason the Eagles should be worried about the Skins is because of their rushing attack. Against the Cardinals the two headed attack of Tim Hightower and Roy Helu combined for 170 yards rushing, and 48 yards receiving.
We have heard a lot about the Eagles improved pass defense, but are they going to be able to slow down a Mike Shanahan lead rushing offense.
With the victory over the Giants in Week 1, the Redskins currently sit in first place in the division, and even with an Eagles win will stay there.
While most fans were worried about the Cowboys bouncing back or the Giants recreating their Super Bowl year, early on it is the Redskins who are playing like the other contender in the NFC East.
This article is
What is the duplicate article?
Why is this article offensive?
Where is this article plagiarized from?
Why is this article poorly edited?
Doug Benc/Getty Images
As has been said time and time again, Michael Vick is the most exciting player in the league because of his ability to turn a busted play into a first down by using his legs. Vick seems to have that internal clock that lets him know 'the pass rush is about to get me, I better take off and run'.
But, with all this excitement comes one big risk, injury.
Unlike Tim Tebow, who is built more like a running back or tight end than he is built like a quarterback, Michael Vick is relativity thin and small and built more like a quarterback.
The combination of a smaller frame and a tendency to take off on the run could make for a bad combination when it comes to taking big hits.
For many people, especially when talking about fantasy football, the question is not will Vick get hurt, but when. I imagine his style of play and history of injuries scares both Eagles fans and coaches, who must counter their excitement every time he takes off running with a bit of worry.
For both Eagles fans, and football fans in general, an injury to Vick would be disappointing and could potentially cost Philadelphia any real chance of competing for the NFC Championship.
I sincerely hope Vick doesn't get hurt, as I love to watch him play, but every time he drops back tonight and in the future I am going to hold my breath and hope that he doesn't get drilled by a defender.
This article is
What is the duplicate article?
Why is this article offensive?
Where is this article plagiarized from?
Why is this article poorly edited?
Streeter Lecka/Getty Images
The NFC South is one of the most interesting divisions when it comes to quarterbacks, because it contains two up-and-comers and two established veterans.
Below is my ranking of the NFC South quarterbacks, and why I put them at that slot. Feel free to comment with your own order below.
Drew Brees (New Orleans Saints)- It is tough to pick anyone other than the Super Bowl MVP to top this list. Brees has had a very good first two weeks of the season, already throwing for six touchdowns and almost 700 yards. What makes Brees performance this season even more impressive is the fact that his best receiver, Marques Colston, is currently out with an injury. Brees is not only the best in the NFC South, but one of the best in the NFL.
Matt Ryan (Atlanta Falcons)- Although Matt Ryan was not very impressive in Week 1, I am not yet ready to out him below one of the younger players. Even in a bad game Ryan still threw for over 300 yards. Besides last season's playoff game, Ryan was very good last year and is still the second best in the division.
Cam Newton (Carolina Panthers)- Even with such a small sample size as two games, I am still convinced that Cam Newton is the real deal. Even if he has thrown four interceptions already this season, whenever a quarterback goes over 400 yards it is impressive. To then do that in your first two career starts is something you take serious. Throw in the fact that Newton can run just as well as any other quarterback in the league, and he is legitimate.
Josh Freeman (Tampa Bay Buccaneers)- This is less a dig on Freeman and more a compliment on the depth of the NFC South quarterbacks. Freeman could develop into a very good quarterback, but he is not there yet. I look at him less as a game-winner than as a game manager. The other three quarterbacks on this list win games (or in Newton's case bring their team close), Freeman makes sure they don't lose. I know he worked a big comeback against the Vikings, but Mark Sanchez does that too and most don't consider him a game-winner.
This article is
What is the duplicate article?
Why is this article offensive?
Where is this article plagiarized from?
Why is this article poorly edited?
Chris Graythen/Getty Images
The Atlanta Falcons are the only team in the NFC South to not play at 1:00 in Week 2, which means they know how all of their division rivals have done.
After a first week that brought a total of zero wins to the NFC South, the division played better in Week 2, and with just the Falcons to still play is 2-1 on the day.
When the Falcons take the field they will be in last place in the division, and a loss would keep them tied with the Carolina Panthers in the basement. The Panthers jumped out to an early lead against the Green Bay Packers, but could not hold on late and lost in a close one.
The other two teams in the division, the New Orleans Saints and the Tampa Bay Buccaneers, came out with wins. The Saints dominated the Chicago Bears, who just last week were the team that beat the Falcons by 18.
The Bucs came from behind in the last few minutes to pull out a win against Minnesota, who went into halftime up 17-0.
With two games now to base observations off, it seems as though the Saints are going to be division title contenders, the Bucs are going to be a middle of the pack team, and the Panthers are not going to win many, but are a lot better than most expected.
Of course two games does not determine a season, that is why they play 16, but right now the Falcons biggest roadblock looks to be 'Who Dat' nation.
This article is
What is the duplicate article?
Why is this article offensive?
Where is this article plagiarized from?
Why is this article poorly edited?
Kevin C. Cox/Getty Images
Michael Vick will make his first start in the Georgia Dome since being the Falcons star quarterback, and all eyes will be on how he deals with the pressure.
Vick has played in Atlanta for the Eagles, but that was back in 2009 when he was a back-up to Donovan McNabb. He made the most of his opportunities, throwing for a touchdown on one of his two throws and running for a touchdown on one of his five rushes.
I imagine the Falcons fans are going to be fired up to cheer against Vick, who was their prized possession before he went to jail. Although Vick only lead the Falcons to the playoffs twice in his years there, he was the star of the team and the most popular jersey in the stadium.
After the win last Sunday Vick looked forward to this match-up with the Falcons. He told Comcast SportsNet Philadelphia:
"I'm going to have fun. I'm going to enjoy that game. Going back to Atlanta and having an opportunity to play in front of the crowd that I think I provided a lot of excitement to, that I brought a lot of wins to in that dome, it's going to be great."
Vick actually missed the Falcons game last season in Philadelphia, so this will be his first full-go against his old team.
Falcons fans can't be too upset that Vick isn't their quarterback anymore, as Matt Ryan has turned into one of the leagues best. However, I imagine a lot of Atlanta fans miss the excitement and play-making ability that comes along with Vick.
Vick is going to leave everything on the field Sunday, in what will be a very hostile environment.
This article is
What is the duplicate article?
Why is this article offensive?
Where is this article plagiarized from?
Why is this article poorly edited?

Philadelphia Eagles: Like this team?