Manchester United vs. Chelsea: 7 Things We Learned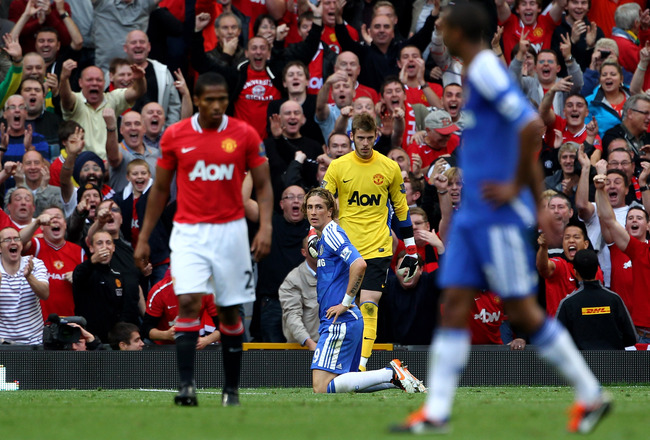 Clive Brunskill/Getty Images
It was match with all the drama that one could envisage. If there was drama in giving away the ball near the penalty area, then there was more to come with strikers missing in front of open goals.
On a day which was billed as champions versus challengers, there was pulsating drama, a penalty miss, a miss in front of open goal, a rocket courtesy of Nani, a poacher's finish from Wayne Rooney, a slightly offside goal from Chris Smalling and finally, as many people were waiting for, Fernando Torres broke his duck, but maligned himself a little more than he already is.
Read on to find out what we can learn from an encounter like this.
1. David De Gea Is Currently the Best Goalkeeper in the English Premier League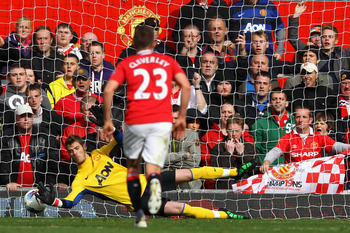 Alex Livesey/Getty Images
Of course, the general reaction to this will be to sharpen some knives and go for the kill. Instead, let's look at the statistics for a change.
Before Week 5 of the Barclays Premier League began, the goalkeeper who had made the most number of saves was *drum-roll* David de Gea. Yes, the statistics don't lie.
Shane Long may have squirmed a shot below the lad's body, Walcott may have let one loose through his feet, BUT, before the match against Chelsea, he's made 29 saves. The closest competitors to the young Spaniard are Petr Cech and Hilario, who have had to make 19 saves. By looking at de Gea's performance today, it was a good one.
A shot which was destined to be a goal by Ramires was pawed away by de Gea, and even the legendary Schmeichel and his son applauded to it. He couldn't do anything about the goal scored by Torres, but gave in a good shift between the posts today.
2. Chicharito's Injury Is a Matter of Concern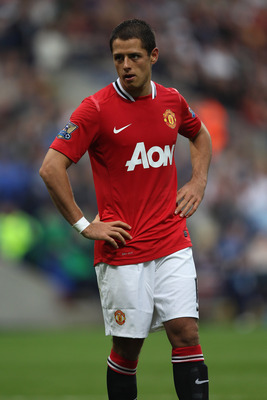 Michael Steele/Getty Images
Javier Hernandez had, by his own standards, endured a quiet game with Ivanovic and Terry doing everything they can to keep him that way. After one of Wayne Rooney's shots came off the post, Hernandez tried to go in for the rebound and was caught by Ashley Cole after he took the shot. The young Mexican came second best in that one, and there might be fears that he'll spend some time on the treatment table.
Thankfully, Welbeck is close to making his return and it won't be much of a worry. However, the way he limped off showed that it'll be more than just a small niggle to get rid of.
3. Chelsea Won the Midfield Battle, but Shambolic Defending Cost Them the Match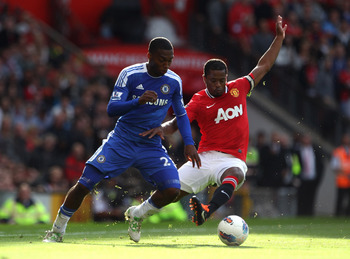 Clive Brunskill/Getty Images
A midfield triumvirate of Meireles, Lampard and Ramires had actually succeeded in stifling the United attacks, but were not enough to win the game.
Matches are usually won in midfield, but Chelsea, despite being able to break up play whenever they could, couldn't shut down the opposition when it mattered most.
Smalling, despite being marginally offside, was able to have a go at goal and made the most of it. Mata wasn't able to close Nani down and neither did any of the Chelsea defenders as he got away with a goal as well. The chaos in the Chelsea box when Phil Jones barged in was there for all to see as Rooney expertly tucked the ball which was barely a few yards away from goal. The Chelsea defense was in sixes and sevens when the third goal was scored, with nobody picking up their markers.
4. United's Defense Can Be Very Well Troubled Down the Left Channel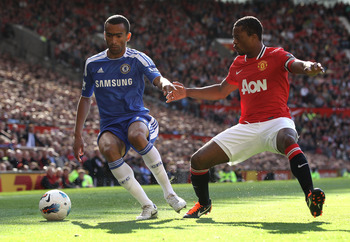 Clive Brunskill/Getty Images
As much as the scoreline shows that Manchester United conceded only once, there's a lot more than meets the eye. Daniel Sturridge showed his skills as he sauntered down the left, getting the better of Patrice Evra more than once (as did Juan Mata and Jose Bosingwa). The French left-back, dare I say it, is somewhat close to the twilight of his career and at 31, he's not going to get any quicker anytime soon.
However, he was able to nullify the threat posed by Romelu Lukaku who came on for Daniel Sturridge and was excellent in linkup and general play.
Not only the left, but the central channels were rundown by Torres who managed to score his first goal for the season. Also at various other instances, such as when Ramires missed his chance and when Fernando Torres missed his sitter in front of goal did the central channel break down. All those chances were when they were onside, but the defense had switched off when they had to be alive defensively.
5. The Forwards Are Misfiring at Will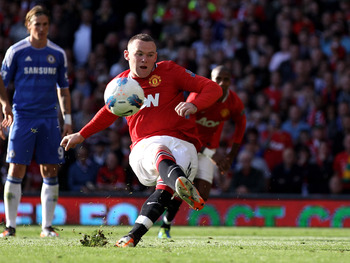 Clive Brunskill/Getty Images
When Fernando Torres had latched on to a delightful through-ball by Nicholas Anelka, he gave it the finish it deserved by clipping it over David de Gea. However, after a through-ball played by Juan Mata, Torres had expertly beaten the U-21 Spanish Goalkeeper, and with the entire open goal at his mercy, fluffed and hit it past the post. Chelsea manager Andre Villas-Boas was fuming at Torres's miss, but that wasn't the only one.
Call it poetic justice, but replays suggested that Nani tripped himself coming into contact with Jose Bosingwa's boots. Referee Phil Dowd pointed to the penalty spot, Wayne Rooney stepped up to take it, and the man who had scored in every single game in the Premier League till now, slipped at the crucial moment, and struck it beyond the post.
Towards the fag end of the game, Ashley Young played an overhead pass to Wayne Rooney, who sprung the offside trap with ease and had played the ball to Dimitar Berbatov, who ended up mishitting it and Ashley Cole made a goal line clearance. Ramires's shot was pawed away by David de Gea, and Rooney also hit the post. The match was one of entertainment, but also bewilderment to any neutral.
6. Phil Jones Is a Colossus at the Back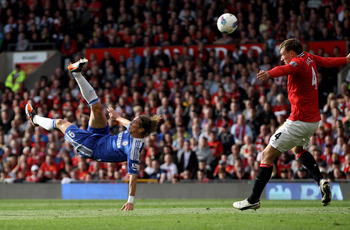 Clive Brunskill/Getty Images
He could be blamed for napping when Fernando Torres scored his goal, but the highlight of the match was when the 19-year-old Center Back from Preston played on despite being injured. To what extent? Only the physio can tell how bad it is.
He ensured that United didn't concede any goals after the one Torres scored, and had a good game to boot. He went in bravely for any challenge that came his way, and showed that despite the absence of Vidic and Ferdinand, life goes on.
Not only does he defend well, whenever he goes ahead with the ball, there is a sense of excitement. He's done it twice now, and both times Wayne Rooney has been the beneficiary by scoring simple tap-ins. Touted as one for the future, Phil Jones, alongside Chris Smalling and Jonny Evans have ensured that Manchester United's defense will grow in stature over the years to come.
7. Stern Tests Lie Ahead for Manchester United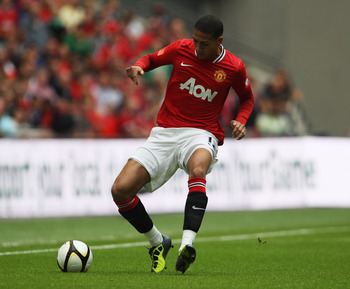 Clive Rose/Getty Images
With the Chelsea match being a done and dusted one, the matches to come are intimidating. Elland Road, never an easy place for Manchester United to visit, will be their next venue for a Carling Cup tie against Leeds United.
After that is another acid test for David de Gea, who will square off against one of the most physical sides in the Premier League, Stoke City. Following the trip to Stoke is a match against FC Basel who are currently on top of Group C with three points in hand, and following that is a tough trip to traditional rivals, Liverpool.
Roberto Mancini may have been complaining that Manchester United has an easy round of fixtures ahead, but these are by no means easy. With Chicharito and Smalling joining Vidic, Welbeck and Cleverley on the treatment table, it's worth watching how Manchester United cope with the coming fixtures.
Keep Reading

Manchester United: Like this team?